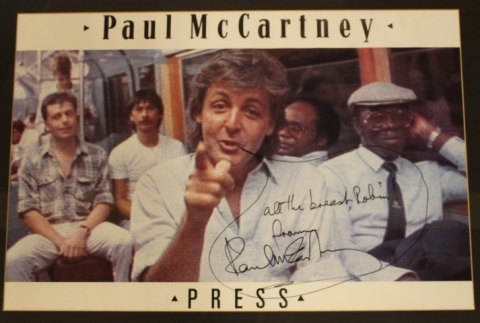 www.examiner.com
Vintage Paul and Linda McCartney interview coming out on CD
Steve Marinucci
Paul McCartney Examiner
May 9, 2016
This 1986 interview will be released June 10.
Screen Edg
A radio interview from the mid-1980s done with Paul and Linda McCartney will be released on CD June 10. The interview, titled "Paul and Linda McCartney – Interview By Robin Ross 1986," was recorded to promote the release of McCartney's "Press To Play" album. "My meeting with Paul McCartney was a real pinch myself moment and recorded at the time of the 'Press to Play' album," Ross says. "As I expected a very genuine man with no problem with answering any questions. The Observers book of Birds, growing up on Merseyside, is that where his interest in conservation began, nothing like the English countryside. (He was) still rockin' and talking about The Prince's Trust at the time he did not have a band, selecting musicians (and) enjoying Buddy Holly."
Ross said his conversation with Linda McCartney went across a variety of subjects, including Suzy and the Red Stripes, the soul of reggae, playing the piano and Wings and playing 'Seaside Woman' live," Ross said. She told him Bob Marley was the one person she wanted to photograph, she preferred shooting in black and white, and 'life' was her favorite subject to photograph. "Of all the people I spoke to over the years, Linda McCartney was probably the most inspiring, real and so generous," he said.
The McCartney interview, which runs approximately 40 minutes, is one of several interviews done by Ross coming out on CD next month. Others are with Lyle Lovett and Bryan Ferry. Several other Robin Ross interviews are already available, including talks with Bonnie Raitt, Belinda Carlisle and Stevie Nicks.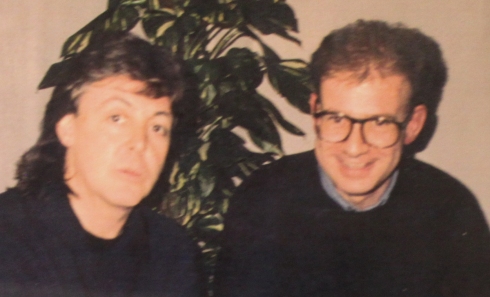 Paul McCartney and Robin Ross
www.amazon.com
Interview By Robin Ross 1986
Paul & Linda McCartney (Artist)
Audio CD
$9.99
Editorial Reviews
Paul McCartney My meeting with Paul McCartney was a real pinch myself moment and recorded at the time of the 'Press to Play' album. As I expected a very genuine man with no problem with answering any questions. The Observers book of Birds.... growing up on Merseyside... is that where his interest in conservation began... nothing like the English countryside. Still rockin' and talking about The Princes Trust... at the time he did not have a band.... selecting musicians... enjoying Buddy Holly. Linda McCartney Talking about Suzie and the Red Stripes.. the soul of Reggae.. she was forced to play the piano.. Wings and playing Seaside Woman live. Bob Marley the one person she wanted to photograph... black and white photography she preferred why.... 'life' was her favourite subject to photograph... depth of people. What did she find boring? Was she private? Of all the people I spoke to over the years, Linda McCartney was probably the most inspiring, real and so generous
Product Details
Audio CD (June 10, 2016)
Number of Discs: 1
Label: Screen Edg
ASIN: B01D01K4JC