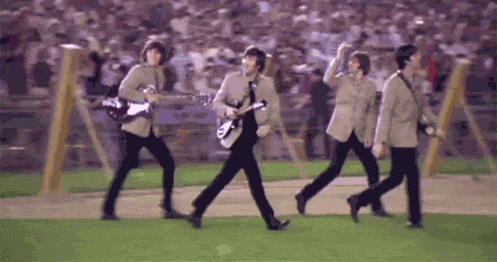 www.contactmusic.com
4K Restoration Of The Beatles' Shea Stadium Gig To Be Released In Cinemas
By Ed Biggs
29 July 2016
Not broadcast in its entirety since 1967, a full restoration will be played in select cinemas to support Ron Howard's 'Eight Days a Week' touring documentary about the band in September.
With Ron Howard's documentary movie Eight Days a Week: The Touring Years hitting cinemas in a couple of months' time, it has been announced that a specially restored film The Beatles' iconic concert performance at Shea Stadium in 1965 will receive a limited theatrical run at the same time.
On Thursday (July 28th), it was revealed that a fully-restored 4K version of the show that the Fab Four played at New York's Shea Stadium on August 15th 1965 will be released in certain cinemas to support the roll-out of Howard's documentary, which will premiere on September 16th.
It was broadcast in black and white in Britain in 1966, and in colour in America the following year, but other than bits and pieces seen in 1995's Anthology DVD collection, it has never been available for Beatles fans until now.
The Shea Stadium gig is one of the most sought-after artefacts for Beatles nuts, along with their live recordings from the Hollywood Bowl that are also seeing a first-time official release imminently, on September 9th.
"From a fan's point of view, it's great, it's exciting. For all these years, we've had unofficial footage. I'd be very interested with today's technology how this stuff is going to look," said Dave Schwenson, the author of a book, 'The Beatles at Shea Stadium', told Billboard.
Leslie Healy, one of 55,000 fans who attended the gig in Queens that evening, also told the publication: "The screams were deafening [and] I'm sure I added to them. You couldn't hear the songs. It was one roar of hysterical young ladies from the time they opened their mouths until their final chord. And the whole concert was over in about 33 minutes. Just a flash."
Meanwhile, Howard's documentary Eight Days a Week has been made in co-operation with the group's two surviving members, Sir Paul McCartney and Ringo Starr, plus John Lennon and George Harrison's widows.