www.jsonline.com
Paul McCartney's performance electrifies Marcus Amphitheater
By Piet Levy
of the Journal Sentinel
July 9 2016
Milwaukee Journal Sentinel music writer Piet Levy shares photos and his thoughts from Paul McCartney's sold-out Marcus Amphitheater show for Summerfest on July 8, 2016.
How could Paul McCartney top perfection?
I'm not talking about the Beatles legend's catalog — although if there's any living songwriter who has achieved the mighty "p" word, it would be him.
I'm talking about his Miller Park concert in 2013.
If you were there, you know how lucky we had it. It was sweltering that night in the stadium, but McCartney was sublime; every vocal was impeccable, every note sung with deep affection. I'm not sure I've seen a better concert.
But watching the 74-year-old McCartney make his Summerfest debut at a sold-out Marcus Amphitheater Friday, I've got to tell you, I was amazed. No maybe about it.
Across a 38-song, two-hour-and-40-minute set, McCartney came close to matching the impossible thrill of his previous Milwaukee engagement — from his giddy little dances after "Band on the Run" and "Lady Madonna," to his infectious guitar struts during "Let Me Roll It" and "The End."
As at Miller, he was doused in sweat by night's end and performed without taking a sip of water. And really, what better climax can you have at a concert than rock history's greatest sing-along, "Hey Jude?"
Ok, so he recycled some bits from the Miller gig, including the same Jimi Hendrix yarn, and guitarist Rusty Anderson again feigned a heart attack in the middle of "Live and Let Die." But the production team squeezed fireworks and flamethrowers into the amphitheater for the Wings staple — and who could poo poo all that pyro?
Unlike that Miller show, there were moments Friday when McCartney's voice was noticeably strained, particularly during a rocky "We Can Work It Out" and "Maybe I'm Amazed."
But the wear worked to his advantage on two occasions. He performed "Here Today" alone on acoustic guitar, in tribute to John Lennon, explaining that the lyrics represent what he wish he told Lennon before his tragic death. "I am holding back the tears no more," McCartney sang with a wobbly warble Friday.
In that moment, through that imperfection, McCartney didn't come across like an untouchable music legend. He was an older man still living with regrets, and after the song, you could see sadness in his eyes.
Similarly, the unsteadiness of McCartney's voice infused "Yesterday" with greater gravitas. These weren't just beautifully-penned words, beautifully sung. It was the wise and sorrowful testament of a man in his twilight years. I only wish McCartney had sung the song alone on acoustic guitar; the faux-strings work of keyboardist Paul Wickens nearly sabotaged the moment.
McCartney did however sing a breathtaking "Blackbird" without the band, atop a video cube that rose 15 feet above the stage; the simple acoustic guitar melodies were gliding, and vocally it was McCartney's finest moment Friday.
He also sounded lovely for a stripped-down, country-tinged "Love Me Do," with the band huddled close near the tip of the stage. The setlist — loaded of course with Beatles and Wings hits, as well as solo material new and old — also featured "FourFiveSeconds," McCartney's 2015 collaboration with Rihanna and Kanye West. And it also included the first song McCartney recorded in 1958, the old-time country original "In Spite of All the Danger," back when the band he was in with Lennon and George Harrison was known as the Quarrymen.
They paid just five pounds to record the song, McCartney told the crowd Friday. Six decades later, about 23,000 fans paid much, much more to see McCartney at Summerfest.
In all cases, it was money well spent.
There were loads of signs in the crowd; one read "Saw you in 64, Now I'm 64," another asked "Marry Me Sir Paul." But one in particular stood out; it read "Hug My Daughter. She Loves You, Yeah, Yeah, Yeah." And the man holding it, Steve Christos from Chicago, was dressed like McCartney from "Yellow Submarine."
Well Christos, and his teenage daughter Christine, were invited on stage near the end of the show. "You know, dads can be so embarrassing," McCartney joked. He did more than oblige the request, inviting both daughter and father to join in for a big group hug.
THE SETLIST
1. "A Hard Day's Night"
2. "Save Us"
3. "Can't Buy Me Love"
4. "Letting Go"
5. "Temporary Secretary"
6. "Let Me Roll It" (with instrumental "Foxy Lady" outro)
7. "I've Got a Feeling"
8. "My Valentine" (dedicated to his wife, Nancy Shevell)
9. "Nineteen Hundred and Eighty-Five"
10. "Here, There and Everywhere"
11. "Maybe I'm Amazed" (tribute to Linda McCartney)
12. "We Can Work It Out"
13. "In Spite of All the Danger"
14. "You Won't See Me"
15. "Love Me Do"
16. "And I Love Her"
17. "Blackbird" (solo acoustic)
18. "Here Today" (solo acoustic, tribute to John Lennon)
19. "Queenie Eye"
20. "New"
21. "The Fool on the Hill"
22. "Lady Madonna"
23. "FourFiveSeconds"
24. "Eleanor Rigby"
25. "Being for the Benefit of Mr. Kite!"
26. "Something" (tribute to George Harrison)
27. "Ob-La-Di, Ob-La-Da"
28. "Band on the Run"
29. "Back in the U.S.S.R."
30. "Let It Be"
31. "Live and Let Die"
32. "Hey Jude"
Encore
33. "Yesterday"
34. "Hi, Hi, Hi"
35. "Birthday"
36. "Golden Slumbers"
37. "Carry That Weight"
38. "The End"
www.jsonline.com
Paul McCartney at the Marcus Amphitheater
Paul McCartney performs July 8 at the Marcus Amphitheater.
onmilwaukee.com
McCartney musings
By Andy Tarnoff
Published July 9, 2016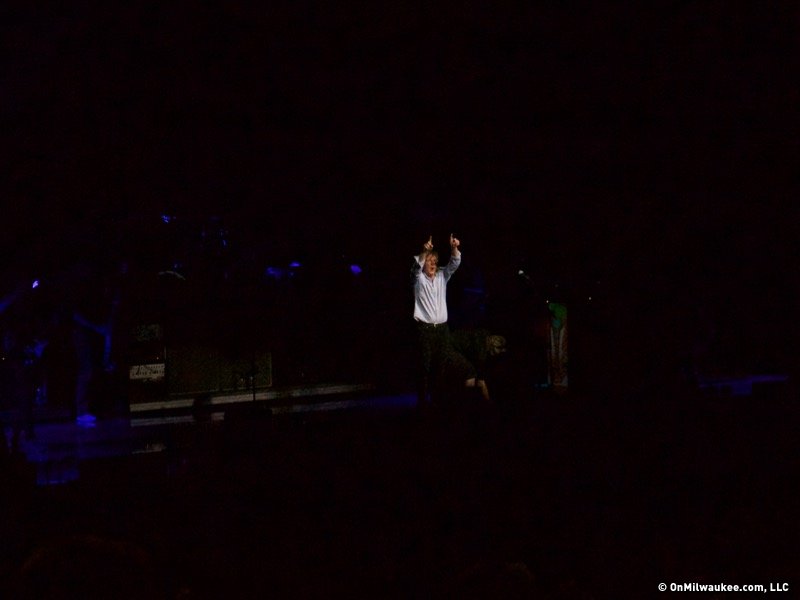 Mccartney packed a whole bunch of legendary music in about three hours on stage
The last time Bobby Tanzilo and I saw Sir Paul McCartney in concert was at Miller Park. If we had been farther away from the action, we might've been in Waukesha.
So tonight, it was a welcome change at the Marcus Amphitheater. We weren't exactly close, but for only $268 a ticket, at least we could see him with our naked eyes.
In a word, McCartney was amazing. I feel beyond fortunate that I've now seen him play twice. Some may say that the Rolling Stones were the biggest show in Summerfest history. I disagree. This was it.
Now, back at the office at midnight, Bobby is writing the main review, but I have some stuff to say too. Random stuff, so please indulge me.
Sir Paul starts when he wants to
We were told in advance that McCartney would only take the stage once everyone was seated. That was good, because I sat in the thickest Summerfest traffic I've ever experienced and made it there just after 8 p.m. Macca started his show at 8:30, but then played nonstop for two hours and 40 minutes. We got our money's worth and then some.
I stole Brian Ritchie's parking space
Speaking of my rush to get to the Amp, I finally gave up driving on Water Street and made an illegal U-turn to snag a space. Standing there was the Violent Femmes' Brian Ritchie. I asked him to move, and he did, so I could rush to the show. Of course, I got waylaid because security didn't want me to bring in my camera. But eventually I talked my way in. No time to browse for souvenirs. This was all business.
The luminaries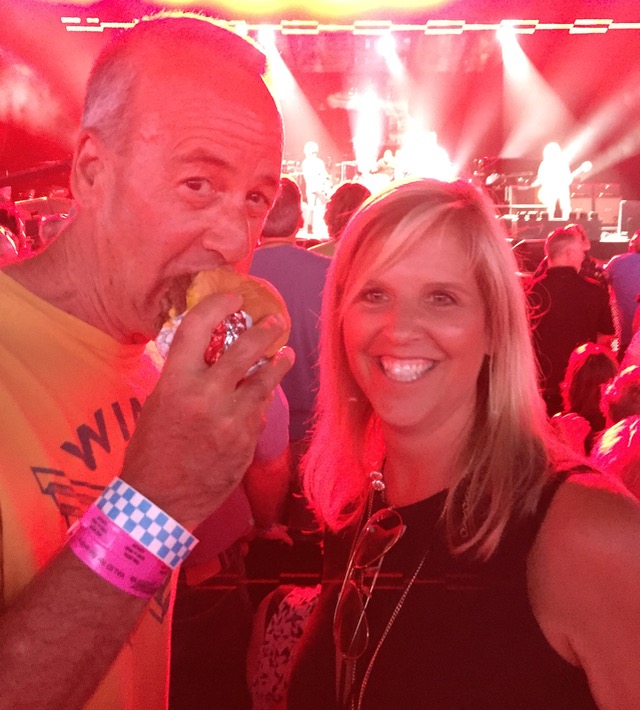 I saw a few notables in the crowd, including Ritchie (guess he found a different spot). Of course, our friend Steve Palec had great seats, but I also spotted Peter Strand from the Yipes!, who is now a music lawyer in Chicago.
Macca is well-preserved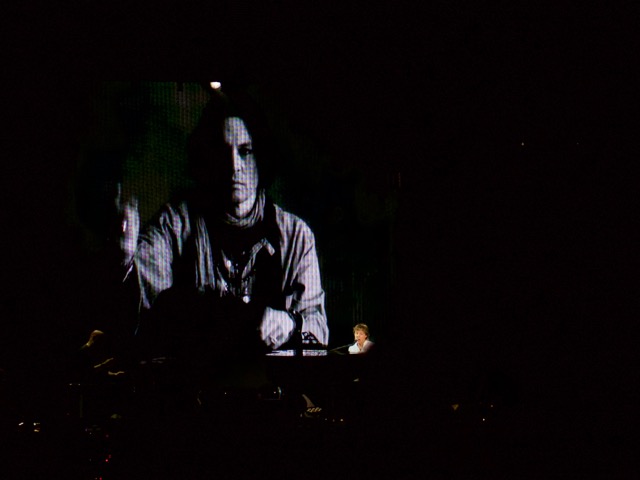 Sir Paul came out in a chambray Nehru jacket and tight jeans. The jacket came off, but I swear to God, McCartney didn't take a sip of water during his entire show. Same thing happened at Miller Park, so I watched carefully. And his voice never cracked. How does this 74-year-old man do this?
Worse seats, but hey, on time
I also saw the Journal Sentinel's music writer, Piet Levy, show up … after the third song. But he had better seats than us, so who am I to throw stones?
One bad song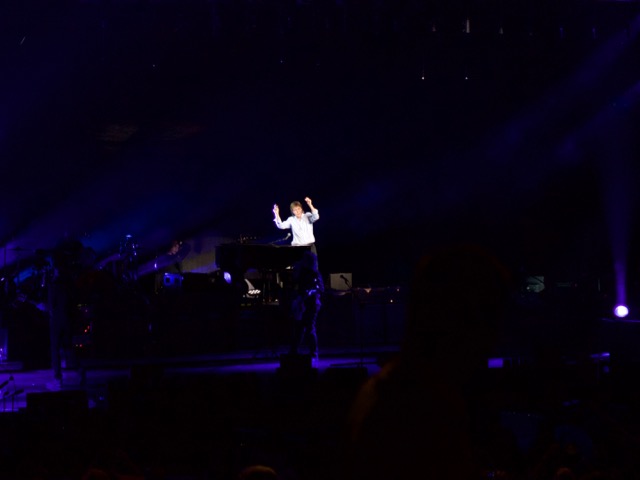 I've never heard a bad Beatles song. I've heard a few bad Wings songs, but McCartney has at least one crappy tune, and he played it: "Temporary Secretary" got this otherwise enthusiastic crowd to sit down and shut up.
Down in front!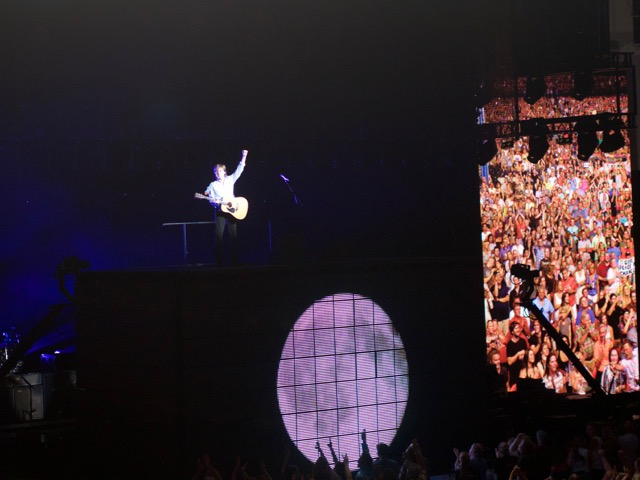 You'd think this sold-out crowd would be on its feet for the whole show. Nope. A guy behind us angrily demanded we sit. For some reason, we did. But just for a little while.
Improved cell coverage
A few years ago, I couldn't get a cell signal at the Amp. This year, Verizon was perfect. I have "field mode" activated on my iPhone to see just how good it was, and it was great. It was like I was standing underneath a tower.
Always the showman
Bobby and I noticed this last time: McCartney can't stand still between songs. He danced around like a Vaudevillian. It's pretty funny when you're looking for it.
Group hugs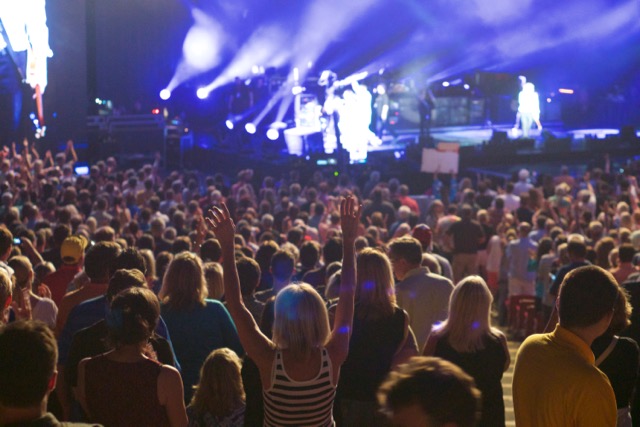 Macca invited a father and daughter on stage for a group hug. The dad, Steve, was dressed in full Sgt. Pepper regalia. Where did he get that? Did he make it?
Leaving in the ninth inning?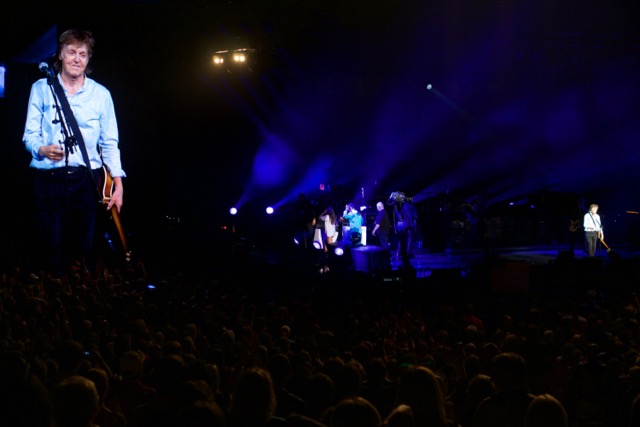 This I don't get. A whole bunch of people left during Macca's amazing encore. To beat the parking? Why miss a second of this living legend?
Macca closed with the closing medley from "Abbey Road." But to me, "The End" is the '90s bumper music from the Brewers Radio Network. Always make me think of Bob Uecker.
onmilwaukee.com
McCartney marathon raises Summerfest bar
By Bobby Tanzilo
Managing Editor
Photography: David Bernacchi
Sir Paul McCartney, 74, played nearly three hours at Summerfest on Friday night. (PHOTO: David Bernacchi)
When Summerfest booked the Stones last year, it was hard to imagine how it might top that high watermark. But Friday night, Summerfest 2016 began its final weekend with a tidal wave of a gig by living legend Paul McCartney.
The show marked the U.S. return of McCartney's One on One Tour, which took a break in early May as Sir Paul spent the second half of the month and much of June performing in South America and Europe.
Though McCartney's no stranger to Milwaukee – he last performed here at Miller Park in 2013 (though technically, he last took the stage here just yesterday) – any visit by the 74-year-old ex-Beatle is a cause for celebration. The fact that his lengthy set lists, while overlapping a fair bit, also offer up a lot of variety (plus they're looonnng) makes it even more fun and interesting.
Across more than 30 songs, Macca mined material from the Beatles, Wings and his solo records. McCartney's approach to the Beatles era was interesting in that he didn't stick only to the Macca classics you'd expect – "Hey Jude," "Blackbird," "Let It Be" and "Eleanor Rigby" – though he did perform those.
He also played a very early Quarrymen song called "In Spite of All the Danger," as well as George Harrison's "Something" – kicking it off on ukelele before trading it for a guitar about halfway through – and John Lennon's "Being for the Benefit of Mr. Kite." Perhaps the latter should come as no surprise at all considering the fact that McCartney has said the song's bassline is his favorite to play.
McCartney also dropped in a version of "FourFiveSeconds," his 2015 collaboration with Kanye West and Rihanna, as well as a few tunes from 2013's "New," including one called "Save Us," which was the second song of the night, "Queenie Eye" and the title track.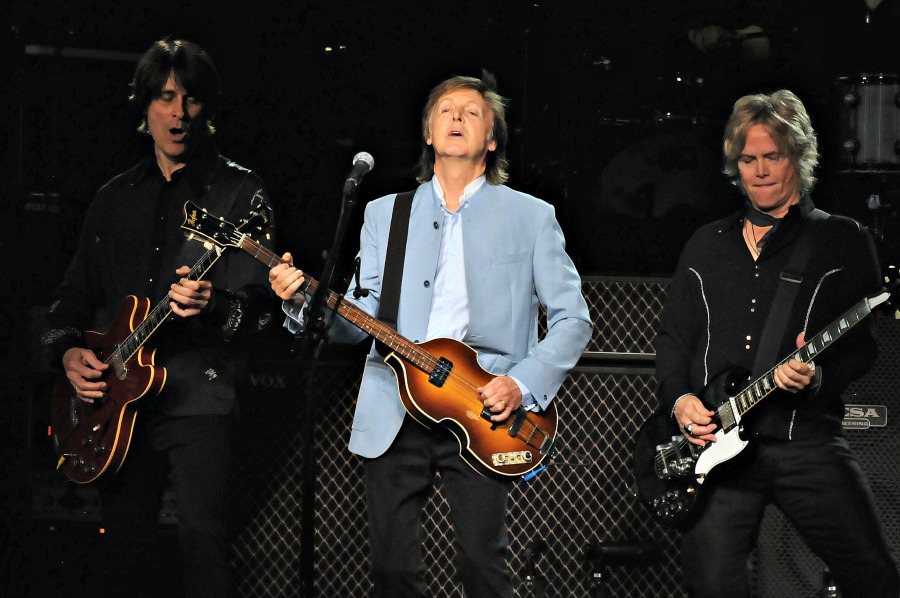 The first song, however, was a real doozy.
The show began with that familiar and iconic chord that opens "A Hard Day's Night," a song that McCartney hadn't played live in its entirety (before this tour) since 1965. "Love Me Do," another song he's never performed post-Beatles, also made the set list, as did "I've Got a Feeling" from "Let It Be."
Expecting McCartney might stick to the set he played at his previous show – June 30 in Belgium – there were a few pleasant surprises. Though he did in fact perform all 31 of the songs he played that night in Europe, he slotted in even more, including "Here, There and Everywhere," "And I Love Her," "Yesterday" and "The Fool on the Hill."
Most enjoyable of all for this long-time fan was hearing him play "You Won't See Me" from "Rubber Soul," a record that's been getting excessive playing time in my car these past few months.
But, really, there were no real low points, except perhaps a lumbering version of "Temporary Secretary" from 1980's "McCartney II," which did little to move the crowd, except downward off their feet and into their seats.
Other solo and Wings-era tunes were considerably more successful, from the rocking "Let Me Roll It," to the tender "Maybe I'm Amazed" and the bombastic "Live and Let Die."
McCartney is the consummate showman, as ever, engaging in banter, doing his little two-step dances, striking poses and reading aloud signs held aloft by audience members. Toward the end of the two-hour and 45-minute show, he invited a pair of sign holders – a father and daughter – on stage for a hug.
— Paul McCartney (@PaulMcCartney) 9 de julio de 2016
As always, McCartney is supported by an able team of musicians – the same ones who performed here with him in 2013.
Reviewing a Paul McCartney gig is a difficult thing for someone who has spent his whole life listening to the Beatles, who were as ubiquitous in my youth as hamburgers and baseball. Reviewing McCartney is sort of like reviewing my left arm.
Sure, it's showing some signs of age and maybe it doesn't move quite as quickly as it used to, but I've gotten a lot of use, enjoyment and benefit out of it, and I can't imagine my life without it.
Set list
"Intro"
"A Hard Day's Night"
"Save Us"
"Can't Buy Me Love"
"Letting Go"
"Temporary Secretary"
"Let Me Roll It"
"I've Got a Feeling"
"My Valentine"
"Nineteen Hundred and Eighty-Five"
"Here, There and Everywhere"
"Maybe I'm Amazed"
"We Can Work It Out"
"In Spite of All the Danger"
"You Won't See Me"
"Love Me Do"
"And I Love Her"
"Blackbird"
"Here Today"
"Queenie Eye"
"New"
"The Fool on the Hill"
"Lady Madonna"
"FourFiveSeconds"
"Eleanor Rigby"
"Being for the Benefit of Mr. Kite!"
"Something"
"Ob-La-Di, Ob-La-Da"
"Band on the Run"
"Back in the U.S.S.R."
"Let It Be"
"Live and Let Die"
"Hey Jude"
Encore:
"Yesterday"
"Hi, Hi, Hi"
"Birthday"
"Golden Slumbers"
"Carry That Weight"
"The End"