www.dailymail.co.uk
Ticket To Ride! Sir Paul McCartney and his stunning wife Nancy Shevell make a stylish departure from Naples after enjoying romantic yacht getaway
By RYAN SMITH FOR MAILONLINE
UPDATED: 1 July 2016
As his daughter Stella McCartney lapped up the festivities surrounding the world premiere of Absolutely Fabulous: The Movie in London, Sir Paul McCartney soaked up sunshine in Italy.
The former Beatle, 74, was spotted departing from a yacht trip in the southern coastal city of Naples with his wife of almost five years, 56-year-old Nancy Shevell, by his side on Thursday.
Looking refreshed and tanned, the veteran rocker looked stylish in a sky blue button-down shirt, neatly tucked into dark navy jeans, while a colourful pair of trendy Nike shoes adorned his feet.
Ticket To Ride: Sir Paul McCartney was seen departing Naples, Italy, with his wife Nancy Shevell on Thursday
Wearing sunglasses and carrying a patterned grey blazer, he looked effortlessly cool as he made his way down the jetty after disembarking from his yacht.
Staying true to her impeccable style, Nancy turned heads as she stepped out in a black T-shirt, featuring black polka dots, and green gingham cropped trousers.
Keeping her feet comfortable in a pair of black plimsolls, she carried a black jacket over one arm while her opposite hand kept a tight grip on a pair of stuffed travel bags.
Casually cool: The couple looked effortlessly stylish as they made their way down to the jetty
Like her famous husband, the brunette beauty his her eyes behind a pair of fashionable sunglasses, while her shiny chestnut brown tresses rested on her shoulders.
Paul and Nancy are set to celebrate their fifth wedding anniversary in October, after tying the knot at London's Marylebone register office in 2011, the same location as his marriage to Linda in 1969.
Paul recently opened up about his late wife in an excerpt from Man on the Run: Paul McCartney in the 1970s by Tom Doyle.
It's fashion, darling! On Wednesday night, his daughter Stella McCartney, left, joined Kate Moss at the world premiere of Absolutely Fabulous: The Movie at London's Odeon Leicester Square
So in love: The lovebirds, pictured at last year's Grammy Awards in Los Angeles, tied the knot in 2011
The snippet - published in Esquire - is focused on a period in the star's life – following the Beatles split - when he felt he almost had a 'nervous breakdown'.
Tom Doyle wrote: 'It was as if he'd suddenly and unexpectedly lost his job, been made entirely redundant. This was an identity crisis in extremis: Who exactly was he if he wasn't Beatle Paul McCartney?'
Paul is then quoted as saying: 'I hit the bottle. I hit the substances.'
The singer described how he felt at the time saying it was like 'a barreling, empty feeling rolling across his soul' but credited his late wife, Linda as the saving grace that helped him through.
Stylish: The couple made their way to France to attend his daughter Stella's Paris Fashion Week show in March
www.ilmattino.it
Paul McCartney in fila per il gelato ad Amalfi, nessuno lo riconosce|Ft
Il Mattino
Giovedì 30 Giugno 2016
Minivacanza campana per il baronetto del pop: Paul McCartney, arrivato a Napoli martedì pomeriggio, si godrà ancora stamattina il mare della costiera amalfitana a bordo delRising Sun, yacht di 133 metri del suo amico e guru discografico David Geffen. Nel pomeriggio di ieri si è concesso un salto a terra, in compagnia della moglie Nancy Shevell e si è messo in fila, come una persona qualsiasi, alla gelateria Porto Salvo: i ragazzi davanti a lui non si sono accorti di avere davanti uno degli uomini più famosi del mondo. Chiedi chi erano i Beatles, avrebbe suggerito Roberto Roversi. Stasera Macca si esibirà a Werchter, in Belgio, e non passerà inosservato.
​Paul McCartney a Capri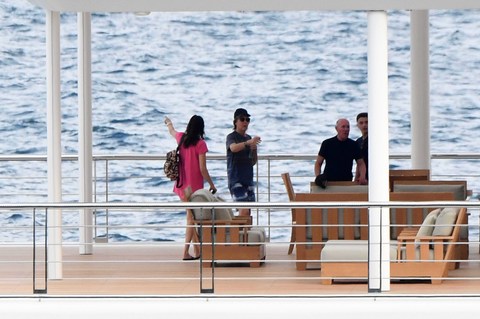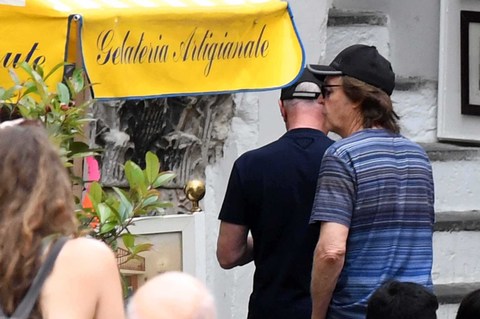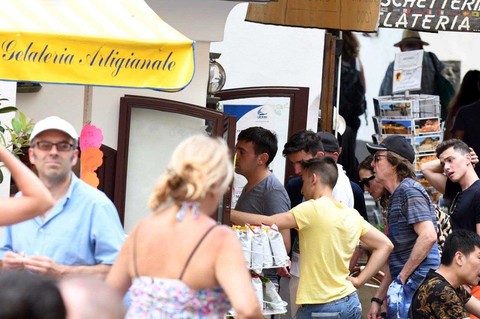 © RIPRODUZIONE RISERVATA