www.dailymail.co.uk
Tony Barrow dies; Beatles publicist coined 'Fab Four' phrase
By ASSOCIATED PRESS
PUBLISHED: 17 May 2016
LONDON (AP) — Tony Barrow, the British publicist who coined the phrase "Fab Four" to describe the early Beatles, has died.
Barrow, 80, died in a Lancaster hospital on Saturday following a lengthy illness, his son Mike Barrow said Tuesday.
Former Beatle Paul McCartney said Barrow "was a lovely guy who helped us in the early years of the Beatles." He called Barrow "super professional but always ready for a laugh."
Mike Barrow said his father coined the phrase at a time when the word "fab" was in common usage. He says "he just put the two together ... it was a masterstroke."
Like the Beatles, Barrow was a Liverpool native and before working with the group he wrote a music column for the Liverpool Echo newspaper. He was recruited for a job as the Beatles' press officer by manager Brian Epstein in 1962, the year they signed a record deal with Parlophone. Barrow wrote the press release for their debut single, "Love Me Do," and assembled a five-page kit titled "Introducing THE BEATLES" that featured a photograph on a pink card.
In Mark Lewisohn's Beatles biography "Tune In," Barrow remembered all four band members making distinct first impressions: McCartney was sociable, George Harrison inquisitive, Ringo Starr shy and John Lennon abrasive.
"All the traits that came out at that initial meeting were consistent with what followed," Barrow said.
He is survived by his widow Corinne and sons Mike and Mark.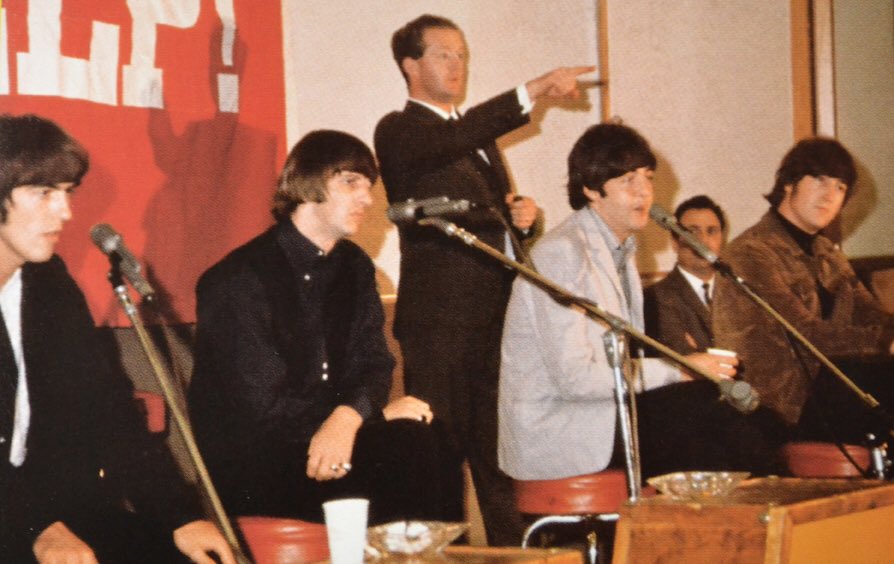 www.PaulMcCartney.com
MAY
15
2016
Paul Pays Tribute To Tony Barrow
"Tony Barrow was a lovely guy who helped us in the early years of The Beatles. He was super professional, but always ready for a laugh.
He will be missed but remembered by many of us." - Paul
twitter.com/GeorgeHarrison
Condolences to the family and friends of Tony Barrow @thebeatles first press officer. #fabfour
twitter.com/thebeatles
Our thoughts are with the family of Tony Barrow, Beatles press officer, who has passed away.
Tony was the Beatles' first press officer and he played an invaluable role in their early career. At a time when the band had a schedule of uninterrupted touring and countless appearances, Tony managed the ceaseless press activity.
He also fulfilled a multitude of other jobs, from writing album sleeve notes to editing the Magical Mystery Tour strip cartoon book.
With love from all at Apple.