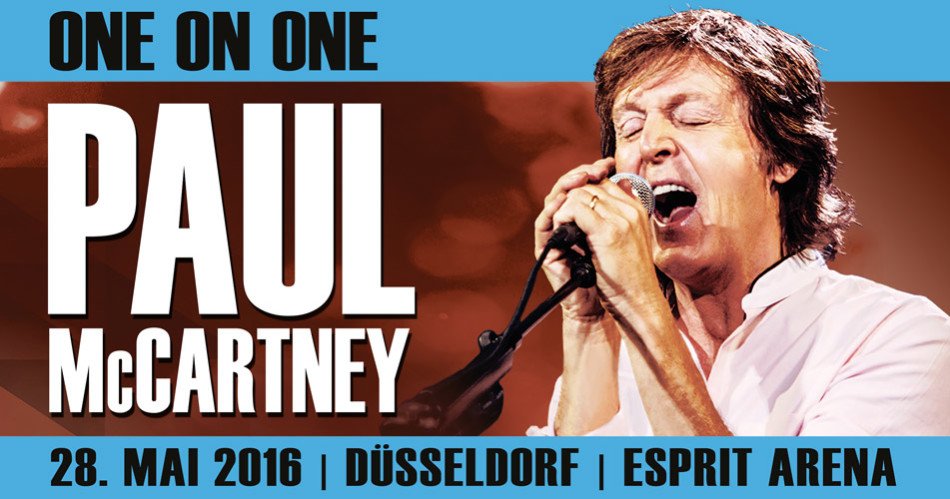 twitter.com/akky2009
ONE ON ONE TOUR 5/28/2016 p.m.800(日本時間5/29AM3時Esprit Arena,Dusseldorf,Germany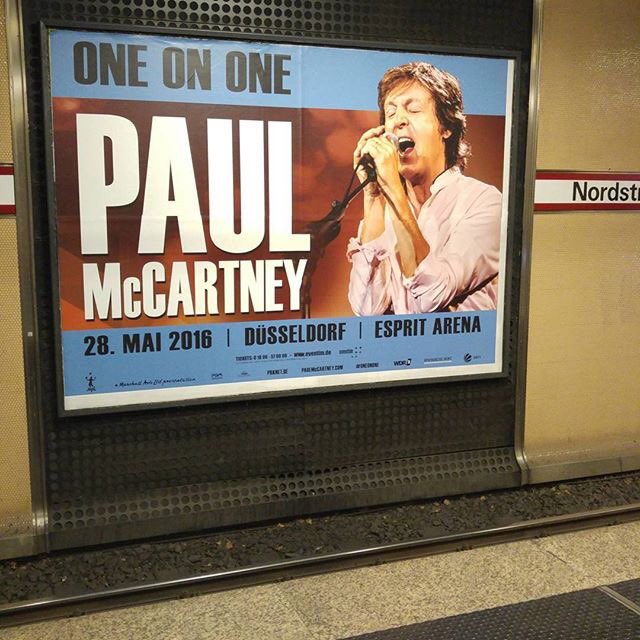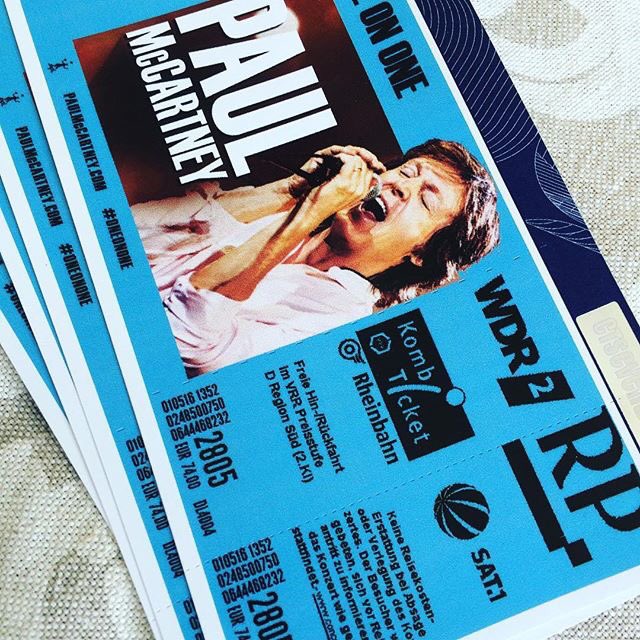 www.YouTube.com
Paul McCartney - ONE ON ONE - Germany 2016
archysde.com
The Dusseldorf concert – Paul McCartney has prepared something
Archy De
Posted on May 26, 2016
Düsseldorf. Paul McCartney's highly anticipated concert on Saturday evening in the Arena is casting its shadow ahead. On Thursday, the elaborate structure began to work for the stage. When we were there.
Already on Tuesday, the 170 tonnes of heavy Equipment for the appearance of the Ex-Beatles came in a huge cargo plane at the airport, was brought from there with 20 trucks him to the Arena. On Thursday, the technically complex construction of the stage for the "One on One"concert on Thursday evening, the first of the Superstars for 44 years began then. A total of approximately 300 people at each Show of the Tour involved.
Expect the Fans, who have Tickets, by the way, this time also some of the big Hits of the Beatles: classics like "A Hard Day's Night" and "Love Me Do", was to hear from McCartney after the breakup of the Beatles long, sings the artist on the current Tour for the first time solo. Also, a total of 73-year-old singer is no slouch: on average there is per concert to listen to 39 Songs.
For vacations it will be on Saturday still a few tickets left at the box office, this is to reach at the entrance to the North-West of the Arena and best of the exhibition Parking lots. Intake will be from about 18 o'clock, from the box office is open. The concert starts at 20 PM. A support band.
www.rp-online.de
Concert in Dusseldorf
Paul McCartney arrives with a half-hour delay
RP ONLINE
May 27, 2016
Photos: Paul McCartney's arrival in Dusseldorf
FOTO: Young David
Dusseldorf. Dusseldorf awaits the arrival of a superstar. And is waiting. And is waiting. Then finally lands lands Paul McCartney with a half hour delay in Dusseldorf. Several hundred fans stand during the front of the hotel Breidenbacher Hof flat feet.
Actually his arrival was scheduled for 17 o'clock. Finally landed Paul McCartney with his plane only at 18.30 on Friday night in Dusseldorf. He will dwell in the Breidenbacher Hof hotel, where already hundreds of fans waiting for his arrival. On Saturday night, McCartney will play a concert in Dusseldorf.
Paul McCartney's arrival in Dusseldorf
There he is! Paul McCartney has landed at Düsseldorf Airport.
Foto: Young David
Actually the musicians should arrive already at 17 o'clock. Finally, it was then 18.30.
Foto: Young David
On Saturday night, McCartney plays in Dusseldorf concert. Here he emerges just the machine at the airport.
Foto: Young David
A veritable escort accompanied McCartney on his journey through the city.
Foto: Young David
Hundreds of fans already waiting outside the hotel Breidenbacher Hof on the arrival of Paul McCartney.
Foto: Christoph Reichwein
Foto: Christoph Reichwein
The stage for Paul McCartney is set up
On Saturday evening (28 'of May) will play here the great Paul McCartney. We looked at the construction work.
Foto: Anne Orthen
The stage with the latest digital technology.
Foto: Anne Orthen
On this wall, the lighting effects will be seen.
Foto: Anne Orthen
Some 25,000 seats are ready.
Foto: Anne Orthen
www.bild.de
AFTER LANDING WORLD STAR PAUL MCCARTNEY STRAIGHT TO ESPRIT ARENA
Here waving a living pop legend
BILD
28.05.2016
Transparent beckons Sir Paul photographers and fans at the airport
Foto: Hojabr Riahi
Dusseldorf - World star, Beatles-founder, Pop-billionaire - and soo casual. After landing his Falcon private jets from England at 17:55 am "General Aviation Terminal" of the airport Dusseldorf Paul McCartney waved from his dark Mercedes limousine still cool to the photographers and fans.
WELCOME, SIR PAUL!
Then the music legend rested not out - it went right along with Entourage for "Esprit Arena". Preparations for the concert tonight before some 27 000 spectators.
Instead the rest Entourage drove straight after landing to Esprit Arena
Foto: Jörg Werth
Much to the disappointment of dozens of autograph hunters waiting in vain in front of the luxury hotel Breidenbacher Hof on their idol.
Dozens fans were hoping for an autograph before Breidenbacher Hof
Foto: Michael Gstettenbauer
The appearance in Dusseldorf (his first in 44 years!) is the European launch of its "One On One" tour, which started in California in April.
In a Facebook video Sir Paul had a few days earlier still warm played for our city: "Hello everyone in Dusseldorf. Let's rock, let's roll! "
Tonight there will be serious! From its mega-stage (65x22 meters) is mega star Sir Paul sing old hits, including "Love Me Do". Dusseldorf Will Love You!
Ex-Beatle Paul McCartney in Düsseldorf
BILD
28.05.2016
Paul McCartney plays in Dusseldorf. Photo: Facundo Arrizabalaga / Archives
Dusseldorf (dpa / lnw) - Ex-Beatle Paul McCartney (73) comes to Germany. For his world tour "One On One" it is now projected in Dusseldorf. It is the first of three concerts in Germany, in June McCartney plays in Munich and Berlin. With its program "One on One", the British pop icon is on a world tour since April.
In Dusseldorf, the organizers expect around 25 000 fans in the sold-out lest Esprit Arena. For his fans in Germany McCartney exerts little German in order to greet them in the local language. On the European agenda of the 73-year-olds still are numerous shows: among others in Paris, Madrid and Prague. In July, the tour then goes to the USA and Canada.
— Paul McCartney (@PaulMcCartney) 25 de mayo de 2016