www.rollingstone.com
6 BEST OUT-OF-PRINT BEATLES RELEASES
By Gavin Edwards
Introduction
While Beatlemaniacs track the release of early outtakes and wonder if the 14-minute experimental cut "Carnival of Light" will ever see the light of day, some of us would be satisfied with the Beatles simply reissuing material that was once widely available. With the magnitude of the Beatles catalog, it's not surprising that some of their strawberry fields lie fallow. Of course, even Magical Mystery Tour and the American albums ultimately went back on sale, so tomorrow never knows which of these six projects might get an official re-release soon. By Gavin Edwards
'Concert at Budokan, 1966'
When the Beatles toured foreign territories, the shows were sometimes filmed and broadcast on local television. A 1964 Melbourne show, for example, was seen across Australia as The Beatles Sing for Shell, but this Tokyo concert is notable because it was filmed in color and features later Beatles songs such as "Paperback Writer" and "I'm Down." Apple eventually released the footage on laserdisc but only did so in Japan. Even though the show was plagued by microphones that wouldn't stay in place and some duff harmonies, we'd love to see this film of the Beatles' final touring days get a worldwide release.
'Around the Beatles'
An excellent 1964 Beatles TV special filmed in England and broadcast around the world, with musical guests including Cilla Black, Long John Baldry, and Millie. Here, the Beatles themselves do a half-dozen songs (including a rare cover of the Isley Brothers' "Shout") and at one point they even get in costume to clown their way through the play within the play from Shakespeare's A Midsummer Night's Dream. George Harrison plays Moonshine, Ringo Starr is the Lion, Paul McCartney portrays Pyramus and John Lennon gets in drag as Pyramus's lover Thisbe.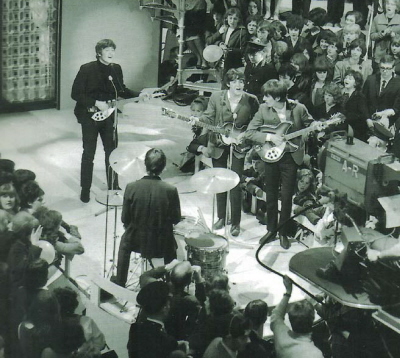 'The Beatles at the Hollywood Bowl'
This 1977 album included performances from two Beatles concerts -- one in August 1964, the other in August 1965. The nonstop screaming of fans also meant that aside from its value as a document of what a Beatles show actually sounded like, the album anticipated a whole generation of music by British shoegazer bands like My Bloody Valentine and the Jesus and Mary Chains, with catchy songs almost completely drowned out by white noise.
The Beatles' Video Collection
The Beatles were pioneers in music video: Since they couldn't tour the whole world at once (and eventually stopped live performances altogether), they filmed short promo films for circulation: Ed Sullivan, for example, got to show clips of band doing "Rain" and "Paperback Writer." There were dozens of these videos, for songs ranging from "Day Tripper" to "Hey Jude," and while they were once widely seen, they're now generally forgotten. Many songs even have multiple versions: Where one "I Feel Fine" video features the band eating fish and chips, while another stars Ringo on an exercise bike. They're delightful, but for some reason, they've never been collected in one place.
'The Beatles Christmas Album'
For seven years, from 1963 to 1969, the Beatles sent out a Yuletide present to members of their fanclub: a flexidisc with holiday greetings. As the years went by, the messages got sillier, and the releases ultimately evolved into full-scale Christmas pageants complete with short plays, poetry and songs that ranged from somewhat traditional carols ("Rudolph the Red-Nosed Ringo") to Lennon/McCartney originals ("Happy Christmas to Ya List'nas" and "Please Don't Bring Your Banjo Back"). Over 44 minutes in total, they were compiled on an LP sent to U.K. fans in 1970 (called From Then to You) and to U.S. fans in 1971 (titled The Beatles Christmas Album). It's completely charming, and deserves to be part of every Beatles fan's holiday celebrations.
'Let It Be'
This Oscar-winning 1970 documentary has never been released on DVD — probably because it shows the Beatles at their unhappiest, squabbling and generally getting up each others' noses. John Lennon described the making of the album and movie as "the most miserable session on earth," and the final cut doesn't even include George Harrison quitting the band for a few days in the middle of filming. That said, the movie also contains some of the best available behind-the-scenes footage of the Fab Four actually assembling songs, not to mention their last public concert ever (the famous lunchtime rooftop performance with Billy Preston).