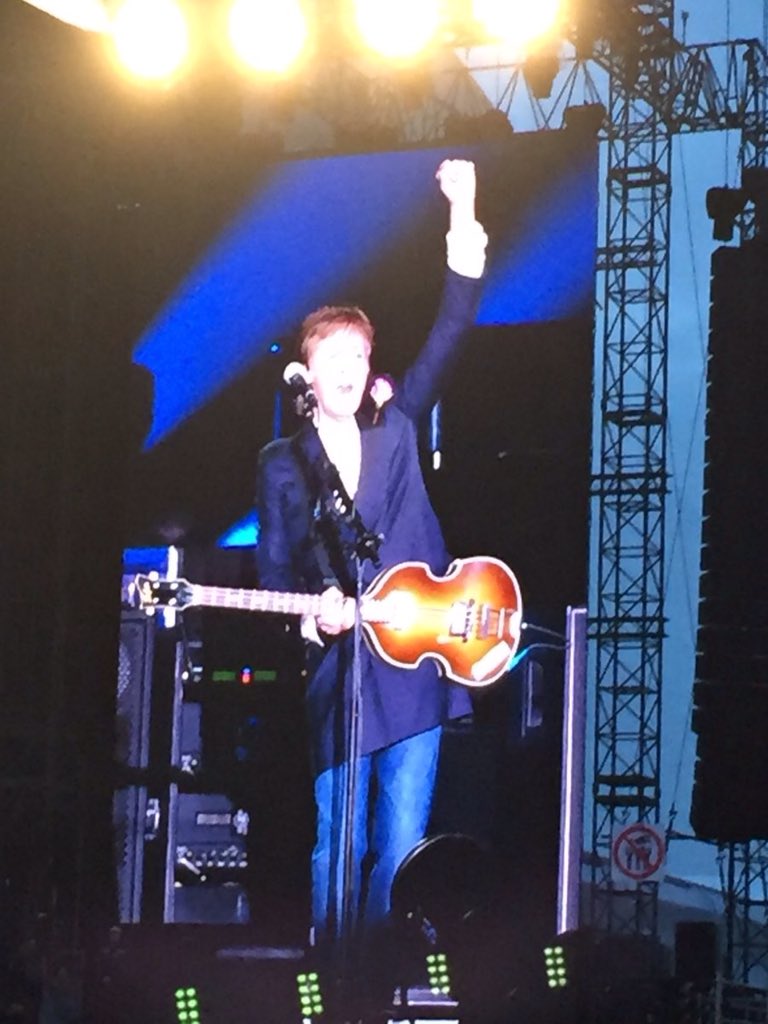 www.instagram.com/bumsnl
#pp16 #studiogiftig #allyouneedislove
twitter.com/graat
Front stage baby!!!!! #mccartney #pp16 #graatpp37
go.3fm.nl
De jeugd van tegenwoordig is gek op Paul McCartney
Maar echt! Vanavond staat er een flinke club jonge mensen in het voorvak te genieten van de ex-Beatle. Dit zijn er een paar!
12 JUNI 2016
(Foto: Bullet-Ray)
Paul McCartney is een levende legende. Als Beatle veroverde hij de wereld en in zijn solocarrière gaat hij daar nog even lekker mee door. Hij sluit de Pinkpop-zondag af op de mainstage, met een set van twee (!) uur. Wie denkt dat daar alleen maar fans van het eerste uur op af komen, heeft het mis. De Beatlemania wordt gewoon van generatie op generatie doorgegeven ;)
Annabel
Annabel (17) houdt van The Beatles! Hoe? "M'n vader was echt superfan en hij zette altijd liedjes op. Vanaf dat ik me kan herinneren is dat al zo geweest. Ik vind dat dit nog échte muziek is, in tegenstelling tot wat je tegenwoordig vaak hoort. Mijn favoriete nummer is toch wel 'Let It Be', denk ik."
Jeroen en Simon
Jeroen (23) en Simon (23) zijn fans van zowel The Beatles als Paul McCartney's solowerk. Hun muziekdocent liet hen op 13-jarige leeftijd kennis maken met The Beatles en het was liefde op het eerste gezicht. Jeroen: "Dit is de vijfde keer dat ik 'm live zie in zeven jaar. Ik vind de muziek geweldig, maar ook de sfeer die het opwekt in het publiek. Ik zag net bijvoorbeeld Kygo en dat mist gewoon wat..." Simon: "Ik weet nog dat Jeroen een keer meerstemmig mee ging zingen met The Beatles. Het zit helemaal in hem!"
Loïs
Loïs (16) heeft de Beatles-koorts overgenomen van haar ouders: "Zij zetten dat best wel vaak op. Volgens mij heeft een van hen ze nog wel live gezien, zelfs! Ik ben vandaag speciaal voor Paul gekomen, het is de eerste keer dat ik 'm zie. Het maakt me niet uit wat hij speelt, hij is er. Dat is genoeg."
Jolyne
Jolyne (26) is met haar hele familie afgereisd naar Landgraaf. Ze heeft een leuke link met het nummer 'Michelle': "Als baby zong mijn moeder het voor me om me in slaap te krijgen. Dat wist ik heel lang niet, tot ik ooit het album van The Beatles kocht waar 'Michelle' op staat. M'n moeder hoorde dat ik verliefd was op dat nummer en vertelde me toen dat verhaal. Dat was zó leuk! Geen idee of hij 'm speelt, maar ik heb er hoe dan ook superveel zin in!"
Tim
Tim (20): "Ik luister nu een jaar of tien naar The Beatles, sinds ik het een keertje als opdracht kreeg op gitaarles. Ik heb toevallig laatst zo'n 360-headset gekocht en een filmpje gekeken van 'Live And Let Die', waarbij je dan op het podium staat. Compleet met vuurwerk joh, dus ik denk wel dat het een topshow wordt vanavond!"
twitter.com/Dwarsliggert
Waiting voor Sir @PaulMcCartney #pp16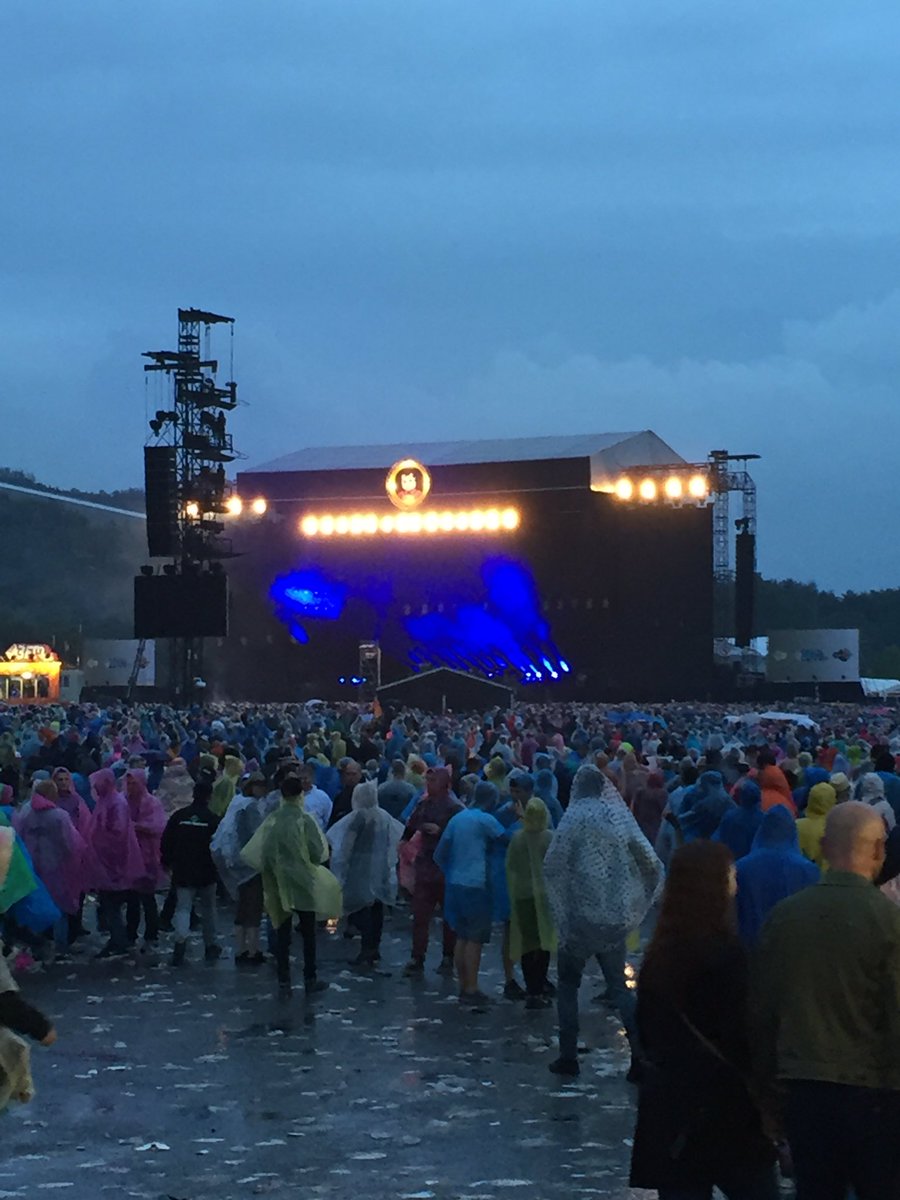 twitter.com/stefanraatgever
Wat speelde Paul McCartney vanavond op #Pinkpop?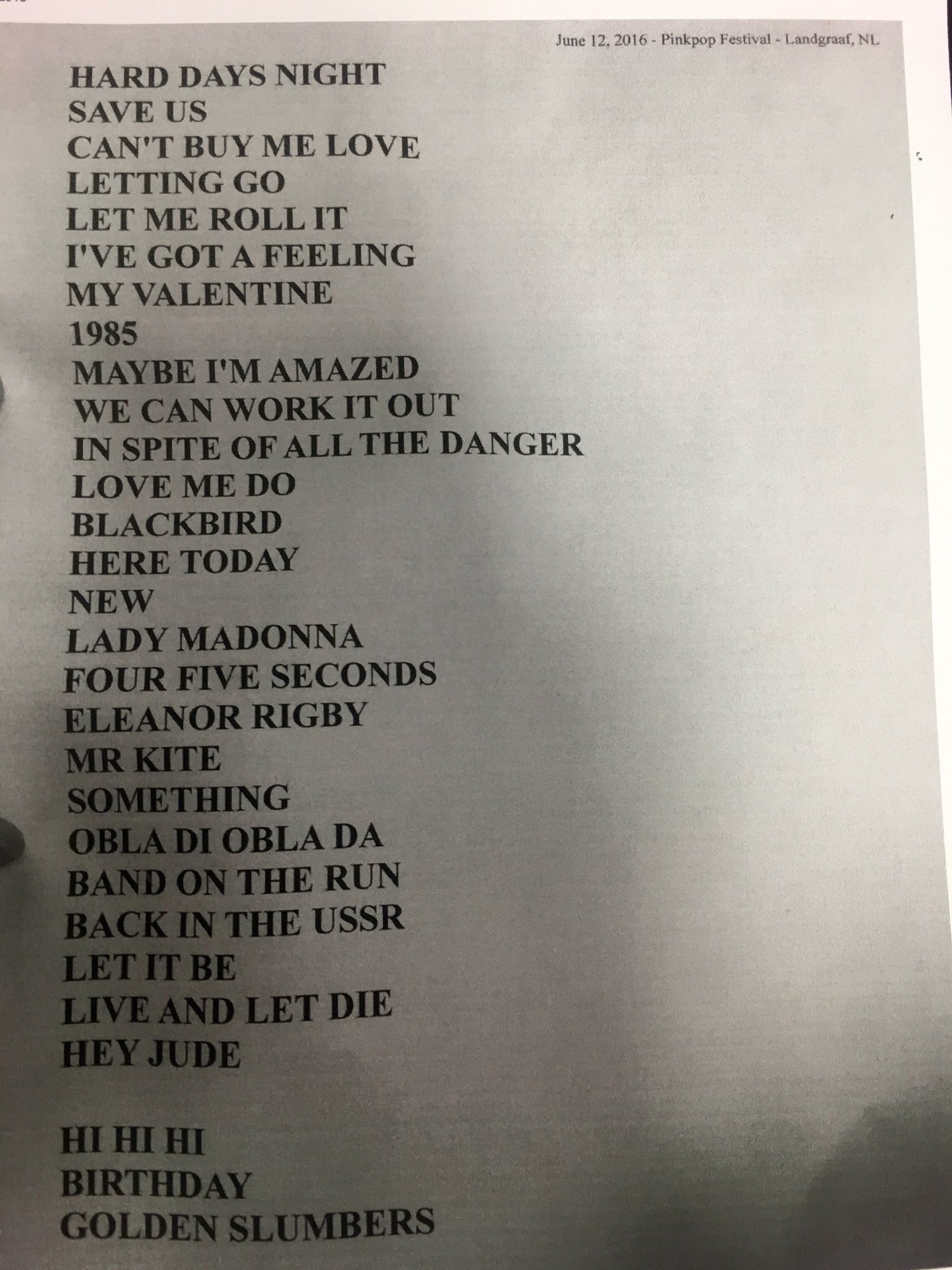 SEE IN PERISCOPE
https://www.periscope.tv/w/1PlJQjvynDVxE
https://www.periscope.tv/w/1vAxRpayjjgGl
https://www.periscope.tv/EduardNazarski/1LyGBlMyOvjxN
https://www.periscope.tv/w/1nAJEqOyzkZJL
https://www.periscope.tv/w/1nAKEqOzmXAKL
https://www.periscope.tv/LVenselaar/1LyGBlMAzokxN
https://www.periscope.tv/w/1djxXwepORNJZ
https://www.periscope.tv/w/1yNxaRapjenKj
https://www.periscope.tv/w/1mrxmzorLRLKy
https://www.periscope.tv/LVenselaar/1YqGoZedgVgKv
https://www.periscope.tv/w/1djGXweROEVKZ
https://www.periscope.tv/JorisWasHier/1OdKrwEqQOeGX
https://www.periscope.tv/stefanraatgever/1ZkKzvMLAVDKv
https://www.periscope.tv/evalamme/1ZkJzvMmPWZJv
https://www.periscope.tv/EduardNazarski/1DXxyZmeELNKM
https://www.periscope.tv/w/1lPKqzELjnbGb
https://www.periscope.tv/w/1DXxyZmAndZKM
twitter.com/xAnniekS
THANKYOU SO MUCH @PaulMcCartney #PINKPOP I love you 💗