twitter.com/PaulMcCartney
Now that's what I call a Rock Show! #OneOnOne in Munich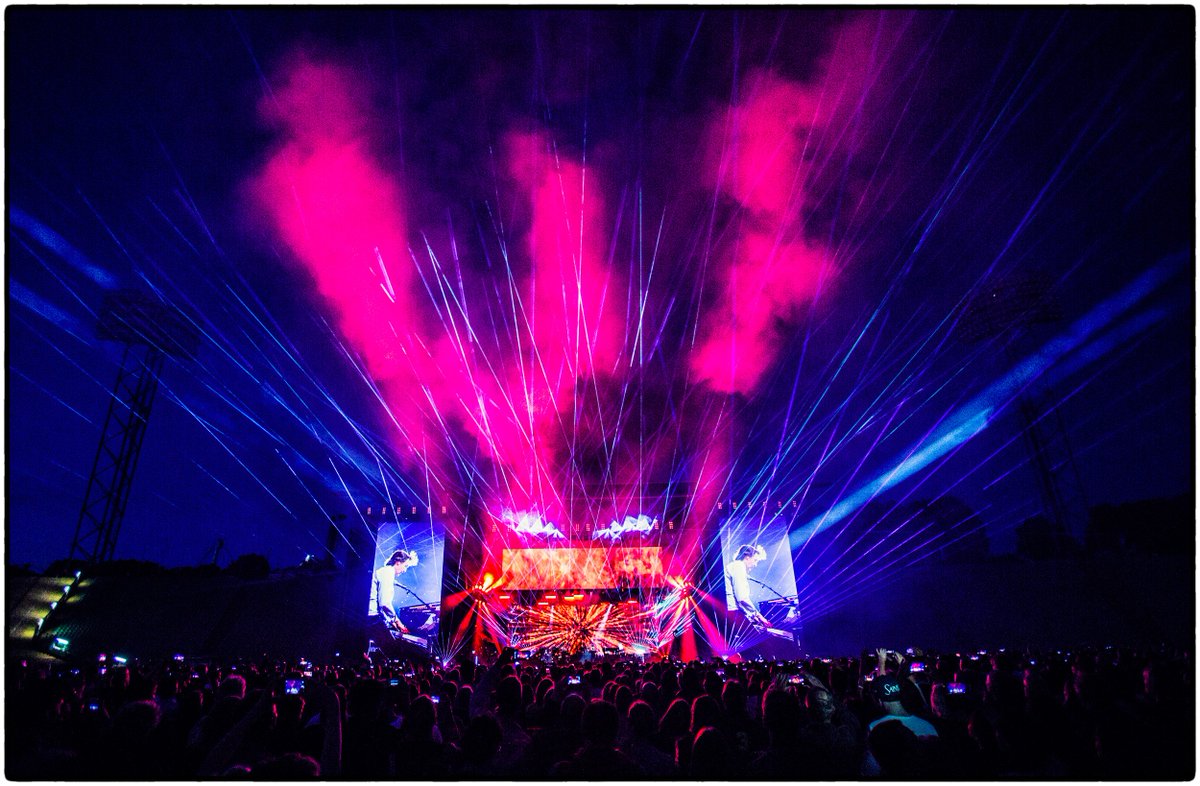 Happy band of brothers! (Olympic Stadium Munich, Germany) #OneOnOne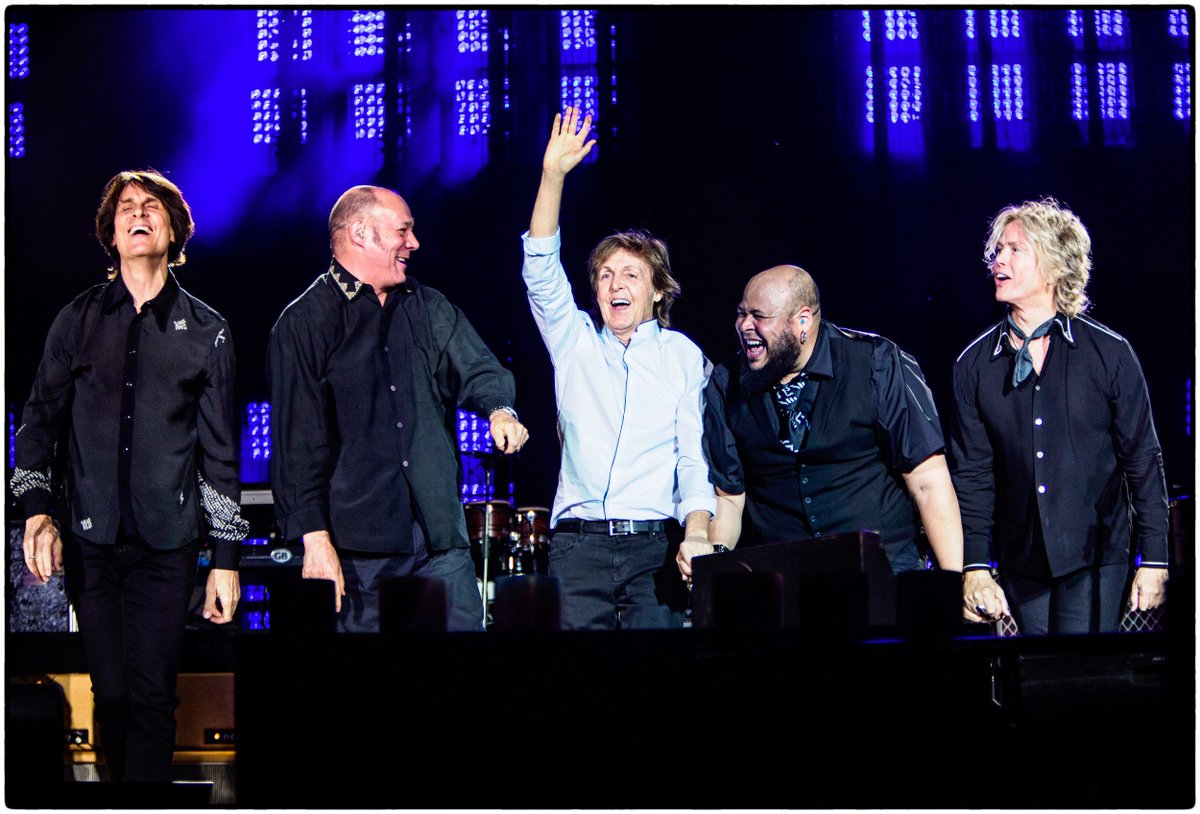 www.instagram.com/brianrayguitar
It was the first night of summer and a wonderful time with this guy @paulmccartney in Munich #bandofbrothers cc with @ogabejr @wixwickens and @rustyanderson1
www.abendzeitung-muenchen.de
Ex-Beatle McCartney spielt in München
dpa
10.06.2016
Ex-Beatle McCartney plays in Munich
www.merkur.de
Paul McCartney schreit und verbindet die Generationen
KONZERTKRITIK AUS DEM OLYMPIASTADION
Johannes Löhr
10.06.2016
Paul McCartney shouts and connects the generations
CONCERT REVIEW FROM THE OLYMPIC STADIUM
Paul McCartney verzückte mit seinen Balladen das Münchner Publikum im Olympiastadion.© Fonth
Paul McCartney ecstatic with his ballads the Munich audience at the Olympiastadion. © Fonth
München - Nach 50 Jahren kehrt einer der Beatles nach München zurück. Und dabei macht Paul McCartney das, was er am besten kann: Balladen singen. Sein Auftritt im Münchner Olympiastadion.
Die bayerische Poliziei war sich sicher, dass es bei diesem Konzert zu Ausschreitungen kommen wird – erhöhte Vorsicht dringend geboten, wenn Paul McCartney und Kollegen in der Stadt sind. Das Publikum, so die Ordnungshüter, sei potenziell gewalttätig.
So war das, 1966, als die Beatles zum ersten und einzigen Mal in München spielten. Popmusik war fester Bestandteil von Randale und jugendlicher Rebellion gegen die Eltern und sonstige miefige Institutionen. Fünfzig Jahre später ist Paul McCartney wieder mal in München – aber an diesem Freitagabend sind die Kinder mit ihren Eltern und Großeltern da, um im Münchner Olympiastadion einem gediegenen Konzert zu lauschen, das überwiegend aus Songs besteht, die zum Weltkulturerbe zählen. Das weite Rund ist immerhin gut gefüllt, wenn auch nicht ganz ausverkauft. Die Konkurrenz ist mit der zeitgleich stattfindenden Fußball-EM-Eröffnung wohl zu stark.
Drei Generationen jubeln, als "Macca", 73, mit Bass und blauem Sakko die Bühne betritt, immer noch mit jugendlichem Elan und Spitzbuben-Charme. "Servus München!", ruft er. "Ich werde versuchen, ein bisschen Deutsch zu sprechen." Das hält er durch - mit
"A Hard Day's Night" macht den Anfang - die Magie der jungen Beatles ist das zwar nicht mehr, aber ihr wichtigster lebender Vertreter legt sich ins Zeug. Im Bühnenhintergrund laufen Szenen dieser einzigartigen Künstlerkarriere. Bei "Can't buy me Love" spielen auf der Videowand sogar die jungen Beatles virtuell mit.
Die heutige Band trifft den Sound der Klassiker genau, sie rockt ungestüm durch "Helter Skelter" genauso wie sie "Four-FiveSeconds", dem 2015er-Hit mit Rihanna und Kanye West einen dezent zeitgemäßeren Sound verpasst. Der Meister selbst kann immer noch mächtig schreien (hat aber in den Höhen Probleme). Berühmt ist McCartney freilich für seine Balladen, und er spielt sie – fast – alle: "Here, There And Everywhere", "Yesterday", "Maybe I'm Amazed" und im Mittelteil des Konzerts, nur zur Akustikgitarre, "Blackbird". Der anrührendste Moment: Als er, nur mit Ukulele, "Something" von seim Kumpel George Harrison anstimmt.
Den Schlusspunkt setzt wie immer das Medley von der LP "Abbey Road" – mit "The End". Der Rest ist Jubel – fast wie 1966. Schon damals hatte sich die Polizei geirrt. Keine Gewalt, nur grenzenloses Glück.
Johannes Löhr
Munich - After 50 years of the Beatles returned to Munich. And Paul McCartney does what he does best: sing ballads. His appearance at the Munich Olympic Stadium.
The Bavarian Poliziei was sure that there will be riots at this show - be extremely careful pressing, when Paul McCartney and colleagues are in town. The crowd, the policeman who was potentially violent.
So it was, in 1966, when the Beatles played the first and only time in Munich. Pop music was an integral part of riots and youthful rebellion against parents and other smelly institutions. Fifty years later, Paul McCartney is once again in Munich - but this Friday night the children are there with their parents and grandparents to listen at the Munich Olympic Stadium a dignified concert, which consists predominantly of songs, and a World Heritage Site. The wide round is nevertheless well filled, although not quite sold. The competition is with the simultaneously held Football Championship opening probably too strong.
Three generations cheer as "Macca", 73, with bass and blue jacket enters the stage, still with youthful energy and rogues Charm. "Servus München!" He shouts. "I'll try to speak a little German." He holds by - with
"A Hard Day's Night" is the beginning - the magic of the young Beatles that is no longer, but their most important living representatives lies down on the stuff. In stage background scenes running of this unique artist career. In "Can't buy me love" play on the video wall even the young Beatles virtually with.
Today's ribbon makes the sound of classic exactly she rocks violently through "Helter Skelter" as well as "Four-Five Seconds", the 2015er hit with Rihanna and Kanye West missed a subtly more contemporary sound. The master himself can still cry mightily (but has in the heights problems). Famous McCartney is certainly for his ballads, and he plays it - almost - all: "Here, There and Everywhere", "Yesterday", "Maybe I'm Amazed" and in the middle part of the concert, only to acoustic guitar, "Blackbird". The most touching moment: When he, with chords, "Something" intones from seim pal George Harrison.
The finale is as always the medley of the album "Abbey Road" - with "The End". The rest is cheering - almost as 1966. Even then, the police had made a mistake. No violence, only boundless happiness.
www.frankenpost.de
Ex-Beatle McCartney erobert Fan-Herzen auf Deutsch
dpa
11.06.2016
Ex-Beatle McCartney conquered heart of Fans in German
Ex-Beatle Paul McCartney (l) im Olympiastadion in München. Foto: Sven Hoppe/Archiv
Ex-Beatle Paul McCartney (L) at the Olympic Stadium in Munich. Photo: Sven Hoppe / Archives
Ein Konzert mit Feuerwerk und einem kräftigen Hauch Nostalgie: Ex-Beatle Paul McCartney hat am Freitag Zehntausende Fans im Münchner Olympiastadion begeistert - und dabei am meisten Applaus für die Hits der «Fab Four» geerntet.
«Servus München, es ist schön, wieder hier zu sein nach so langer Zeit», begrüßte der 73-jährige Brite in weißem Hemd seine Zuschauer - und versprach, während des Konzerts immer wieder Deutsch zu sprechen. Er hielt Wort. Bei Songs wie «Something», «Let It Be» und «Hey Jude» wurden Tausende Feuerzeuge und Handyleuchten hochgehalten.
Der Großteil des Programms bestand aus Beatles-Klassikern wie «Love Me Do», «A Hard Day's Night» oder «Lady Madonna», den Rest bestritt Macca, wie die Musik-Legende auch genannt wird, aus Wings- und Solo-Zeiten. Immer wieder wechselte Sir McCartney beim zweiten Deutschland-Konzert seiner «One On One»-Tour das Instrument, spielte Akustik- und E-Gitarre, Bass, Ukulele und Keyboard. Zum James-Bond-Thema «Live And Let Die» von den Wings ließ er es gegen Ende richtig krachen: Über dem Olympiapark leuchtete ein imposantes Feuerwerk. Bei «Hey Jude» stimmten die Fans - größtenteils gesetzteren Alters - bedächtig in den Refrain ein.
"One On One"-Tour
A concert with fireworks and a strong hint of nostalgia: Ex-Beatle Paul McCartney has impressed on Friday tens of thousands of fans in Munich's Olympic Stadium - and harvested the most applause for the hits of the "Fab Four".
"Servus München, it's nice to be back here after all this time", welcomed the 73-year-old Briton in white shirt his audience - and promised to speak German again during the concert. He kept his word. With songs like "Something", "Let It Be" and "Hey Jew" Thousands lighters and cell phone lights were kept high.
Most of the program consisted of Beatles classics like "Love Me Do", "A Hard Day's Night" or "Lady Madonna", the rest denied Macca, as the music legend is also known, from Wings- and solo hours. Sir McCartney at the second concert in Germany of its "One On One" tour kept changing the instrument, played acoustic and electric guitar, bass, ukulele and keyboards. For James Bond theme "Live And Let Die" by Wings he really crack towards the end: About the Olympic Park shone a scintillating display. In "Hey Jude" fans - mostly sedate age -agreed slowly in the chorus .
"One On One" tour
Ex-Beatle Paul McCartney gab am Freitag in München ein Konzert.
Foto: Sven Hoppe, dpa
Ex-Beatle Paul McCartney was in Munich on Friday a concert.
Photo: Sven Hoppe, dpa
PAUL MCCARTNEY IN MUNICH
Ex-Beatle Paul McCartney (M) 06/10/2016 at the Olympic Stadium in Munich (Bavaria) on. Photo: Sven Hoppe / dpa