www.annarbor.com
Liquidators sell guitar donated to Borders by The Beatles' George Harrison
Posted:

Tue, Nov 8, 2011 : 2:45 p.m.
By

Nathan Bomey


Business news director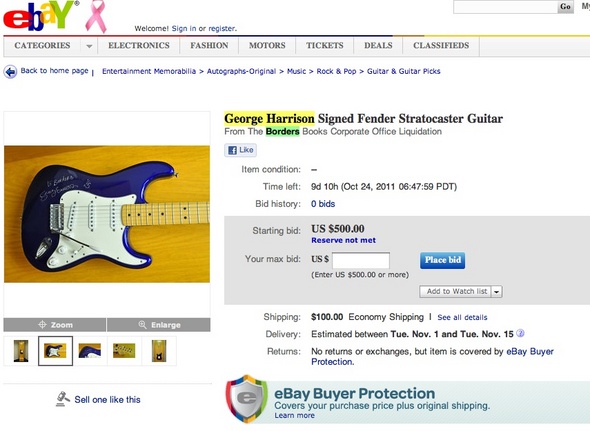 This screen capture shows an expired eBay auction listing for a guitar signed and donated by George Harrison to recognize Borders' role in the reissue of one of his records.
When the late
George Harrison
donated a signed
Fender Stratocaster
guitar to the Ann Arbor headquarters of
Borders Group Inc.
, the lead guitarist for
The Beatles
considered the gesture a sign of his gratitude for the bookstore chain's support of one of his reissued records, former employees said.
More than a decade later, the guitar, a glass-enclosed fixture in the lobby of Borders' headquarters on Phoenix drive, has been sold — a casualty of the company's liquidation.
The profits, like everything else Borders owned, will be pooled and distributed to the company's top creditors. The bookstore chain has closed all its stores and liquidated its book inventory, but some of its corporate property is still being sold off.
Jim Shaw, a consultant for liquidator Gordon Brothers Group LLC who is handling the liquidation of the remaining property at Borders' Ann Arbor headquarters, and a representative for Hilco Fixed Asset Recovery LLC confirmed today that the guitar had been sold.
Shaw declined to say how much the guitar fetched on
eBay
. A
cached version of an eBay listing
that was posted Oct. 24 and summarily removed from the site listed a starting bid of $500.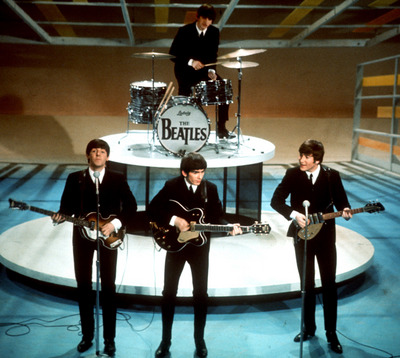 AP Photo
"This guitar was a gift to Borders Books from George Harrison and comes with a custom, lighted 2-door lockable cabinet," according to the listing. "This guitar was displayed in the Borders corporate office lobby for many years, but due to the bankruptcy, it is now offered up for auction."
The guitar Harrison signed and donated to Borders was manufactured in Ensenada, Mexico from 2000 to 2001. Harrison died Nov. 29, 2001.
"George signed a very small number of guitars for Capitol Records a few months before he died," according to an internal Borders newsletter quoted by the liquidators in the eBay listing. "Because of our great relationship and high market share on the Beatles and George Harrison releases, Capitol presented one of the guitars to Borders Group."
Susan Aikens, who worked for Borders for 16 years, most recently as a senior buyer leading the children's trade book department, said she "walked past it every day as I went to work."
"George Harrison never wanted it to be sold," Aikens told AnnArbor.com today. "It was given to us as a gift as an appreciation. It's just unfortunate because of way the bankruptcy and the liquidation has gone. Everything belongs to the liquidation now."
Several former employees of Borders' Ann Arbor headquarters had mobilized to raise funds to buy the guitar before it could be sold off by the liquidators. According to a tally published on a Facebook page for the fundraising effort, supporters had donated $380. Those funds will be donated to a foundation that supports former Borders employees.
Aikens donated $50.
"It's my little way of denying the liquidators some profit," she said, before AnnArbor.com discovered the guitar had been sold.
Former Borders employee Melissa Towle, who helped to organize the fundraising effort, suggested on the Facebook page that the employees could buy the guitar and "donate it to the (Borders) Foundation, donate it to the Rock & Roll Hall of Fame or donate it to some other great cause, all in the name of Borders employees. This will be a much better solution than it just being another profit for the liquidators!"
Shaw declined to reveal the guitar's buyer or the price. He said the liquidators are legally obligated to sell the property for the highest possible price.
Contact AnnArbor.com's Nathan Bomey at (734) 623-2587 or nathanbomey@annarbor.com. You can also follow him on Twitter or subscribe to AnnArbor.com's newsletters.