Surprise announcement: Paul McCartney to play Save Mart Center at Fresno State in April 2016
kmph-kfre.com
abc30.com
PAUL McCARTNEY'S BIGGEST FANS READY FOR FRESNO CONCERT
By Dale Yurong
Monday, April 11, 2016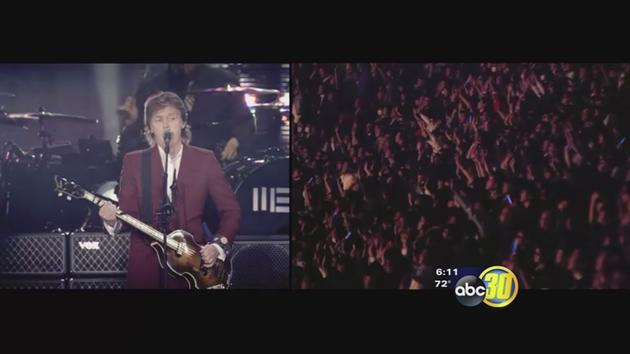 Music fans have been counting down the hours until they can watch Paul McCartney rock the Save Mart Center Wednesday night. (KFSN)
FRESNO, Calif. (KFSN) -- Music fans have been counting down the hours until they can watch Paul McCartney rock the Save Mart Center Wednesday night. We found two of the biggest McCartney fans you will ever see right here in the valley.
65-year-old Sue Weisenahus danced alongside Paul onstage in Vienna, Austria on July 22, 2013 - at 5:07pm she remembered. The Hanford woman also shared a hug with McCartney that day.
Weisenhaus recalled, "It was the ultimate because I got to have that face to face. Look him in the eye. Share from my heart and I got to feel his heart back and I got to kiss him."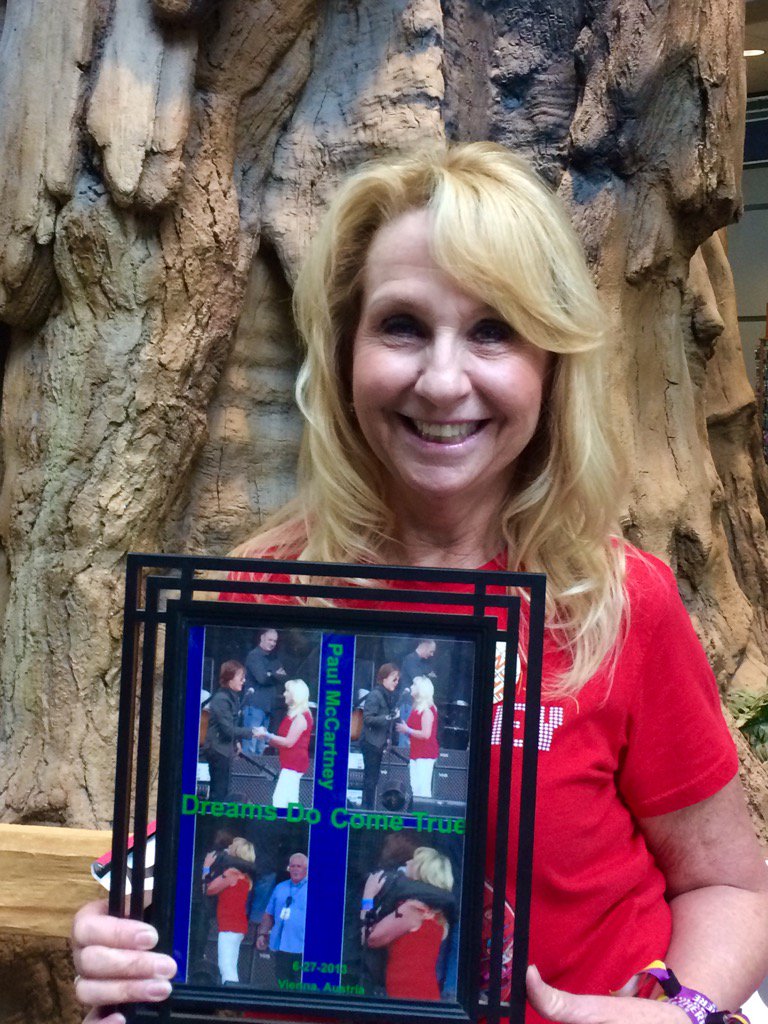 Weisenhaus has seen Paul McCartney 73 times in concert so it was only natural Paul finally comes to Fresno so Sue doesn't have to travel.
Sue figured, "He came to Fresno just for me I think. Yeah, I put on quite a few miles. I think it was his turn to come to my house."
Various signs have made it easy to find Weisenhaus at concerts. Many of Sue's friends were coming to Fresno. They're all part of Paul's "Fans on the Run." Sue said McCartney even acknowledged them during the Candlestick Park farewell concert.
1965 marked the first time Sue saw The Beatles. The then 15-year-old actually ran away from home - for a day.
Weisenhaus explained, "My mom wouldn't let me go to the Hollywood Bowl so I lied to her. I said I was babysitting and I got on an Amtrak train at the station in Hanford."
The Fresno home of Arthur Jacquez resembled the Hard Rock Cafe with all of The Beatles memorabilia he has amassed. Albums, autographs, artwork he has done of the Beatles and even John Lennon artwork was on display.
Jacquez has always enjoyed, "The originality, the individuality. They've been around the sixties but even to today they're always being reinvented."
Arthur has been collecting since he was a teenager so he's thrilled Paul is coming to Fresno.
Jacquez said, "This will be probably the one and only time I get to see any of The Beatles in any way shape or form and I thought it I don't go now, I'm never gonna go."
Both Arthur Jacquez and Sue Weisenhaus will be in the VIP section at the Paul McCartney concert.
Weisenhaus will catch the McCartney concert in Fresno and then follow him to Portland, Seattle, and Vancouver. She said she's broke and has to "rob Peter to pay Paul."
www.fresnobee.com
More seats added for Paul McCartney concert in Fresno
· Tickets on sale 7 a.m. April 12 at the Save Mart Center box office
· Tickets on reseller sites; some at near face value
· High resale prices seem to be leveling off
· Floor seats still available
BY JOSHUA TEHEE
APRIL 11, 2016
Paul McCartney will kick off his "One on One" tour Wednesday, April 13, 2016, at Save Mart Center in Fresno. MJ KIM MPL Communications
For many, seeing Paul McCartney live in concert is a once-in-a-lifetime proposition. There was no doubt of a few broken hearts when tickets to see the Beatles' bassist kick off his One on One" tour in Fresno sold out within hours of going on sale.
Of course, those without tickets aren't completely out of luck.
A select number of new seats have been added to the concert, which happens Wednesday, April 13, at the Save Mart Center. The seats, in the lower level, will be released for sale on Tuesday, April 12, at the Save Mart Center box office only. Tickets will be sold via lottery, with numbers handed out from 7 to 7:30 a.m.
Box-office aside, there are also tickets available on the secondary market – and some are now selling at or below face value.
A quick check of popular reseller sites on Monday, April 11, shows tickets are still available throughout most of the arena and prices are beginning to level off. Last week, the cheapest tickets on reseller site Vividseats were priced at $106, well above face value. Today, seats in the upper sections were selling for just over $90 and there were seats in the lower levels just to the rear of the stage selling for around $100, less than the face value.
The reseller site Stubhub has floor seats selling for as low as $214; though seats in the third row are still priced at $2,000 each. There are also tickets available on sites such as eBay and Craigslist for those willing to deal directly with sellers.
This is McCartney's first time playing Fresno and is his only California date.
It's also the kickoff of the tour and the first glimpse of the 73-year-old's all-new production.
Joshua Tehee: 559-441-6479, @joshuatehee
Rob Grabowski
The Associated Press