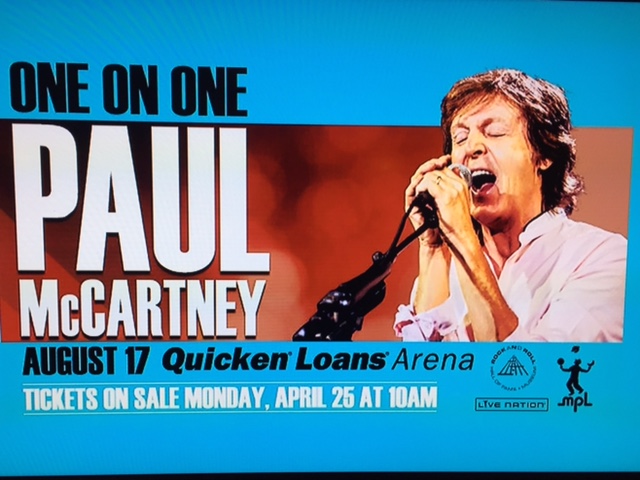 (Photo: Tim Coffey, WKYC-TV)
www.PaulMcCartney.com
APR
18
2016
Cleveland Date Added to Paul's
'One On One' Tour
FIRST CLEVELAND CONCERT SINCE 2002
August 17 – Cleveland, OH – Quicken Loans Arena
Paul McCartney has confirmed his first Cleveland concert appearance since 2002: On
Wednesday, August 17th Paul's brand new 'One On One' tour will make a stop at Quicken
Loans Arena.
PRE-SALE DETAILS:
Fans registered with PaulMcCartney.com by 9am (local / 2pm BST) on Tuesday
19th April will be eligible to purchase pre-sale tickets for Paul's

Cleveland
concert through the website at 10am (local / 3pm BST) on the same day
(Tuesday 19th April).
As with the launch of every new Paul McCartney tour, 'One On One' promises to unveil
a dazzling re-designed set, dozens of classics from the most beloved catalog in popular
music, spanning Paul's entire career--as a solo artist, member of Wings and of course
as a Beatle—and no shortage of surprises.
'One On One' is the first new Paul McCartney tour since the juggernaut that was 'Out
There' came to its stunning conclusion on October 22, 2015 with Paul's first ever
concert in Buffalo, NY. 'Out There's finale capped off an incredible 2015, in which the
tour played 27 shows in 22 cities throughout the world, with highlights including Paul's
historic debut in South Korea—where the crowd at Seoul Olympic Stadium's refusal
to stop singing the refrain to 'Hey Jude' literally forced Paul to reprise the song in the
first encore, playing that signature bassline live for the first time—three nights at the
Tokyo Dome and one at Budokan, a sold out stand at Paris' majestic Stade de France,
more than a dozen packed arena shows across the U.S., UK and Europe, and
triumphant headlines at festivals such as Firefly, Roskilde, and Lollapalooza in
Chicago—the latter a tour de force performance for a 100,000-strong crowd featuring
a guest appearance from Alabama Shakes' Brittany Howard on 'Get Back.'
The Paul McCartney live experience is everything any music lover could ever want from
a rock show—and so much more: Nearly three hours worth of the greatest moments
from the last 50 years of music, dozens of songs that have formed the soundtracks of
our lives. Paul and his band have played an unparalleled range of venues and locations:
outside the Coliseum in Rome, Moscow's Red Square, Buckingham Palace, The
White House, a free show in Mexico for over 400,000 people, the last ever show at
San Francisco's Candlestick Park where The Beatles played their final concert 1966,
and even one performance broadcast live into Space! Featuring Paul's band of the
last 10+ years – Paul "Wix" Wickens (keyboards), Brian Ray (bass/guitar), Rusty
Anderson (guitar) and Abe Laboriel Jr (drums) – the show is never anything short of
life-changing.
The 'One On One' Tour will debut a brand new production, as always utilizing state
of the art audio and video technology and to ensure an unforgettable experience from
every seat in the house. Employing massive screens, lasers, fireworks and, of course,
a staggering selection of the best songs ever written or performed, every Paul McCartney
show promises a once in a lifetime evening that transcends and elevates the potential
of live music.
Tickets for the Cleveland date will be on sale Monday, April 25 at 10am EST via,
theQarena.com, Quicken Loans Arena Box Office, by-phone at 888-894-9424 or
at any Northern Ohio Discount Drug Mart.
American Express® Card Members can purchase tickets before the general
public beginning Wednesday, April 20 at 10am EST through Sunday, April 24
at 10pm EST.
PAUL McCARTNEY
ONE ON ONE
North American Dates 2016—New Date in BOLD
April 13 - Fresno, CA - SaveMart Arena
April 15 - Portland, OR - Moda Center
April 17 - Seattle, WA - Key Arena
April 19 & 20 - Vancouver, BC - Rogers Arena
April 30 - Little Rock, AR - Verizon Arena
May 2 - Sioux Falls, SD - Denny Sanford Premier Center
May 4 & 5 - Minneapolis, MN - Target Center
July 8 - Milwaukee, WI - SummerFest
July 10 - Cincinnati, OH - US Bank Arena
July 12 - Philadelphia, PA - Citizens Bank Park
July 19 - Hershey, PA - Hersheypark Stadium
July 21- Hamilton, ONT - FirstOntario Centre
August 7 - East Rutherford, NJ - MetLife Stadium
August 13 - St. Louis, MO - Busch Stadium
August 17 – Cleveland, OH – Quicken Loans Arena
www.wkyc.com
Paul McCartney coming to Cleveland this
summer
WKYC
April 18, 2016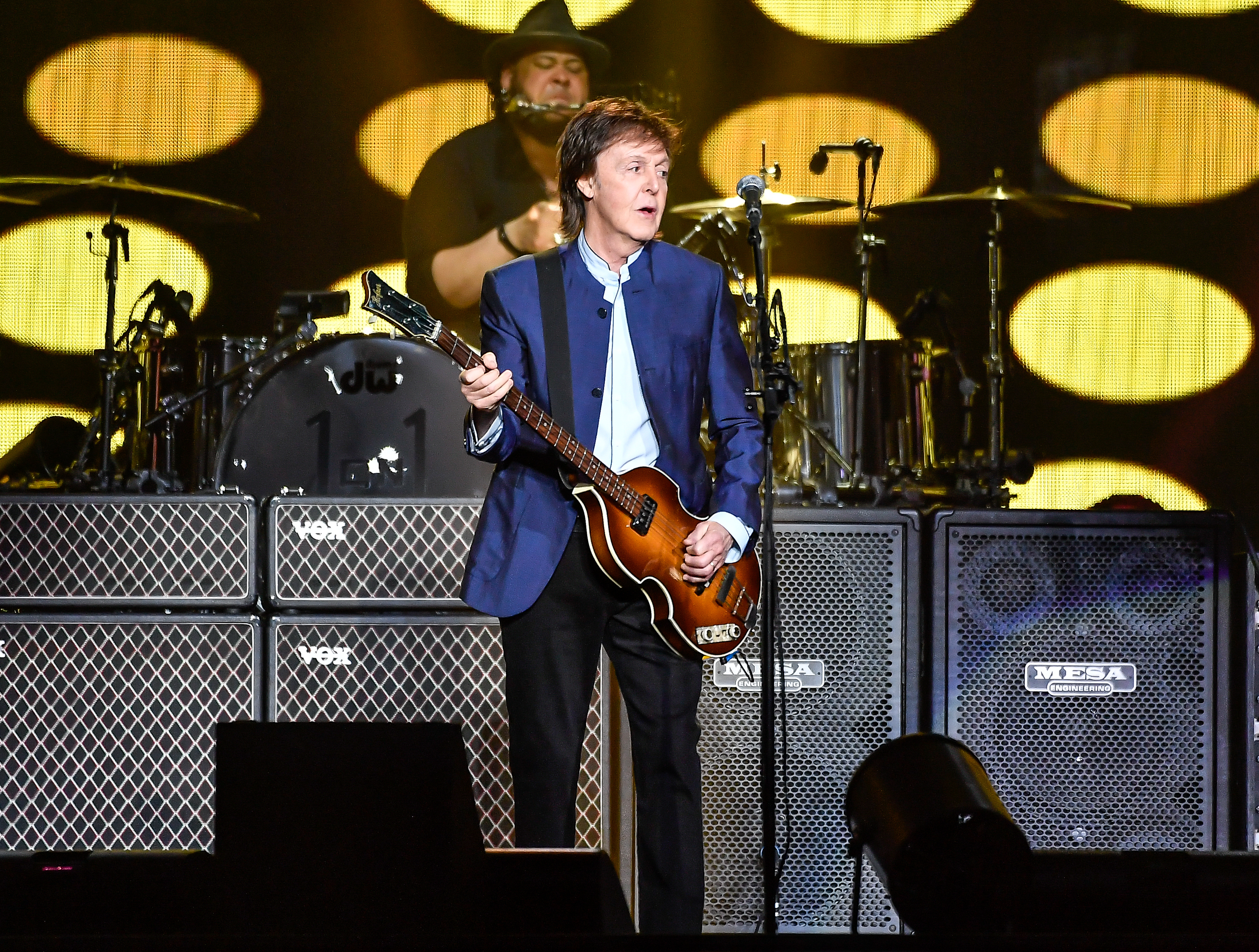 FRESNO, CA - APRIL 13: Paul McCartney performs on Opening Night of the One On
One Tour at Save Mart Center on April 13, 2016 in Fresno, California. (Photo by Steve
Jennings/Getty Images)
(Photo: Steve Jennings, Getty Images, 2016 Getty Images)
CLEVELAND -- Get ready, Ohio… Paul McCartney is coming to Cleveland!
The Rock and Roll Hall of Fame inductee will blast the roof off Quicken Loans Arena with his
"One on One" tour Wednesday, Aug. 17 at 8 p.m.
Tickets go on sale Monday, April 25 at 10 a.m. Prices range from $59.50 to $253.
The Beatles icon has not performed in Cleveland since 2002. He did, however, briefly take the
Public Hall stage at the 2015 induction ceremony as Ringo Starr was inducted.
McCartney was inducted as an individual performer in 1999, but first landed in rock's
hallowed halls
with the Beatles in 1988.
He is now 73 years old.