www.examiner.com
Two Beatles, Sean Lennon mourn Prince; see his stunning George Harrison tribute
Steve Marinucci
Beatles Examiner
April 21, 2016
Paul McCartney, Ringo Starr and members of the Beatles family reacted today to the shocking news of the death of Prince. On his Twitter account, Paul McCartney recalled his personal friendship with the singer.
Saddened by Prince's death. Proud to have seen in the New Year with him. He seemed fine and played brilliantly funky music.
God bless this creative giant. Thanks Prince. Love X Paul
Ringo Starr also tweeted out some personal thoughts.
God bless prince we will all miss him I still have my Purple whistle. I will blow it tonight peace and love








Paul McCartney's daughter Stella also said on Twitter Prince was an "inspiration."
Rest in peace... a true lifelong inspiration. I am so blessed to have witnessed your musicality in person! X Stella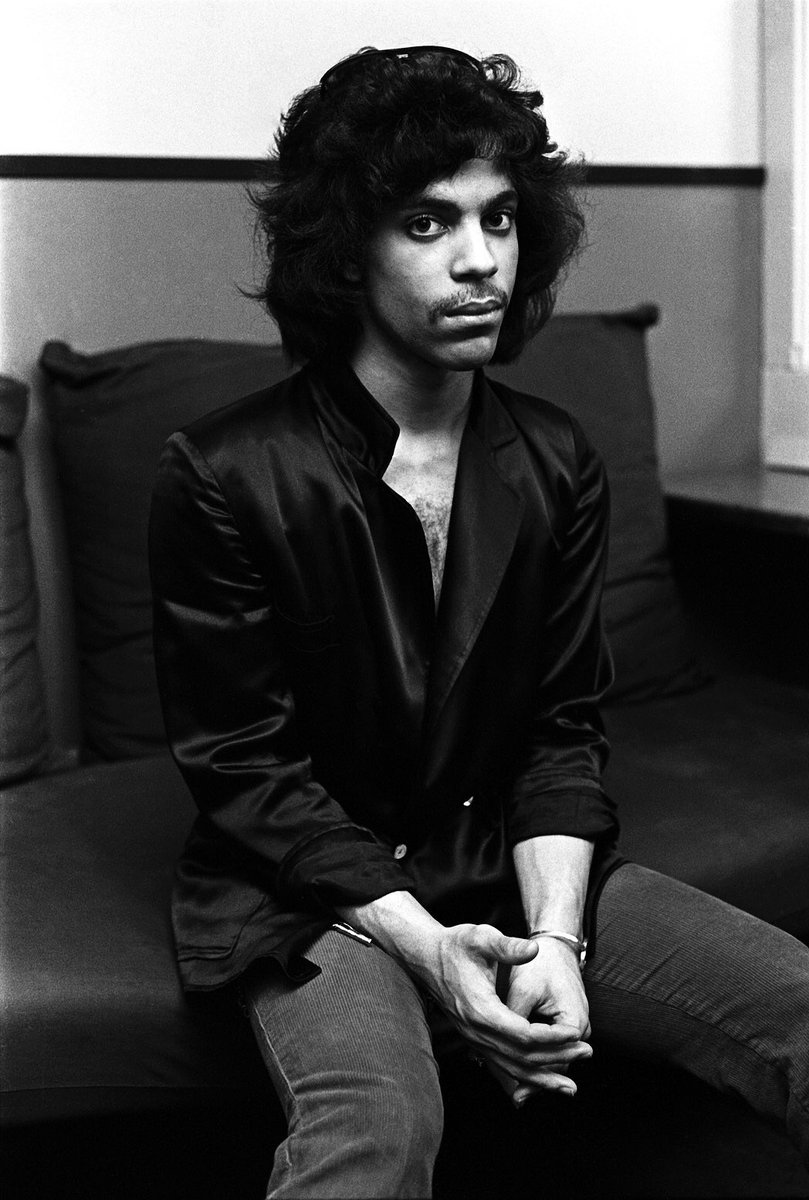 Julian Lennon tweeted,
Shocked & Stunned yet again, to hear of the Passing of an old friend & contemporary, the Genius that was PRINCE...
But the person who appeared to be taking his death the hardest was Sean Ono Lennon. On Instagram and Twitter in several posts, he expressed condolences and also revealed some personal encounters with the singer. He wrote on Instagram:
Prince R.I.P. Can't stop crying. This year has been too much. (Once at a club you told me to quit smoking. Well I finally did. You probably saved my life.)
In a series of posts on Twitter, Sean said,
One time I was having dinner randomly at house of blues and suddenly they announced Prince was gonna jam. He shredded blues covers for 3 hrs
One time I saw D'Angelo play Dorothy Parker w Prince at an after show gig at Tramps in NYC.
I got to see Prince at MSG when Purple Rain came out. Sheila E. was opening. I learned a lot about sex and music that day.
I was at a club in NYC and I told Prince he was the best bass player and he looked at me and said, 'better than Larry Graham?' I felt stupid

He continued.
Prince also told me all artists should self publish w no label, and that I should stop smoking. I took his advise in both cases.
I'm just really shocked. Prince seemed so fit and healthy. It's hard to process. He was a super nova of talent.
I've got a vinyl 10" of Pop Life that's a club mix that goes on forever. It's so dope. Also have Raspberry Beret.

The Rolling Stones' Mick Jagger also expressed his condolences in three Twitter posts. (1) "I am so saddened to hear of Prince's passing. Prince was a revolutionary artist, a wonderful musician and composer. (2) Prince was an original lyricist and a startling guitar player. His talent was limitless. (3) Prince was one of the most unique and exciting artists of the last 30 years."
If there any lasting memory of Prince for Beatles fans, however, it was in 2004 when he played an incredible guitar solo on "While My Guitar Gently Weeps" in a group with Dhani Harrison, Tom Petty, Jeff Lynne, Steve Winwood and others to help induct George Harrison into the Rock and Roll Hall of Fame. According to Rolling Stone, it almost didn't happen because George's widow, Olivia Harrison, only wanted those who knew George. But in the end, she allowed it.
As Paul Shaffer, who led the band that night, said, "Prince kept a little something in reserve for the actual performance itself. He really did show what a great guitarist he was. He just killed it that night." That he did.
Prince, Tom Petty, Steve Winwood, Jeff Lynne, Prince and Dhani Harrison perform a stunning version of "While My Guitar Gently Weeps" driven by Prince's incredible guitar work at the Rock and Roll Hall of Fame in 2004.
Rock and Roll Hall of Fame/YouTube
Musician Prince speaks onstage during the 2015 American Music Awards at Microsoft Theater on Nov. 22, 2015 in Los Angeles.
Photo by Kevin Winter/Getty Images
www.examiner.com
Mourning Prince and a look back at him in 2015
Steve Marinucci
Beatles Examiner
April 21, 2016
Images of fans mourning Prince's death and his appearances at the American Music Awards and the Grammy Awards in 2015. (Photo by Kevork Djansezian/Getty Images)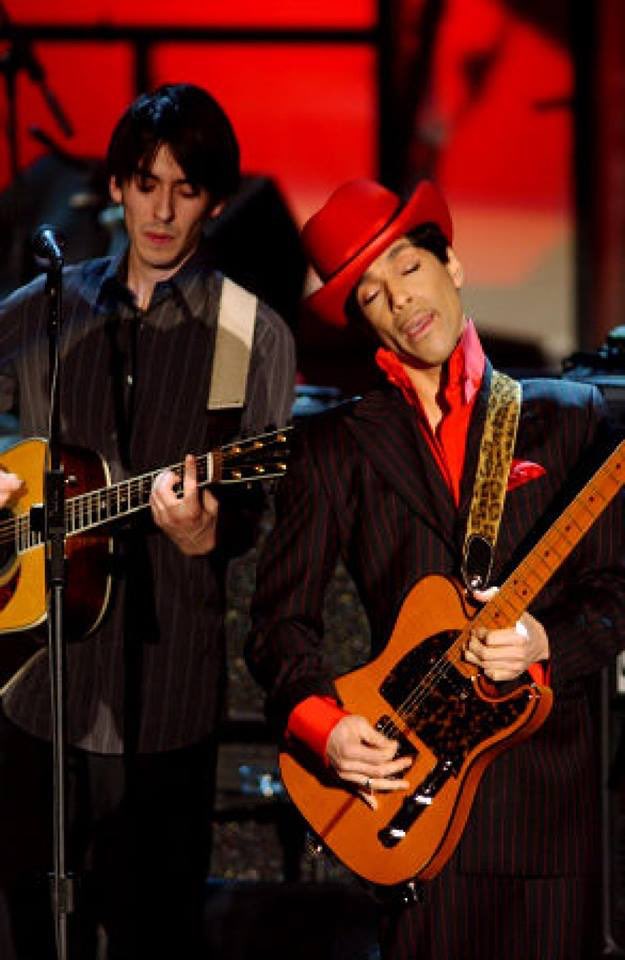 Dhani Harrison and Prince.