uk.news.yahoo.com
Henry Winkler reveals meeting 'quiet and shy' John Lennon
SNAPPA
Tue, Aug 18, 2015
SNAPPA - The Happy Days star got chatting to the former Beatle at a recording of the hit US show.
Happy Days star Henry Winkler has revealed he was left starstruck by John Lennon.
Winkler recalled how Lennon attended a recording of the popular TV show in 1974, with his son Julian.
"John was very quiet and shy," he told Radio Times. "I didn't know how to engage him in conversation till I started talking about how much I loved his first solo album.
"Then he opened up like a flower."
John Lennon with son Julian and wife Yoko Ono (AP)
Winkler's role as Arthur Fonzarelli in the American sitcom propelled him to stardom.
The Fonz or Fonzie, as he affectionately became known, also revealed he is a huge fan of Strictly Come Dancing.
"Would I appear on it? Only as a judge – I know my limitations.
"It would break my heart to be voted off in week three."
Henry Winkler (Richard Shotwell/Invision)
He also revealed he's still in contact with his Happy Days co-star Marion Ross, the series' creator Garry Marshall and director Ron Howard, who starred in the show.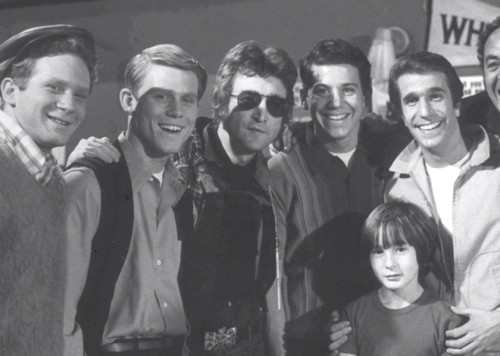 John Lennon on Happy Days set