abc7ny.com
BEATLES PERFORMED AT SHEA STADIUM 50 YEARS AGO
EYEWITNESS NEWS
abc7NY
Friday, August 14, 2015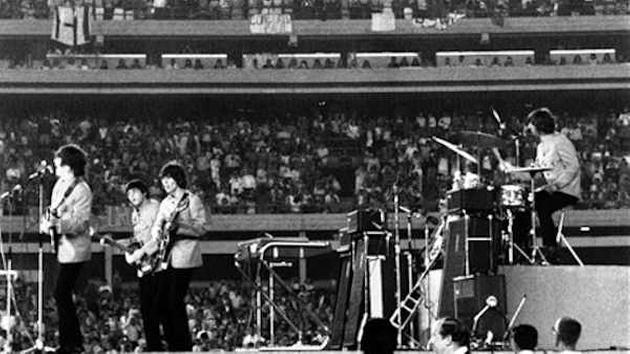 The Beatles performing at New York's Shea Stadium on Sunday, August 15, 1965, as more than 50,000 fans cheer them on. AP Photo
Fifty years ago Saturday, the Beatles performed to a sold-out crowd at Shea Stadium in a concert that many say was the band's greatest.
John Lennon, Paul McCartney, George Harrison and Ringo Starr took the stage in Queens, New York as their third and final appearance on the Ed Sullivan Show aired on television, the Wall Street Journal reports. The stadium seated 55,600 fans, a daunting figure that, before that night, was considered many more people than could possibly attend one concert.
"The thought of filling 55,600-seats at Shea Stadium was absurd. The only rock artist who had played stadiums half the size was Elvis Presley," the Wall Street Journal wrote.
Still, the Beatles performed not only to a sold-out crowd but to a deafening stadium full of screaming teenage girls. According to the Wall Street Journal, one of those girls jumped onto the field and stormed toward the stage. Police finally caught her, and she was carried away amid a chorus of boo's.
"Leaving festivals like Woodstock and Monterey aside, there is no more famous gig in rock & roll history than when the Beatles played Shea Stadium," wrote Rolling Stone magazine in honor of the anniversary.
PHOTOS: The Beatles in New York City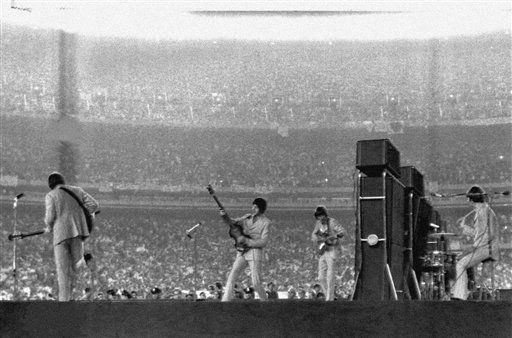 The Beatles perform at New York's Shea Stadium on August 15, 1965. AP Photo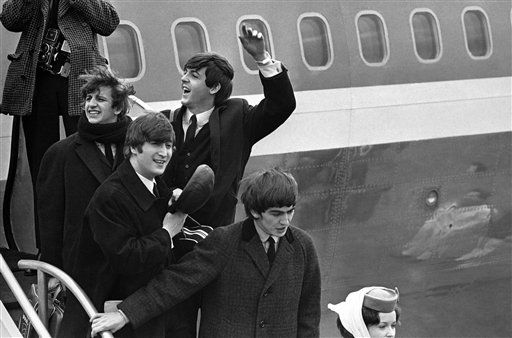 The Beatles make a windswept arrival on Feb. 7, 1964, as they step down from the plane that brought them from London, at Kennedy airport. AP Photo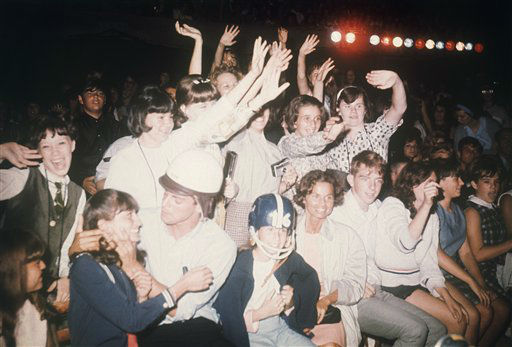 American fans in New York react during the Beatles' concert on the "Ed Sullivan Show," Feb. 8, 1964. AP Photo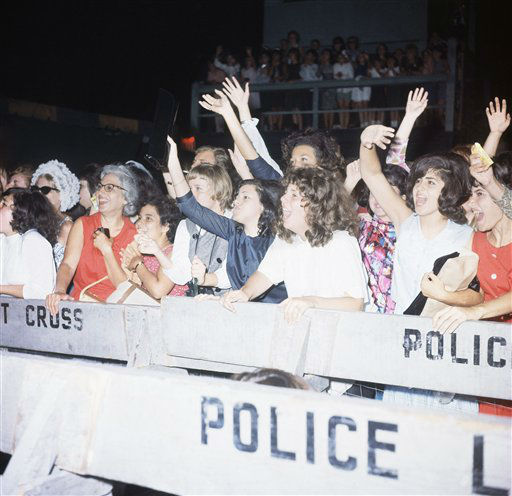 Fans of The Beatles scream from behind police barricades at New York's Kennedy Airport, Feb. 7, 1964. AP Photo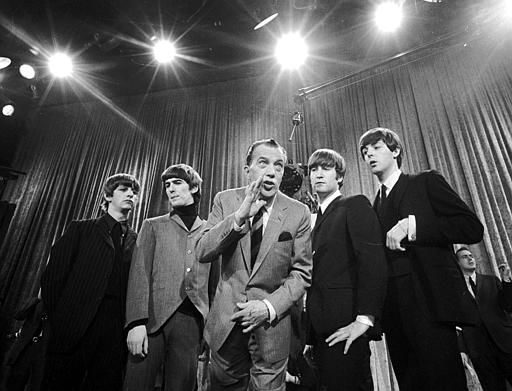 Ed Sullivan, center, stands with The Beatles during a rehearsal for the British group's first American appearance, on Feb. 8, 1964. AP Photo/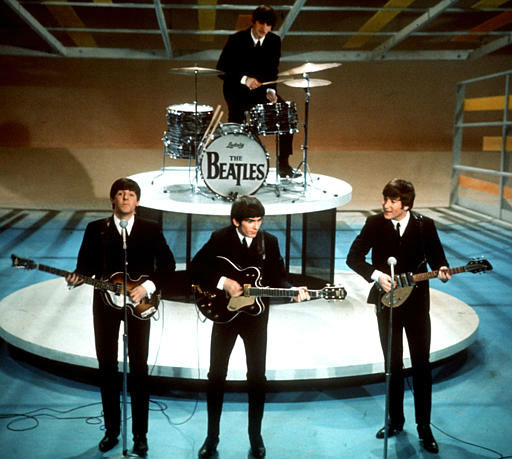 The Beatles perform on the CBS Ed Sullivan Show; in New York Feb. 9, 1964. From left, front, are Paul McCartney, George Harrison and John Lennon. AP Photo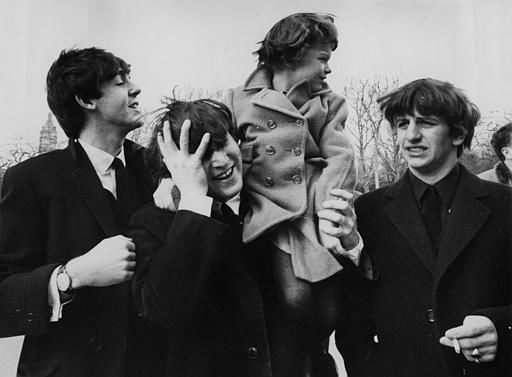 John Lennon, center, holds his forehead as 5-year-old Debbie Fyall, of London, England, sits on his shoulders, in Central Park, February 8, 1964. AP Photo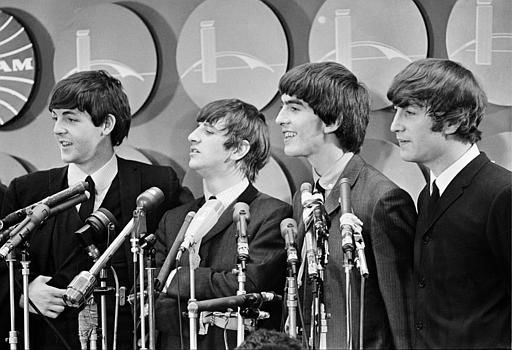 The Beatles meet reporters at Kennedy Airport in New York City, Feb. 7, 1964 on their arrival from London for their first American tour. AP Photo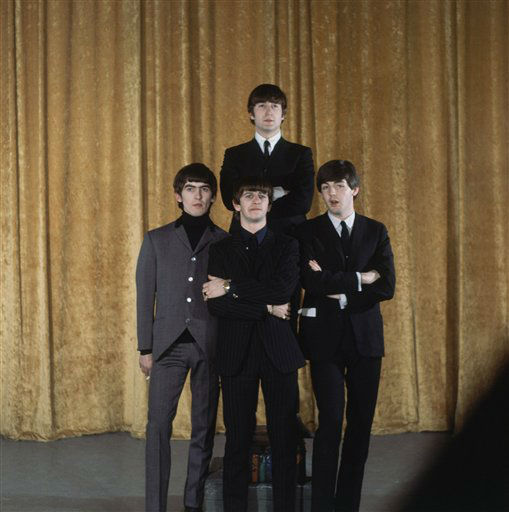 The Beatles are shown on the set of the "Ed Sullivan Show" in New York, Feb. 10, 1964. AP Photo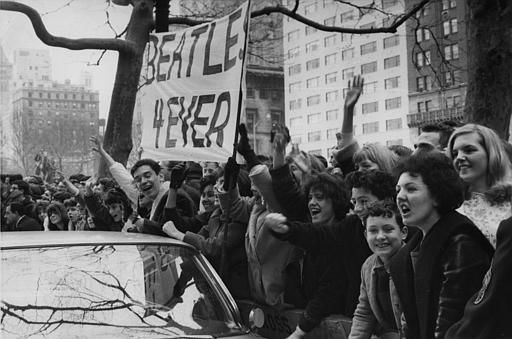 Screaming teenagers, mostly girls, wave a banner "Beatles forever" welcoming The Beatles, outside the Plaza Hotel in New York City, USA, February 7, 1964. AP Photo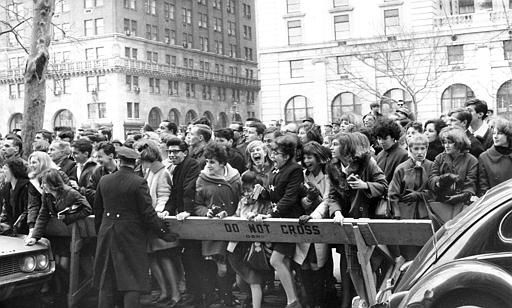 Police enforce the barricades outside New York's Plaza Hotel as fans push forward in hopes of a view of The Beatles after their arrival for an American tour in 1964. AP Photo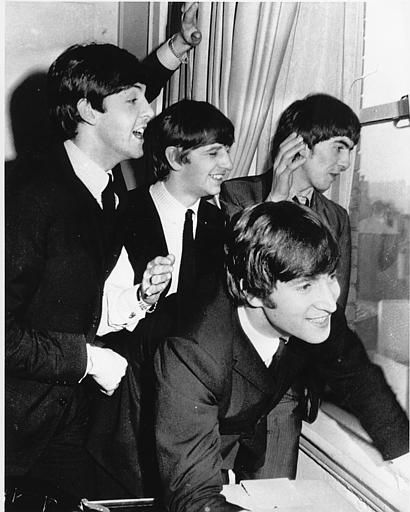 The Beatles wave to fans assembled below their Plaza Hotel window after they arrived in New York City on Feb. 7, 1964 for a short tour of the United States. AP Photo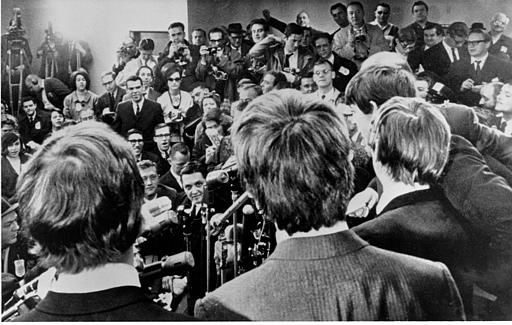 The Beatles face the media on arrival at JFK airport on Feb. 7, 1964. They were also greeted by a screaming crowd estimated at 5,000. AP Photo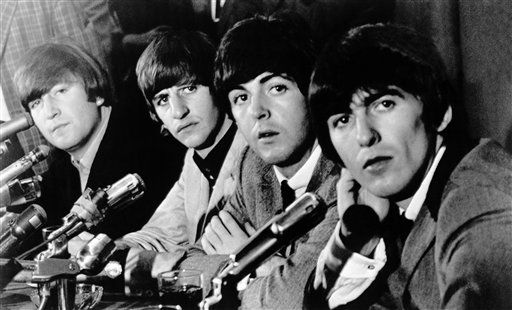 The Beatles face the press at Delmonico's Hotel on Aug. 29, 1964. AP Photo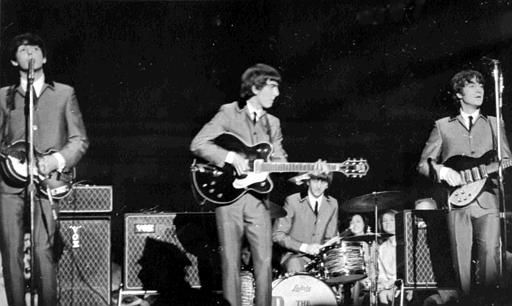 The Beatles perform at Carnegie Hall in New York City, Feb. 12, 1964. AP Photo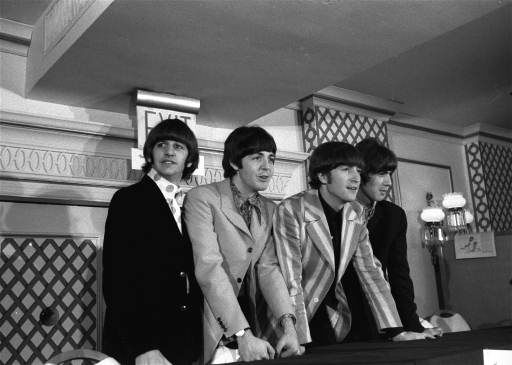 The Beatles are shown at a press conference that they held at the Warwick Hotel in New York City, Aug. 22, 1966. AP Photo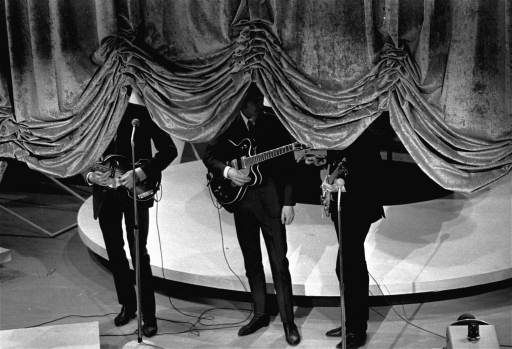 The curtain rises on the British singing group The Beatles, September 16, 1964, at a charity show in New York City. AP Photo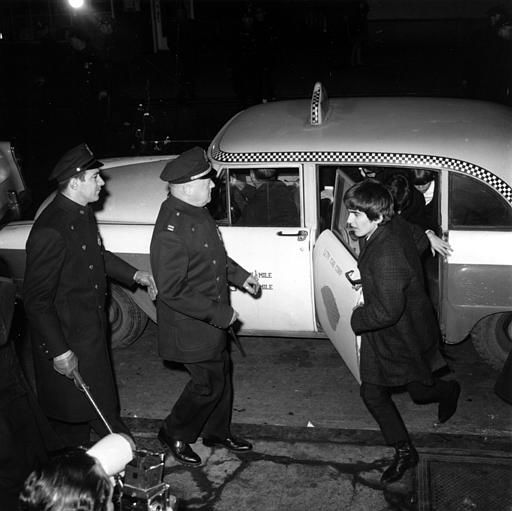 Police security is on hand as guitarist George Harrison leads the way from a taxi-cab to Carnegie Hall's stagedoor on W. 56th St. on Feb. 12, 1964. AP Photo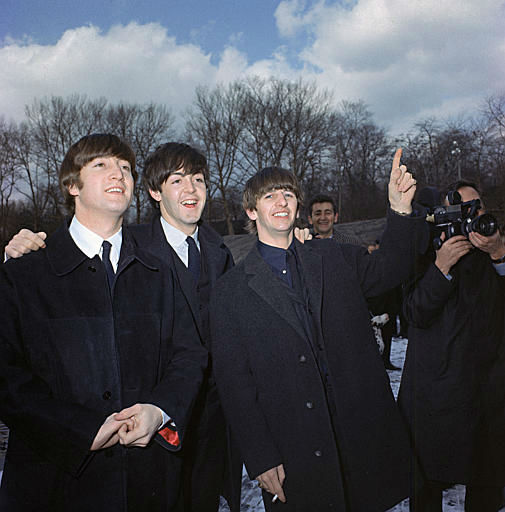 Three of the four Beatles, John Lennon, left, Paul McCartney, center, and Ringo Starr, are shown in Central Park, Feb. 10, 1964, on their first U.S. tour. AP Photo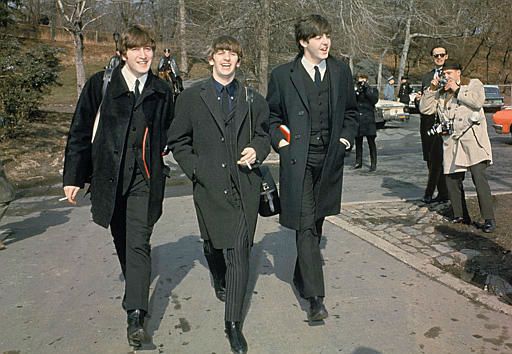 Three of the four Beatles, from left, John Lennon, Ringo Starr, and Paul McCartney, walk in Central Park in New York City, Feb. 10, 1964 on their first U.S. tour. AP Photo
www.rollingstone.com
Why the Beatles' Shea Stadium Show Was Even Greater Than You Knew
Fifty years ago today, the Fab Four made one of their finest, and most overlooked, recordings
By Colin Fleming
August 14, 2015
Fifty years ago today, the Beatles played Shea Stadium in their most famous concert. But it also resulted in one of their finest recordings. Michael Ochs Archives/Getty
Leaving festivals like Woodstock and Monterey aside, there is no more famous gig in rock & roll history than when the Beatles played Shea Stadium, an orange and blue ass pit of a venue in front of 56,000 mostly teenyboppers on August 15th, 1965. It is a gig one might even term infamous, for all of the misunderstanding it has generated over the years, with one old saw after another getting parroted in the various histories of rock.
If you've seen the footage, you know that the Beatles were positioned on a rickety stage on an infield diamond, with the screams raining down from all directions. The band laughs maniacally, exchanges "shit, can you believe this is happening?" looks and takes the piss with song introductions repeatedly.
Chances are if you've seen footage of a single Beatles gig, it is this one. And chances are, too, that you've heard they were rubbish as a live act once they became famous, couldn't even hear themselves, just wanted to haul ass out of Dodge ASAP, all of that. And, for many years, the tales surrounding that Shea Stadium gig, plus the footage, plus the bootleg of the show, reinforced all of this. Which is a shame, and a matter in need of redressing.
Help! had just come out earlier in August. There may be no worse Beatles album. Granted, that's not the most damning remark, given that we're talking a record that contained the title track — one of John Lennon's half dozen best songs — "Yesterday," "I've Just Seen a Face," "You've Got to Hide Your Love Away," and "Ticket to Ride," the last of which Lennon hilariously claimed invented heavy metal, a totally spurious argument that is nonetheless fun to muck about with.
Come 1966, when the band played Shea again — something rarely brought up — there were huge chunks of empty stadium seats, as this was an era when an uptick in psychedelia meant meant a downturn in the Y.A. market. "Eleanor Rigby," the spinster with a face in a jar by her front door, lived a long way off from the world of "I Want to Hold Your Hand." That meant less head-flailing oohs and ahhs and shaking moptops as the next chorus rolled around. Plus, the States had just learned that Lennon had called the group more popular than Christ.
But in August 1965, the Beatles were having their last fling as a top shelf live band. They had uncorked fine sets on both The Ed Sullivan Show, in their last appearance there, and on Blackpool Night Out. The end of the month would find them tearing it up at the Hollywood Bowl, and on their best musical behavior, more or less, on account of George Martin hoping to get a releasable performance from the gig.
There aren't a ton of new Beatles finds unearthed anymore, but one of the more significant of recent years was when a soundboard of the Shea show hit the bootleg market in 2007. It was called The Beatles and the Great Concert at Shea! — an effectively simple and hyperbolic title in the best bootleg sense — that told you right on the cover it was a line recording sans overdubs, a conceit that seemed almost too perfect, after all of those intervening decades.
The Beatles became who they were on the back of their catalog — which is to say, as songwriters — but that endgame would never have been secured without them first being absolute badasses of the stage. You hear an absolute mother of a band on something like the Star Club tapes, recorded — in exchange for free beer — in Hamburg in late 1962. This was a group that, from an in-concert standpoint, could beat the piss out of all comers. The songs were almost always not theirs, but the point wasn't ownership in the compositional sense, but rather a kind of sonic rank pulling — in effect, saying, "Yep, we'll have this bad boy number by you, Fats Waller, and you, Arthur Alexander, and we will make it no one else's but ours."
Take that attitude, take those burgeoning chops, add some rakehell glee and fly in songs that were better than songs anyone else could write, and you have that first Shea Stadium concert, by way of being the best bar band ever to come out of Hamburg.
There's a nice, sturdy bottom to the songs at Shea, and one can hear the Stax-influenced groove, that bass and drums rumble, beginning to creep into the group's thoughts as players. Listening to something like the Shea line recording of "She's a Woman" you realize that "Drive My Car" is not far away and a logical progression.
Lennon's voice is slightly worn, but this was a voice that was changing. This probably had something to do with all of the pot, but listen to Hard Day's Night–era Lennon vs. what starts to happen in August of 1965. The voice is becoming wider; cherubic qualities are falling away. It's becoming more English, more conversational, more capable of asking the haltering queries of "Strawberry Fields Forever" than screaming to the back rows with "Twist and Shout."
This is, let's say, the third and final defining moment of Beatlemania after Ed Sullivan and A Hard Day's Night (album and film, both), and just as they had been doing, they did at Shea that special thing endemic to the Beatles: taking up digs in the future as they appear to be fully in possession of the present.
Help!, which one could, indeed, argue is the band's LP nadir, is also one of their most important discs, the album that first mixed soul, folk, rock, and mild psychedelia, albeit in sometimes clumsy ways, freeing the band up for the mid-career run of Rubber Soul, Revolver and Sgt. Pepper.
At Shea they even dressed a sort of proto-Pepper part, with the military regalia. The line version of "Help!" has special resonance, for here is a man in Lennon staring into his latest abyss in life and singing about that abyss while being all but worshipped by the largest crowd in rock history to date.
The irony would not have been lost on him, and for all of the joy at this performance — there's little doubt that once they adjusted to the surreality of the event, the Beatles were having a good time — this is the great howled blues moment, a confessional hymn cloaked in the three-part disguise of a major key, peppy drums and exciting George Harrison lead guitar lines.
Lennon remarked that he wrote two honest songs in his life — which is bullshit, but never mind — one being "Help!", the other "Strawberry Fields Forever," and while no one would associate the madness at Shea with the studio wizardry of late 1966, there is a likemindedness at play, and even a sonic likemindedness, too. And that starts with the voice, which is not like the voice of just a year before. That voice cuts A-to-B straight-line style to the soul, a not very mistakable sound, just as the Shea line tape asserts itself as a live album that could have thrown elbows for some space on that top shelf of Beatles recordings.