www.classichitsandoldies.com
New Details Announced About Ringo Starr's 75th Birthday Gathering in L.A. This Tuesday
WFJA FM 105.5
July 2, 2015
New details have been revealed about Ringo Starr's 75th birthday gathering this Tuesday, July 7, at noon PT in front of the famous Capitol Records Tower in Hollywood, California. The celebration is open to the public, and fans can join the beloved Beatles drummer, his wife, Barbara, and some of his rock star pals in giving Starr's trademark "peace and love" salute.
Among the well-known musicians who will be on hand for the event are Ringo's brother-in-law Joe Walsh, Edgar Winter, Gary Wright, Richard Marx, ex-Guns N' Roses drummer Matt Sorum, lauded session drummer Jim Keltner and current All Starr Band members Richard Page and Gregg Bissonette. Actor Ed Begley Jr., director David Lynch and a number of other as-yet-unannounced celebs also will be on hand.
In addition, indie-folk artists Spirit Family Reunion and Adam Arcuragi will be on hand to perform some of Ringo's songs live.
As has become tradition, Starr is inviting fans to flash the peace symbol and say or think about "peace and love" on July 7 at noon wherever they are in the world. You can also share "peace and love" messages online via various social media outlets by using the hashtag #PeaceandLove when the clock strikes noon in your time zone.
Visit RingoStarr.com for more information.
Copyright © 2015, ABC Radio. All rights reserved.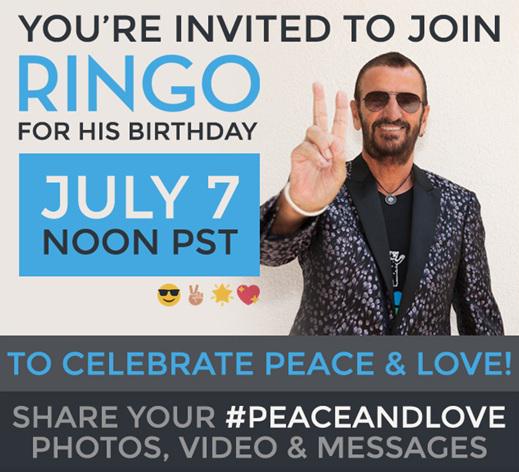 Ringo Starr on his birthday back in 2012. (Photo: Rob Shanahan/AP