www.foxsports.com
'Hello Goodbye': McCartney rocks Candlestick in famed venue's final event
AP
Aug 15 2014
SAN FRANCISCO —
San Francisco said goodbye Thursday to Candlestick Park -- the stadium where the city's beloved Giants and 49ers celebrated some of their greatest triumphs.
The storied venue shut down after an evening concert by former Beatle Paul McCartney that finished about midnight. It will then be demolished to make way for a housing, retail and entertainment development.
The Stick, as it is known, opened more than 50 years ago and served as the home field for the 49ers and Giants. It hosted greats from both teams, including Joe Montana, Jerry Rice and Willie Mays, and was the site of The Catch -- Montana's touchdown pass to Dwight Clark to win the NFC championship game in January 1982 and send the 49ers to their first Super Bowl.
The Giants played their last game at Candlestick in September 1999. The 49ers will play at a new stadium about 45 miles south starting this year.
Fittingly, Paul McCartney performed the final event at Candlestick Park on Thursday night. The famous venue in San Francisco was host to McCartney's Beatles' final live concert in 1966, and is schedule to be demolished in the coming months.
Candlestick was also the site of a 1987 mass by Pope John Paul II, Game 3 of the 1989 World Series when a 6.9-magnitude earthquake struck during a live national TV broadcast, and the Beatles' last live concert in 1966.
"Anyone you talk to about Candlestick Park is going to have mixed emotions about it: it's not a pleasant place physically. It gets windy and cold, but it's where the Giants and 49ers played for so many years," Greg Breit, 50, said before the concert's start. "There's so much history here. You can't deny it."
Fans savored the final event at The Stick by holding tailgate parties and taking snapshots of the stadium before the late-afternoon fog rolled in.
San Francisco police warned people attending Thursday's concert not to take any chairs or other mementos from the stadium, saying anyone caught with such items could face vandalism charges.
"We don't want people to be trying to take any pieces of Candlestick Park," Officer Gordon Shyy told KGO-TV. "Just come enjoy the concert tonight and have a safe night."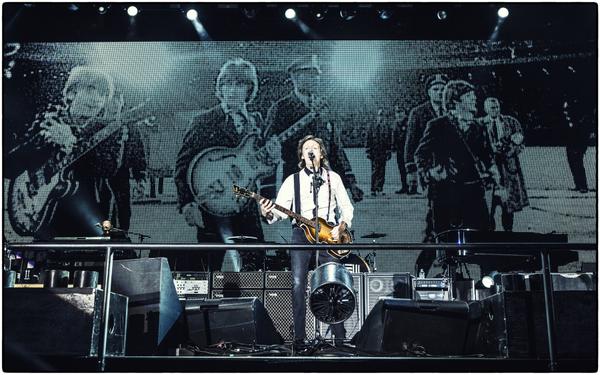 www.contracostatimes.com
Farewell to Candlestick: Paul McCartney delivers touching goodbye concert to famed venue
By Jim Harrington
POSTED: 08/15/2014
Paul McCartney wanted to savor the moment.
"This is such a cool event," he said to the 50,000 fans assembled before him at San Francisco's Candlestick Park on Thursday. "I'm just going to take a minute for myself just to drink it all in."
Paul McCartney performs the final concert and public event at Candlestick Park in San Francisco, Calif., on Thursday, Aug. 14, 2014. The park was the home for the San Francisco Giants and 49ers and it was the last venue for the Beatles to perform a concert together in Aug. 29, 1966. The grand finale ...
There was certainly much to absorb, most notably the undeniable sense that we were witnessing history. For this was not just another concert, but rather the final one to ever be performed at the equally storied and maligned venue.
McCartney's "Farewell to Candlestick" concert was a beautiful way to say goodbye to an old friend, one that had provided so many chills (literally speaking) and thrills during its 54-year history. Rock and Roll Hall of Famer delivered some 40 songs during the final public event at the famously cold and windy stadium, taking fans on a magical musical tour of his Beatles, Wings and solo catalogs.
Of course, McCartney was the perfect candidate to turn out the lights, returning to the scene of the Beatles final concert, which happened 48 years ago to the month -- on Aug. 29, 1966. No wonder he said he felt a bit of "deja vu" as he stood onstage at the soon-to-be-demolished former home of San Francisco's 49ers and Giants.
"It's sad to see the old place close down," he said. "But we are going to close it down in style."
Mission accomplished -- and then some. McCartney and his band sounded fantastic as they performed an approximately 2 ½-hour set built from dozens of the greatest songs in rock 'n' roll history. The troupe opened with a stellar version of "Eight Days a Week," from 1964's "Beatles for Sale," and was still going strong come encore time.
The evening was thick with nostalgia, but only part of it had to do with the music.
The wind whispered ghostlike throughout the night, reviving memories from the stadium's mighty sports history. Fans, clad in Giants hats and 49ers sweatshirts, seemed well aware that they were standing in this house of past champions for the final time. Thus, for some, this "Farewell to Candlestick" was as much about reconnecting with Joe Montana, Jerry Rice, Willie Mays, Steve Young and Willie McCovey as it was about reliving the tunes of John, Paul, George and Ringo.
The mood was a mix of joy and sadness. For decades, people have complained about this venue's shortcomings, which include the bad traffic, the cold weather, the crowded concourses and the outdated facilities, all of which were on full display on Thursday. In the end, however, many also seemed sorry to see it go. (They might get over that feeling the minute they get a look at the 49ers fancy new digs at Levi's Stadium in Santa Clara.)
Yet, the joy clearly triumphed on this night. McCartney made sure of that.
The 72-year-old Liverpool native hasn't changed his show all that much in recent years. He's still telling many of the same stories and offering up similar set lists to what fans witnessed on his prior trips through the Bay Area, such as at last year's Outside Lands Music and Arts Festival at San Francisco's Golden Gate Park.
But why monkey with something that works? He simply plays the hits -- and plays them well -- while exhibiting an amazing amount of energy and charisma. He does more to give the fans their money's worth than just about any other entertainer in the game. He's the rare performer with really nothing left to prove, who still handles each and every song as if his legacy depends on it.
McCartney thrilled at basically every turn, whether he was crooning such touching ballads as "Maybe I'm Amazed" and "The Long and Winding Road" or rocking through up-tempo offerings like "Lovely Rita" and "Paperback Writer." The main set climaxed with a fabulous "Live and Let Die," which came complete with a fireworks show, and the ultimate singalong favorite, "Hey Jude." He'd then return for two lengthy encores.
It was a potent swan song for Candlestick, sending this historic venue out in style.
www.sfgate.com
Stick farewell: McCartney gets it done with a little help from his friends
Peter Hartlaub
Friday, August 15, 2014
The Beatles ended their disappointingly short set on Aug. 29, 1966, at Candlestick Park with a barely-audible-above-the-screams version of "Long Tall Sally." Just before the band hopped in an armored car on that day, John Lennon promised "We'll see you next year!"
More than half a lifetime later (17,512 days to be exact), Paul McCartney returned to Candlestick for what will probably be the last major event at the 54-year-old concrete edifice. The Beatles never played a commercial show again, but McCartney arranged his schedule to send the stadium off, with a pre-demolition show that few in attendance will forget.
The key word there is "in attendance." Some of the worst Bay Area event traffic in recent memory forced thousands of concertgoers to say goodbye to Candlestick from an idling car outside the stadium. McCartney did his best to accommodate the stragglers, starting at 9 p.m. and playing a nearly 2 1/2 hour show with more than 30 songs.
The set list was familiar to anyone who has seen the ex-Beatle in recent years. But McCartney seemed engaged, at times deviating from the stock banter to acknowledge the gravity of the moment.
"We got so pissed off, we never did it again," he joked, referencing the band's decision to stop touring after the 1966 Candlestick show, even though they recorded for several more years. "... It's sad to see the old place closing down, but we're going to close it down in style."
McCartney played a safe and crowd-pleasing mix, with arguably too much representation from the Wings catalog and McCartney's recent solo work. His voice has developed a pleasant warble - not unlike the one Willie Nelson has enjoyed all of his career - which blended elegantly with the slower and more spare arrangements, especially "Blackbird" and "Let It Be."
His vocal limitations were starker during the more soaring numbers, including "Let Me Roll It." About two hours into the show, most of the surprisingly young crowd seemed to be flagging, many using a trio of newer McCartney songs as an excuse to take one last nostalgic trip to the Candlestick Park trough urinals.
While McCartney's trip to Candlestick was long-planned, it was notable that the merchandise included "Out There" tour T-shirts and Wings garb; only the bootleggers outside the stadium were selling shirts that honored the occasion. McCartney paused a couple of times to take the scene in, but for the most part stuck to the script.
But the crowd - and McCartney - were suddenly jolted into the moment 30 songs into the show, with a blast of pyrotechnics behind the stage during a thunderous "Live and Let Die." The fireworks, apparently a special add-on to celebrate the day, lit up the stadium like daylight; one more chance for everyone to look around and say a proper goodbye. "Hey Jude" followed in the smoky post-fireworks aftermath; another vivid and special memory before two sets of encores.
The Beatles played in 1966 to a crowd of around 25,000, and the most expensive ticket was $6.50. The McCartney show sold out 49,000 tickets in a few hours. Tickets cost hundreds of dollars; some of the better seats were selling for thousands on the secondary market just before showtime.
It was a fitting ending, to say goodbye to Candlestick with glory and also a blunder. The 1966 Beatles show is remembered dubiously for its poor sound and horrible sightlines, with the band playing behind second base surrounded by a 6-foot-tall cage. This one may be remembered for all the concertgoers who listened to a muffled McCartney from the approach to the parking lot, so close and yet so far. (Our commute time was 3 hours, 39 minutes from Oakland to Candlestick, with the benefit of parking in a speedier priority lot.)
Still, for a park known for football and baseball more than concerts, Candlestick's musical batting average was good. The Beatles, two huge Rolling Stones shows, Monsters of Rock and finally McCartney. And with one last blast of fireworks, it's over. Sleep pretty darling and do not cry. I will sing you a lullaby ...
Paul McCartney plays a farewell Candlestick Park show to a sold out crowd on Thursday Aug. 14, 2014 in San Francisco, Calif. Photos: Mike Kepka
Paul McCartney plays a farewell Candlestick Park show to a sold out crowd on Thursday Aug. 14, 2014 in San Francisco, Calif. Photo: Chris Preovolos/Hearst Newspapers
Paul McCartney plays a farewell Candlestick Park show to a sold out crowd on Thursday Aug. 14, 2014 in San Francisco, Calif. Photos: Mike Kepka