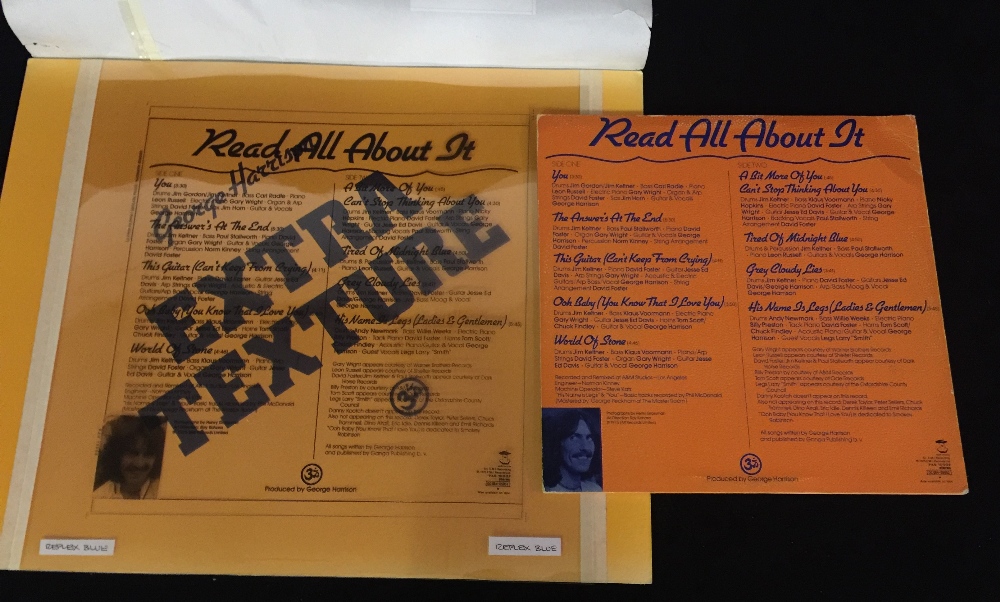 www.examiner.com
Unused George Harrison album photos for sale in Beatles auction wrap-up
Steve Marinucci
Beatles Examiner
March 25, 2016
The final items of Beatles items left from Omega Auctions' "Beatles Collection" auction are be sold Sunday, the auction house said Friday. While most of the items in the follow-up sale have low value estimates, there are a couple of exceptions
Lot 207 features the original artwork mock up for George Harrison's "Extra Texture" album. According to the auction house, it was created by Stewart Beckett of Comprehensive Art Services, who was commissioned by Harrison to produce it in 1974. The black artwork folder features the planned dimensions of the sleeve and contact sheet photographs of Harrison, including several that were not used. You can see photos of some of the items in the slide show. The folder includes a signed letter of provenance and a copy of the LP. The value is estimated at between £3,000 to £5,000 ($4,241 to $7,067 USD, 1,898 to 6,330 Euros).
Also being sold is an original 1959 Hofner Club 40 guitar that is said to be identical to the one bought by John Lennon in 1959 and later used by Paul McCartney. The guitar is described as in good condition, though missing its scratch plate. Estimated value is £1,500 to £2,000 ($2,120 to $2,827 USD, 1,899 to 2,531 Euros).
The item in the original sale that got the most attention was a rare Beatles Decca sessions acetate of "Hello Little Girl" and "'Til There Was You" that sold on March 22 for £77,550 or for roughly $110,223 USD.
Bidding for the remaining Beatles Collection items will be through SundThe Saleroomay at The Saleroom website. The timed online auction ends at 19:00 BST (or 2 p.m. EDT/11 a.m. PDT) March 27.
These photos of George Harrison for the "Extra Texture" album are in a lot of items being sold this Sunday.
"Extra Texture" album layout and 1959 Hofner guitar
Items being sold in Sunday's timed sale of Beatles items by Omega Auctions. (Courtesy Omega Auctions)