No. 10 Admiral Grove, 70 years on and still displaying a Second World War relic - the "V" for Victory sign over the front door (beatlesliverpoollocations.blogspot.com)
The backyard of no. 10 in 1963: Paul, Elsie, Ringo and Harry Graves.(beatlesliverpoollocations.blogspot.com)
Ringo outside Admiral Grove circa 1960-61 (beatlesliverpoollocations.blogspot.com)
www.dailymail.co.uk
Beatle Ringo Starr's childhood Liverpool home bought by fan
By REUTERS
PUBLISHED: 25 March 2016
LONDON, March 25 (Reuters) - A Beatles fan, who already owns two other properties linked to the band, has bought the small terraced Liverpool house where the pop group's drummer Ringo Starr grew up.
Ringo, born Richard Starkey, moved to the modest two-up two-down house at 10 Admiral Grove in Dingle, Liverpool, when he was three years old and lived there until he was 21.
Jackie Holmes from London, who bought John Lennon's mother's home last year and George Harrison's home the year before, was the highest bidder at an auction on Thursday night, paying 70,000 pounds ($99,000) - 15,000 pounds over its initial valuation.
"I'm so glad I've got this house because Ringo's childhood home, like the other two Beatles properties I own, have got so much history behind them, which is what I love about them all," Holmes said. "I'm a massive Beatles fan so I'm delighted."
She said she hoped to rent it out to a Beatles fan who would "cherish" the house.
Paul McCartney, Lennon and Harrison first found fame with Ringo at the Cavern Club in Liverpool in the 1960s, and went on to be one of Britain's most successful and influential pop groups.
The auction was held in the rebuilt club of the same name, one of the magnets for about 54 million tourists who visit the northwestern English city every year.
"The two-bed Victorian terrace property was a regular haunt for the Fab Four in their younger days and other well-known faces on the Merseybeat scene including the late Cilla Black," the former owner of the property, Plus Dane Housing, said in a statement.
Billed as "an iconic piece of Liverpool and the Beatles' history" by the auctioneer, the proceeds will go towards a trust which manages affordable housing projects.
Ringo paid homage to his home in his 2008 song "Liverpool 8", named after the area's postcode. (Writing and reporting by Elisabeth O'Leary in Edinburgh and Michael Holden in London; Editing by Mark Potter)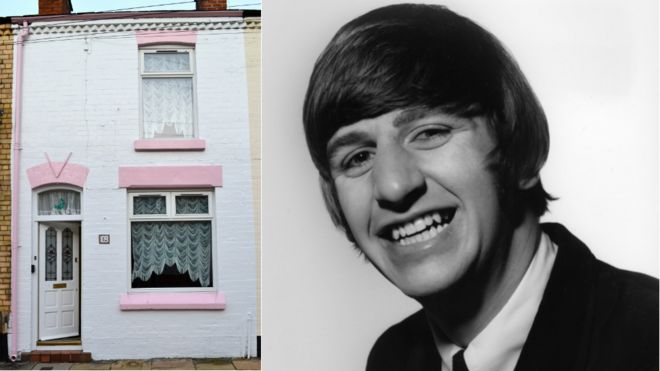 Starr moved to 10 Admiral Grove as a small child and lived there until he became famous
Plus Dane/BB
www.dailymail.co.uk
The kitchen where Ringo Starr learnt to Twist and Shout! The last of The Beatles' childhood homes sells at auction for £70,000 and it was bought by the same fan who bought George and John's house
· Childhood home of Ringo Starr bought by avid fan Jackie Holmes, 48
· S·he already owns homes of George and John's mother Cynthia
· Paid £15,000 more than guide price - despite its grotty interior
By MAILONLINE REPORTER
PUBLISHED: 25 March 2016
The last of The Beatles' childhood homes was sold at just £70,000 after a bidding battle at an auction - and was won by the same fan who already owns the old homes of two other members.
Life-long Beatles fan Jackie Holmes, 48, is developing quite the collection after bagging the old home of Ringo Starr at Liverpool's legendary Cavern Club yesterday.
Ms Holmes paid £15,000 more than the guide price for the white and pink two-bedroom Victorian terrace house in Admiral Grove, Toxteth, which was Ringo's home from the age of three to 23 years old.
This iconic pink and white house was home to Beatles drummer Ringo Starr from the age of three to 23
George Harrison's boyhood home at 25 Upton Green, in Speke, Liverpool, bought for £156,000 in 2014
John Lennon's mum's former home, a semi-detached property in Blomfield Road in Allerton
But the grotty and stripped-back rooms may come as a surprise when looking at its pretty exterior.
This purchase comes after Ms Holmes bought George Harrison's childhood home for £156,000 in October 2014 and John Lennon's mum's house for £155,000 in March 2015.
And she is delighted to own another piece of the band's history.
She said: 'I am absolutely made up. The Beatles and their music have been a huge part of my life as they have been for so many.
'It is lovely to own another piece of Beatles history. Now I'm just hoping to find a Beatles fan to rent it to who will love and appreciate it. It's all about the peace and love.'
While Ms Holmes will be renting out Ringo and George's childhood homes, she is planning a permanent move from London to Liverpool to live in Cynthia Lennon's former house as John is her favourite band member.
Ringo's home was known to be a regular haunt for the band, who got together in 1960, when they were younger and other well-known faces on the Merseybeat scene, including the late Cilla Black.
Ringo famously crammed 80 people into the cosy home for his 21st birthday and even got married there in 1963.
Inside these now stripped and peeling walls was where Beatles drummer Ringo Starr spent his childhood
The famous house sold for just £70,000 at an auction at Liverpool's legendary Cavern Club yesterday
The two-bedroom terrace house in Toxteth, Liverpool, will be rented out for the foreseeable future
This is the kitchen space where Ringo would have cooked his meals up until he was 23 years old
Winning bidder and life-long Beatles fan Jackie Holmes, 48, is developing quite the collection of homes
And The Empress pub at the end of the road is famous for appearing on the front of Ringo's first solo album, Sentimental Journey, which was released in 1970.
The former drummer - whose real name is Richard Starkey - was born at nearby Madryn Street in 1940 but moved to Admiral Grove as a toddler.
As part of a Beatles tour, crowds of fans can be seen outside the house daily - but special legal measures have been put in place to ensure it is not turned into a museum.
The Fab Four: Paul McCartney, George Harrison, Ringo Starr and John Lennon
Ringo Starr pictured in his younger years, and , the former Beatles drummer in 2007
The rooms where the musician learnt to twist and shout as the Beatles began to grow more popular
It was said Ringo crammed 80 people into these rooms to celebrate his 21st birthday in 1961
The pink and white terraced house was bought by Jackie Homes, 48, a life-long fan of Beatles music
Claire Griffiths, executive director of property for the Plus Dane Group, which manage the property, said: 'We've promised that any profits we make from the sale of Ringo Starr's childhood home will be reinvested back into Plus Dane homes in the L8 area.
'We have taken on board the concerns of local residents and have put specific restrictions on the sale of the house so it cannot become a tourist attraction or museum.'