www.liverpoolecho.co.uk
Paul McCartney's Superbowl super selfie with Eric Idle and Dan Aykroyd
By Dawn Collinson
2 February 2015
Macca enjoys himself in Arizona at the US sports spectacle
Paul McCartney at the Superbowl with Eric Idle and Dan Aykroyd
Paul McCartney has created a Superbowl super-selfie with Monty Python star Eric Idle, Joe Walsh from The Eagles and Ghostbusters actor Dan Aykroyd.
Eric Idle, who formed Beatles parody band The Rutles, was obviously a little star-struck by the encounter, posting the photo on Twitter with the simple caption: 'How cool is this?'
He went on to reveal that he'd been sitting next to Game of Thrones author George. R.R. Martin during the match and high fived him!
It's not clear which team the celebrities were supporting in the Superbowl XLIX, eventual winners New England Patriots or narrowly defeated Seattle Seahawks. But they looked to be having a great time away from the heat of the action at University of Phoenix Stadium, Glendale in Arizona.
Macca is no stranger to America's favourite sporting spectacle. In 2005 he got the gig filled by Katy Perry this year: half-time entertainment. On top of an X-shaped stage made of video projectors, McCartney sang Drive My Car, Get Back, Live and Let Die and a finale of Hey Jude - with the 84,000 crowd on backing vocals.
www.sportsworldnews.com
Super Bowl 49 Celebrity Sightings: Paul McCartney, Mark Wahlberg on Hand for Big Game
By Thomas McKenna
Feb 01, 2015
Recording artist Paul McCartney (Photo : Twitter)
The New England Patriots and Seattle Seahawks have battledto a 14-14 tie in Super Bowl XLIX, in front of a star-studded crowd at the University of Phoenix Stadium in Glendale, AZ.
www.mirror.co.uk
Super Bowl 2015 Halftime Show: Katy Perry roars through the fireworks with Lenny Kravitz and Missy Elliott
By Katy Forrester
2 February 2015
The halfway slot is what plenty of viewers have been waiting for - and KP is unlikely to disappoint her fans
Sir Paul McCartney is there!
This just in from our LA Showbiz Editor Katie Hind - the A list are in the house.
Steven Tyler is there, along with Mark Wahlberg - he's a New England Patriots fan.
But our favourite is Sir Paul McCartney.
Paul McCartney and Nancy Shevell
Yep, there's a Beatle right here - with his wife Nancy Shevell. And the commentator even introduced him as "royalty" from Liverpool.
Too right!
www.dailymail.co.uk
It's a blow out! Tom Brady leads Patriots to victory over the Seahawks after a brawl and a dramatic finish
· Game in Arizona attended by numerous celebrities, including John Legend, Idina Menzel and Paul McCartney
By Sophie Jane Evans For Dailymail.com and Wills Robinson For Dailymail.com
2 February 2015
The 49th Super Bowl was attended by numerous celebrities, including Mark Wahlberg, Britney Spears and her boyfriend, Charlie Ebersol, John Travolta, Will Ferrell, Kenny Chesney and Paul McCartney, as well as John Legend, who opened with a beautiful rendition of 'America The Beautiful'.
Legend was followed by Broadway star Idina Menzel, who performed the national anthem. During the half time show, Katy Perry entertained crowds with a 12-minute performance that saw her dance provocatively with rock star Lenny Kravitz and ride on the back of a silver mechanical tiger.
Guests: Paul McCartney and wife Nancy Shevel (both front row, left) are pictured watching the Super Bowl XLIX on Sunday evening
www.purestars.de
www.farandula.com
twitter.com/JoeWalsh
Super Bowl Fun 2015!!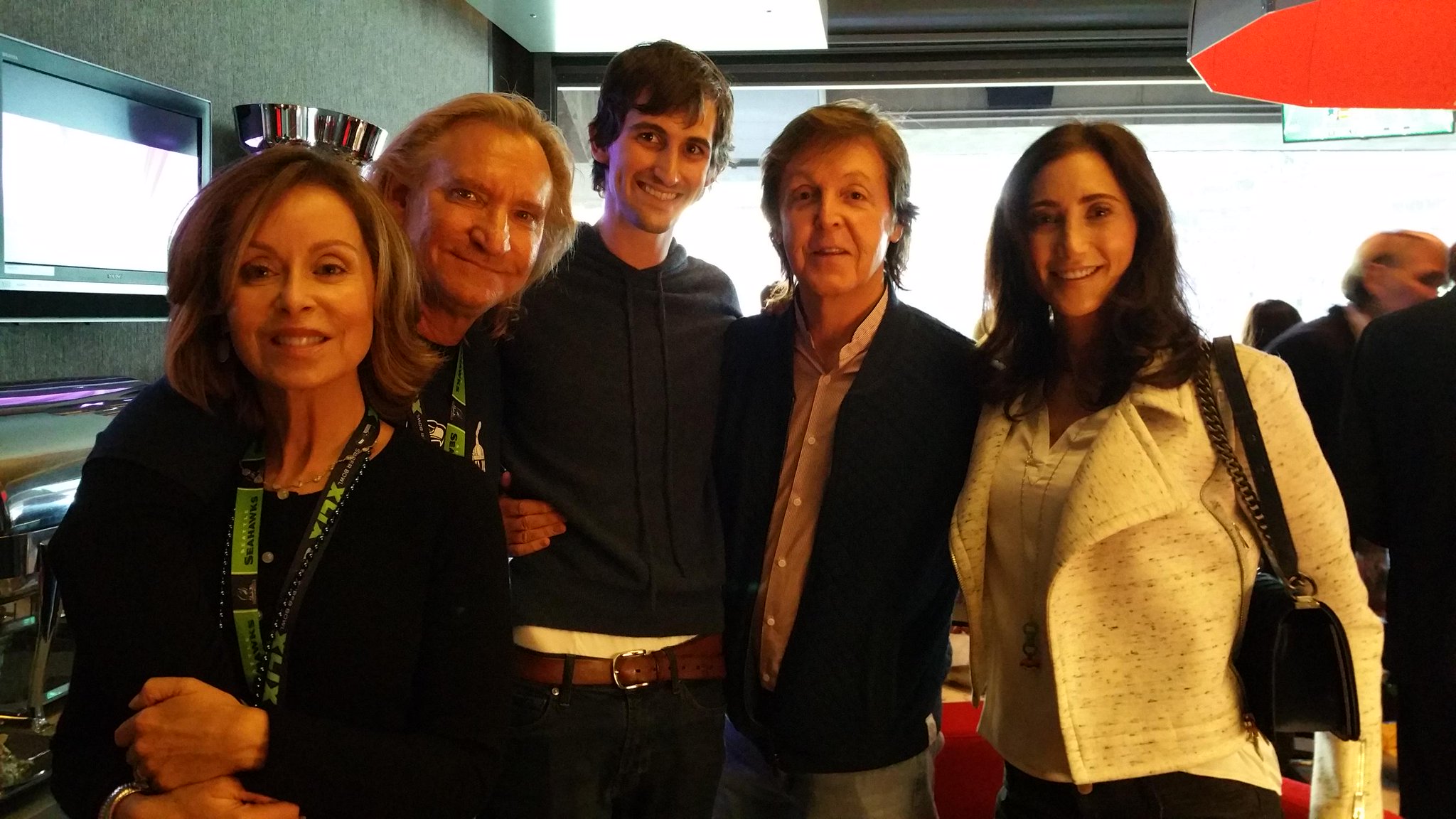 twitter.com/TheJerrys
Photo: Paul McCartney at Super Bowl 49, Feb 1, 2015: