www.examiner.com
George Harrison tree to be replanted in Los Angeles
Trina Yannicos
Anaheim Pop Culture Examiner
February 17, 2015
George Harrison tree plaque in Griffith Park
Trina Yannicos
The tree in Griffith Park dedicated to George Harrison will be replanted on the former Beatle's birthday of February 25, according to DJ Chris Carter of Los Angeles radio station 95.5 KLOS. On Sunday, February 15, Carter announced that the tree would be replanted during his weekly radio show called "Breakfast With The Beatles."
The Cayman Island Pine that was planted in tribute to the ex-Beatle in 2003 up in the hills of Griffith Park in Los Angeles made headlines last year when it was reported that the tree had died. In June 2014, the tree had to be cut down due to infestation by none other than beetles.
L.A. City Councilman Tom LaBonge said in July that the tree would be replanted "when the weather cools off." There's no better time than the anniversary of Harrison's birth for the replanting to take place. Just a few miles away from the tree will be a special gathering to celebrate Harrison's birthday at his star on the Hollywood Walk of Fame.
At the 2004 tree dedication ceremony, friends and associates gathered to pay tribute to Harrison including singer Billy Preston, singer Jackie Lomax, Councilman Tom LaBonge, deejay Chris Carter and Linda Arias, Olivia Harrison's sister, who read a message sent by Olivia thanking everyone for remembering her husband George.
The bronze plaque placed in front of the George Harrison Tree features a lotus flower and reads: "In memory of a great humanitarian who touched the world as an artist, a musician and a gardener," followed by a quote from George Harrison: 'For the forest to be green, each tree must be green.' George Harrison (1943-2001)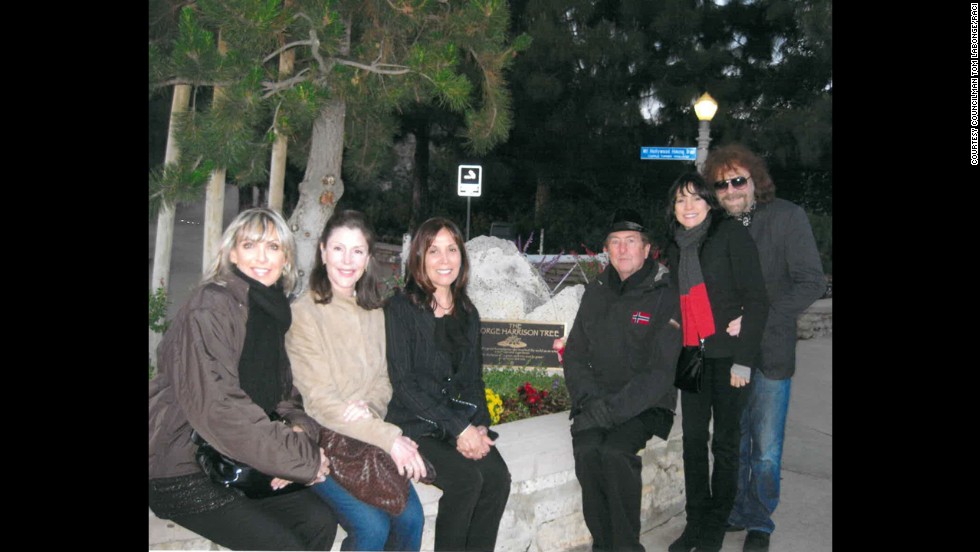 Harrison's widow, Olivia (center, in black), Eric Idle of Monty Python fame near her, and Jeff Lynne (far right) of ELO and Harrison's band The Travelling Wilburys