GUARDIAN.CO.UK
Neil Young and Paul McCartney docs to premiere at Toronto film festival
Albert Maysles documentary follows former Beatle as he organises and prepares to perform a 9/11 benefit concert
Henry Barnes
guardian.co.uk

,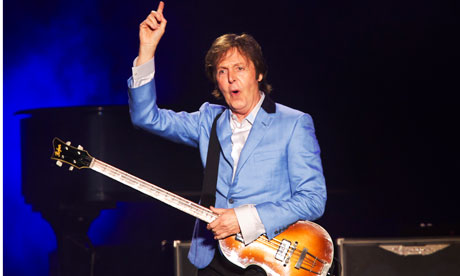 With a little help from his friends ... Paul McCartney managed to put together a show in just a month after the 9/11 attacks. Photograph: Victor R. Caivano/AP
Maysles's film follows the former Beatle as he prepares to perform at a 9/11 benefit concert in New York. Organised by McCartney in the wake of the attacks on the Twin Towers, the Concert for New York City featured performances from David Bowie, Eric Clapton, Mick Jagger and Keith Richards, all of whom appear in the film. "It was an honour to be able to help New York and America at that time in its history,"
said McCartney in July
this year. "There was a feeling of shock and fear in the air that I thought we could help alleviate with music."
Demme's Neil Young film – his second concert film on the folk-rock singer – follows Young on a tour of Ontario that culminates in a homecoming performance at Toronto's Massey Hall, where Young recorded the critically acclaimed live album
Live at Massey Hall 1971
. The documentary one of two new films that Demme is bringing to Toronto.
I'm Carolyn Parker: The Good, the Mad and the Beautiful
, a documentary following a New Orleans woman through the aftermath of Hurricane Katrina, will also have its world premiere at the festival.
The Toronto film festival runs from 8-18 September.