journalstar.com
Review: Paul McCartney delivers classics with engaging grace, style and class
L. KENT WOLGAMOTT Lincoln Journal Star
Jul 24, 2017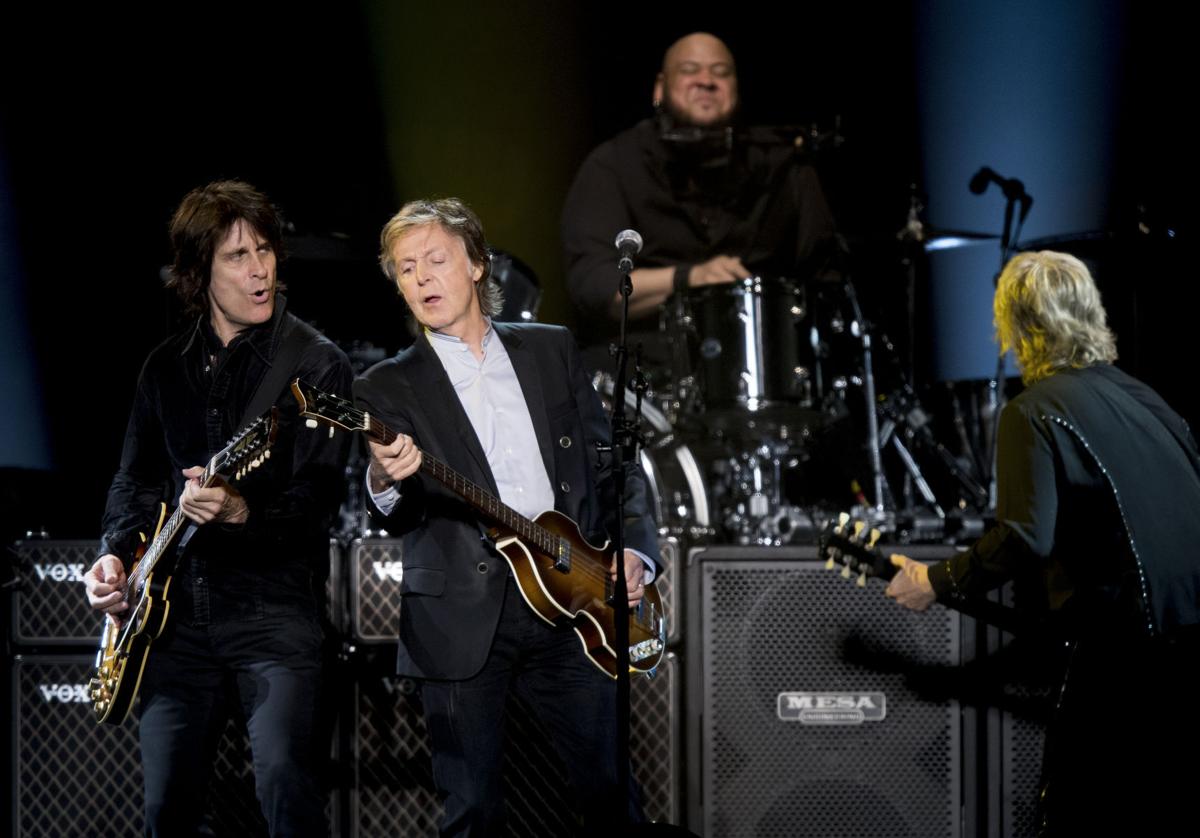 Paul McCartney (second left) and band members Rusty Anderson (left), drummer Abe Laboriel and guitarist Brian Ray performs on Sunday, July 23, 2017, during a concert at the CenturyLink Center.
FRANCIS GARDLER/JOURNAL STAR
OMAHA -- Film of The Beatles running to the stage inside Shea Stadium rolled behind Paul McCartney Sunday night at CenturyLink Center as he sang "Can't Buy Me Love" -- a song that he, John Lennon, George Harrison and Ringo Starr had done at that legendary show 52 years ago.
McCartney was all of 23 then, was 24 in 1966 when The Beatles called it quits for live performing and 28 when the band the world continues to love more than any other broke up in 1970.
That's a little mind boggling to consider when the now 75-year-old McCartney performs Beatles songs.
But bringing back those songs is one of the main reasons McCartney fills arenas around the world, year after year -- and it is, frankly, thrilling to hear Beatle Paul sing them in the same building you're in.
"Can't Buy Me Love" and "A Hard Day's Night," both from 1964, weren't the oldest songs McCartney performed. Nor was "Love Me Do," The Beatles first recording -- dedicated to producer George Martin.
Instead, he reached all the way back to The Quarrymen, the pre-Beatles skiffle group where he first teamed up with Lennon and Harrison, for "In Spite of All the Danger," which started a mini-set of early songs played by McCartney on acoustic guitar backed by accordion and stand-up drummer.
That kind of smart staging and sequencing continued throughout the show -- from McCartney rising above the stage on a lighted platform to do "Blackbird" and "Here Today," his tribute to Lennon (the night's most touching moment), through the pyro and explosions of "Live and Let Die," the main set's penultimate song.
Across the evening, McCartney played his trademark Hofner bass through Vox amps (primarily on earlier Beatles songs), electric guitar, on which he did a snippet of Jimi Hendrix's "Foxy Lady," acoustic guitar, a pair of pianos and the ukulele on a version of Harrison's "Something," another tribute.
The set careered through McCartney's career -- Beatles songs mixed in with Wings and solo numbers, including a pair from 2013's "New," his most recent album and "FourFive Seconds," his 2015 collaboration with Rihanna and Kanye West.
Paul McCartney revels in the reaction of the crowd as he appears on stage before launching into The Beatles' song "A Hard Day's Night" to open the show on Sunday, July 23, 2017, during a concert at the CenturyLink Center.
FRANCIS GARDLER/JOURNAL STAR
"If we do an old Beatles song, all your phones light up, like a celestial galaxy," McCartney said after "Queenie Eye." "If we do new songs, it's a like a black hole. We don't care. We're going to do them anyway."
Good for him for that and for the inclusion of "Temporary Secretary," a genuinely creepy electropop song, in the show that, by and large, delivered just what the 15,000 who filled the arena to hear and, often, sing, joining in on classics like "Hey Jude" and, encouraged by McCartney, "Ob-La-Di, Ob-La-Da."
Sunday's concert came three years and a week after McCartney last played Nebraska -- at Lincoln's Pinnacle Bank Arena in 2014. The shows were similar -- 22 of Sunday's 39 songs were on the list in Lincoln and both ran three hours.
There was, at least to my recollection, more elaborate lighting and screen projections on Sunday than three years ago.
Most importantly, McCartney is older now and, at times, sounded that way, his voice cracking a handful of times and thin at others.
That's understandable and forgivable -- the man is 75 and is a pair of Chicago engagements away from the end of this leg of his "One on One Tour" and more than a month of rest.
The vocal wobbles largely seemed to go unnoticed and certainly didn't impair the enjoyment of the enraptured audience and, by all appearances, of McCartney and his very good, very tight band, which showed that is a fine rock 'n' roll outfit delivering songs with edge and power.
And, of course, most of those songs were classics from one of the giants in popular music history, who, as he has done each of the half-dozen times I've seen him, delivered them with engaging grace, style and class.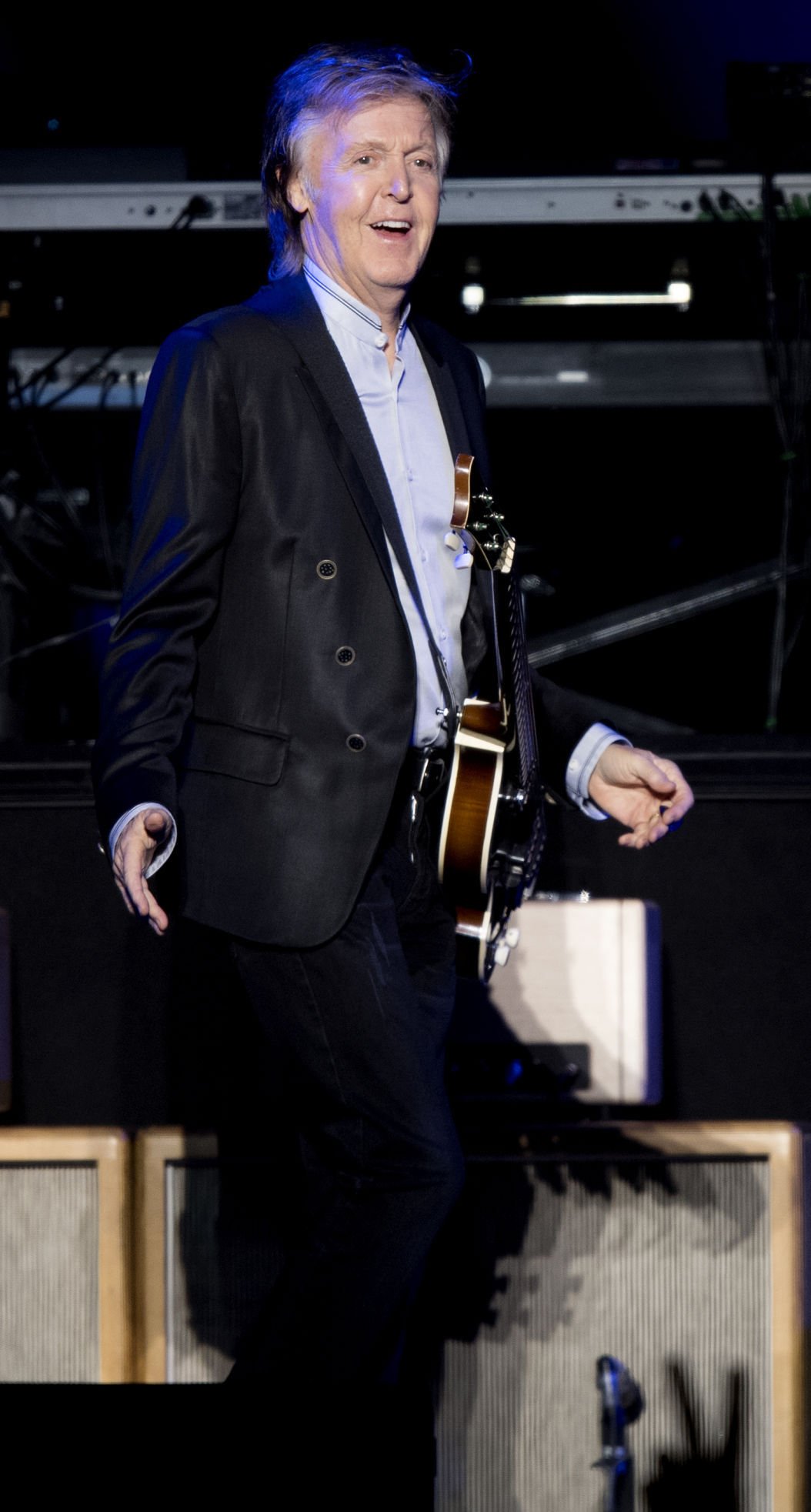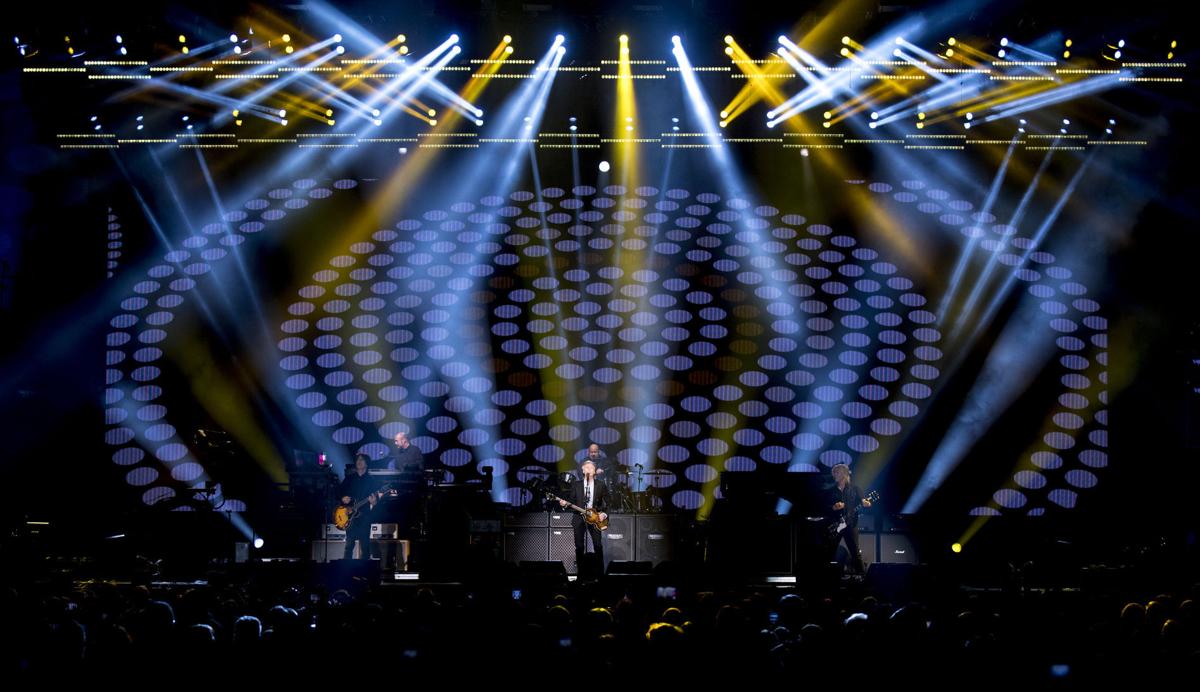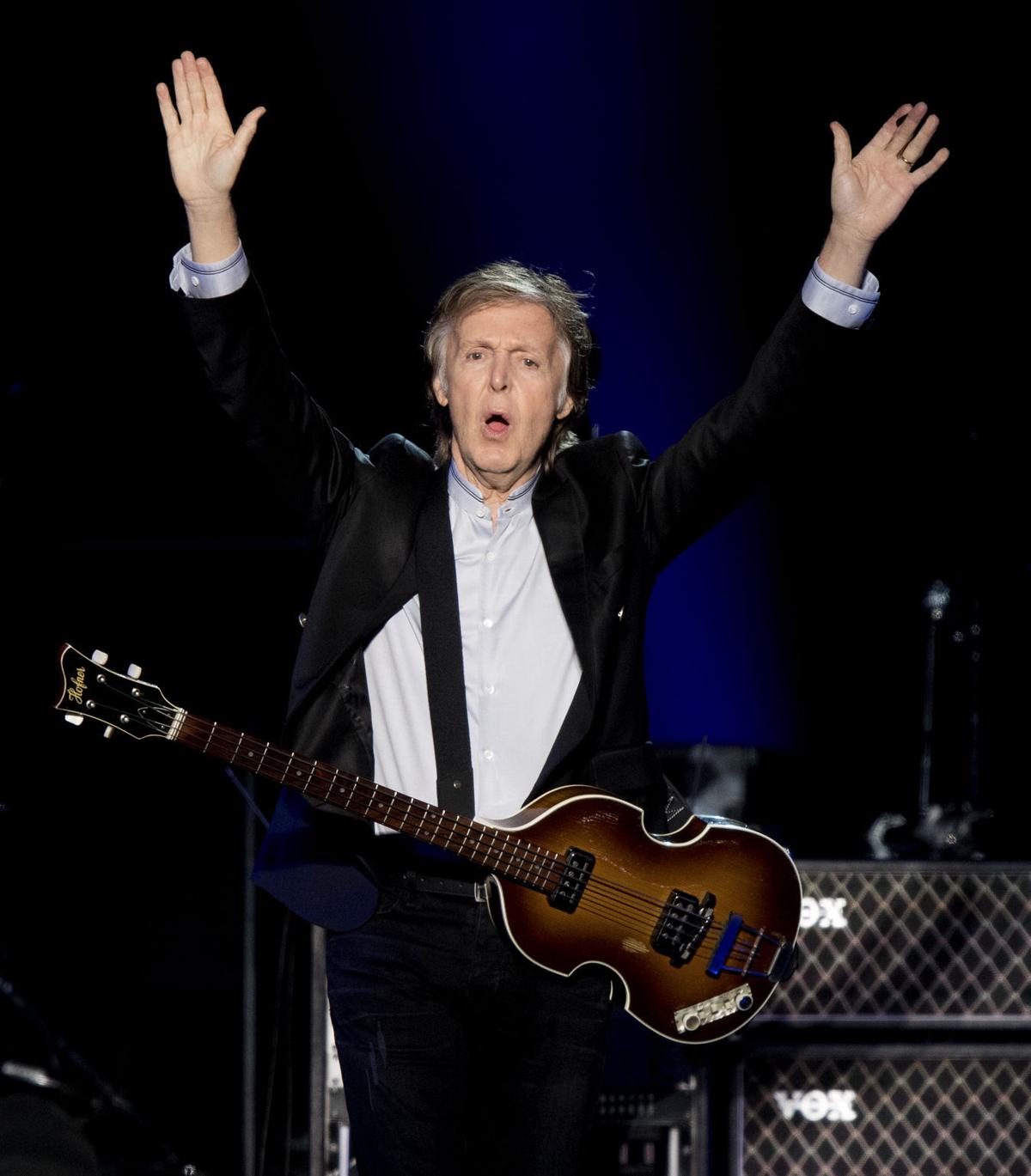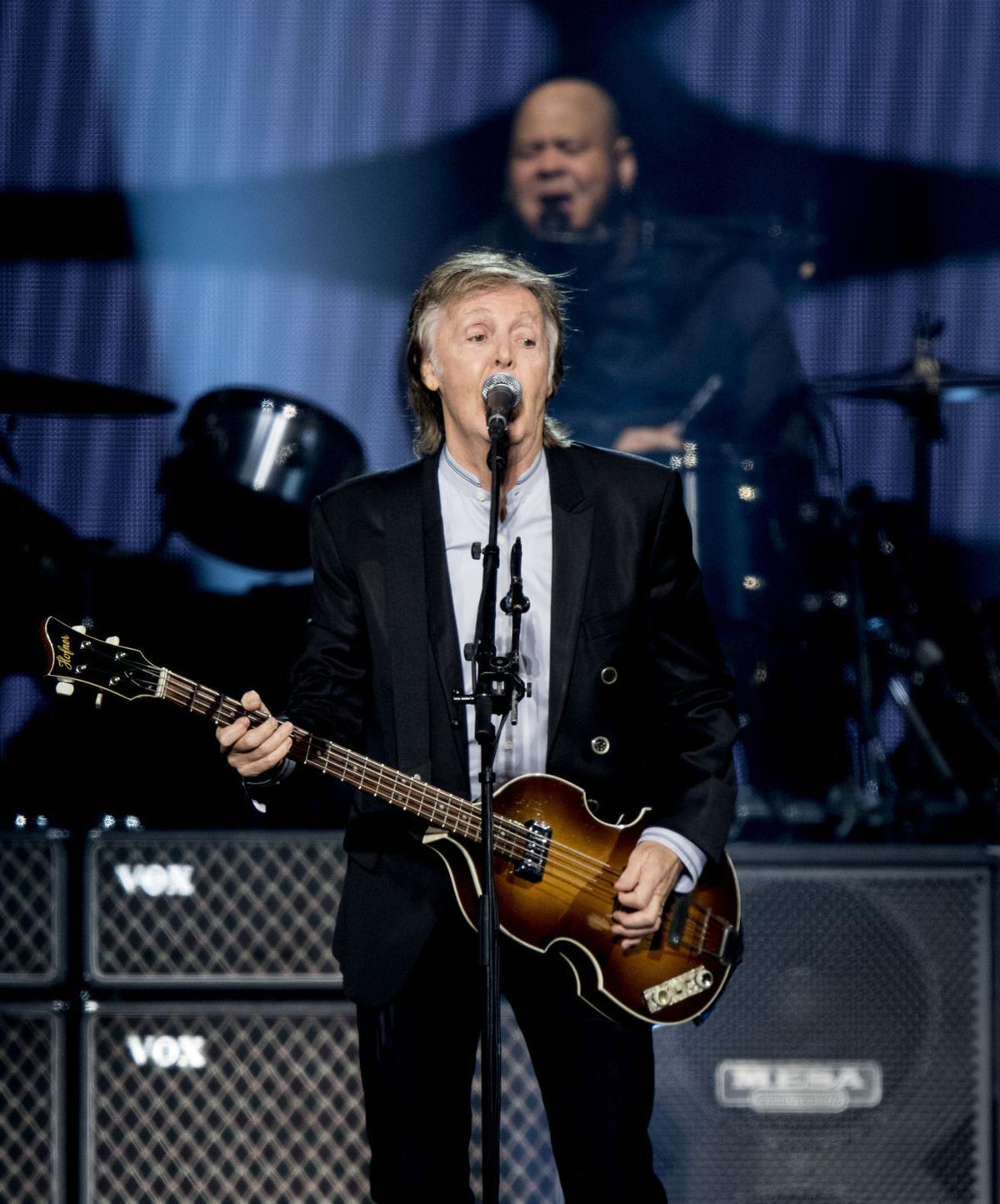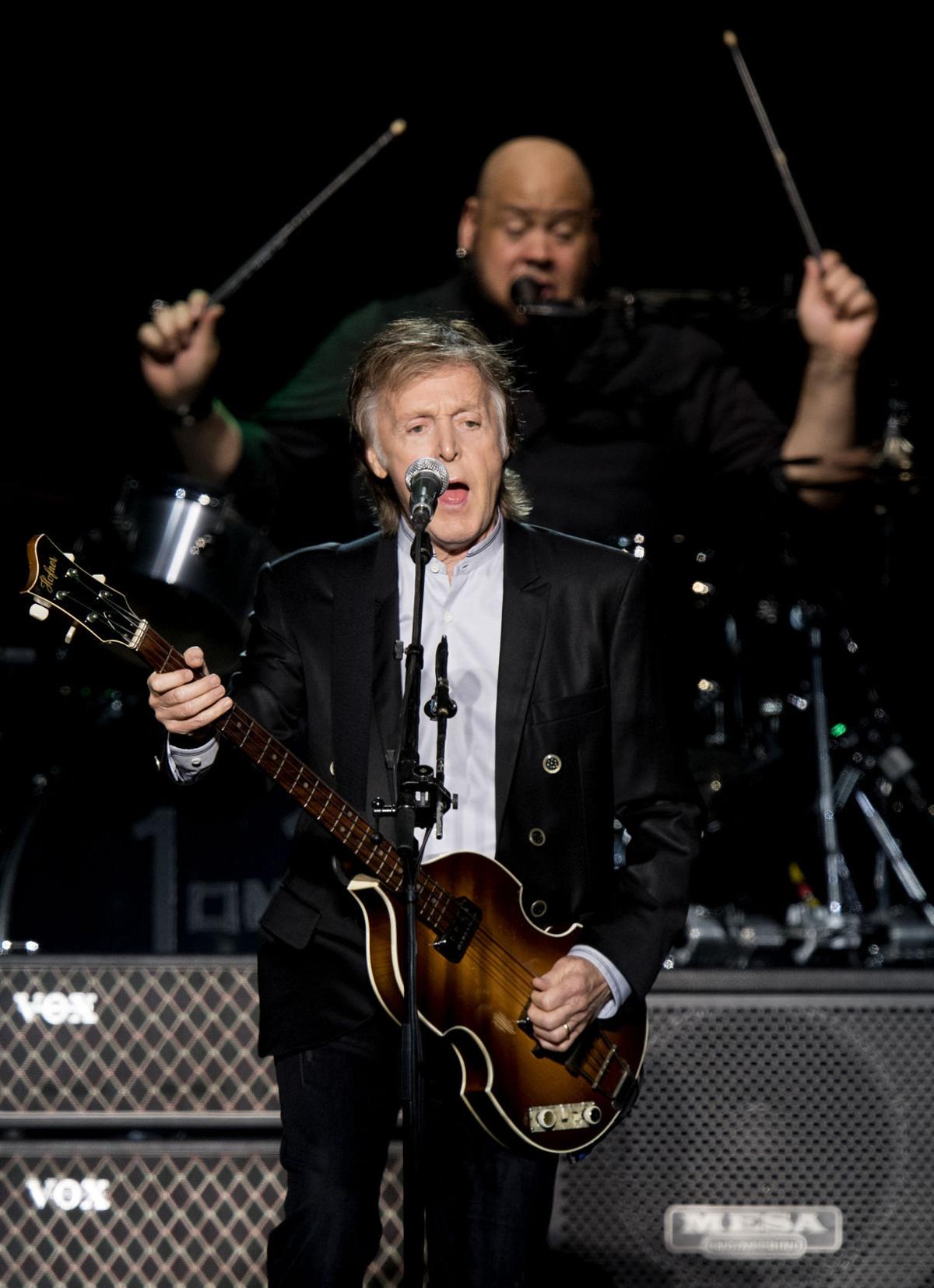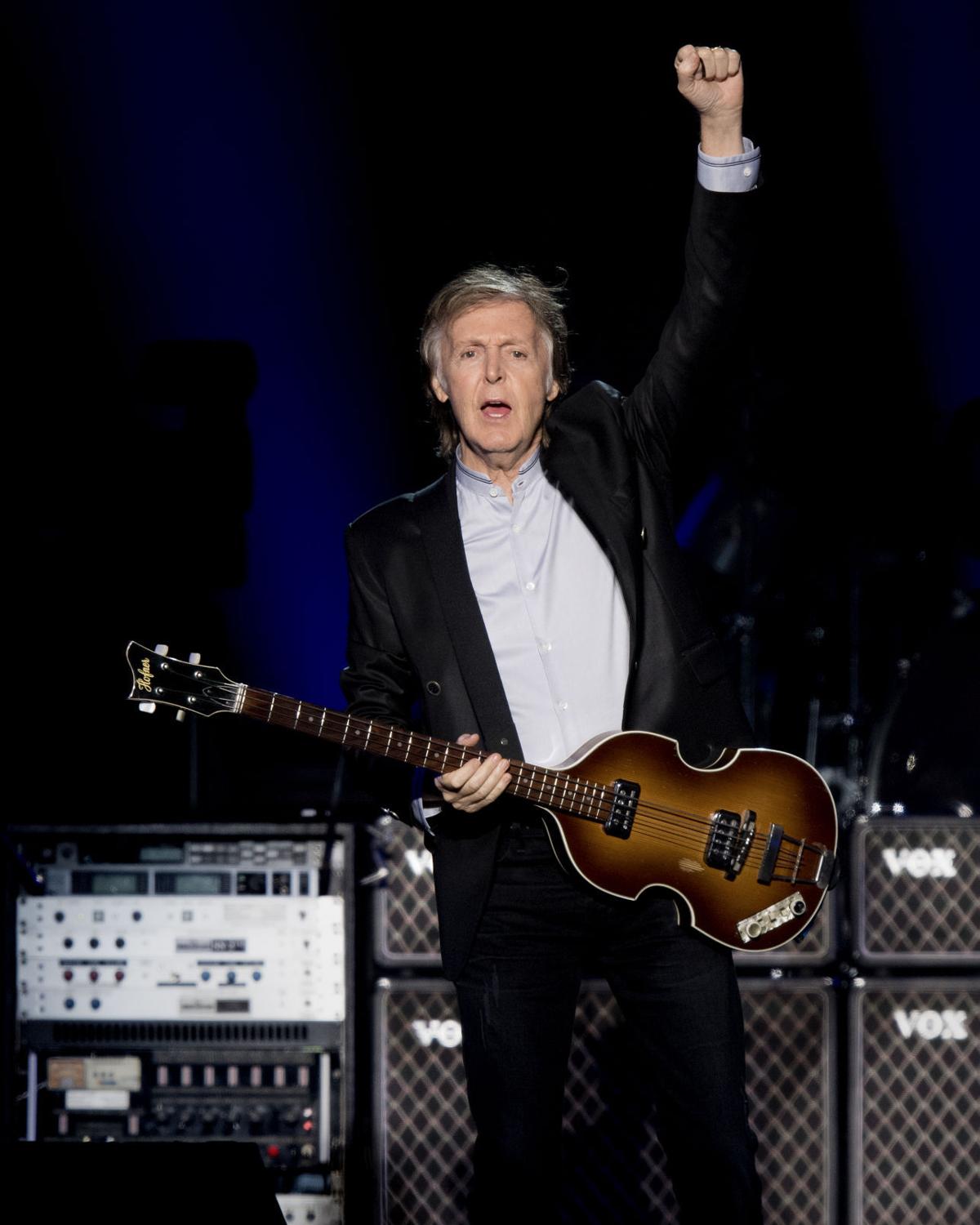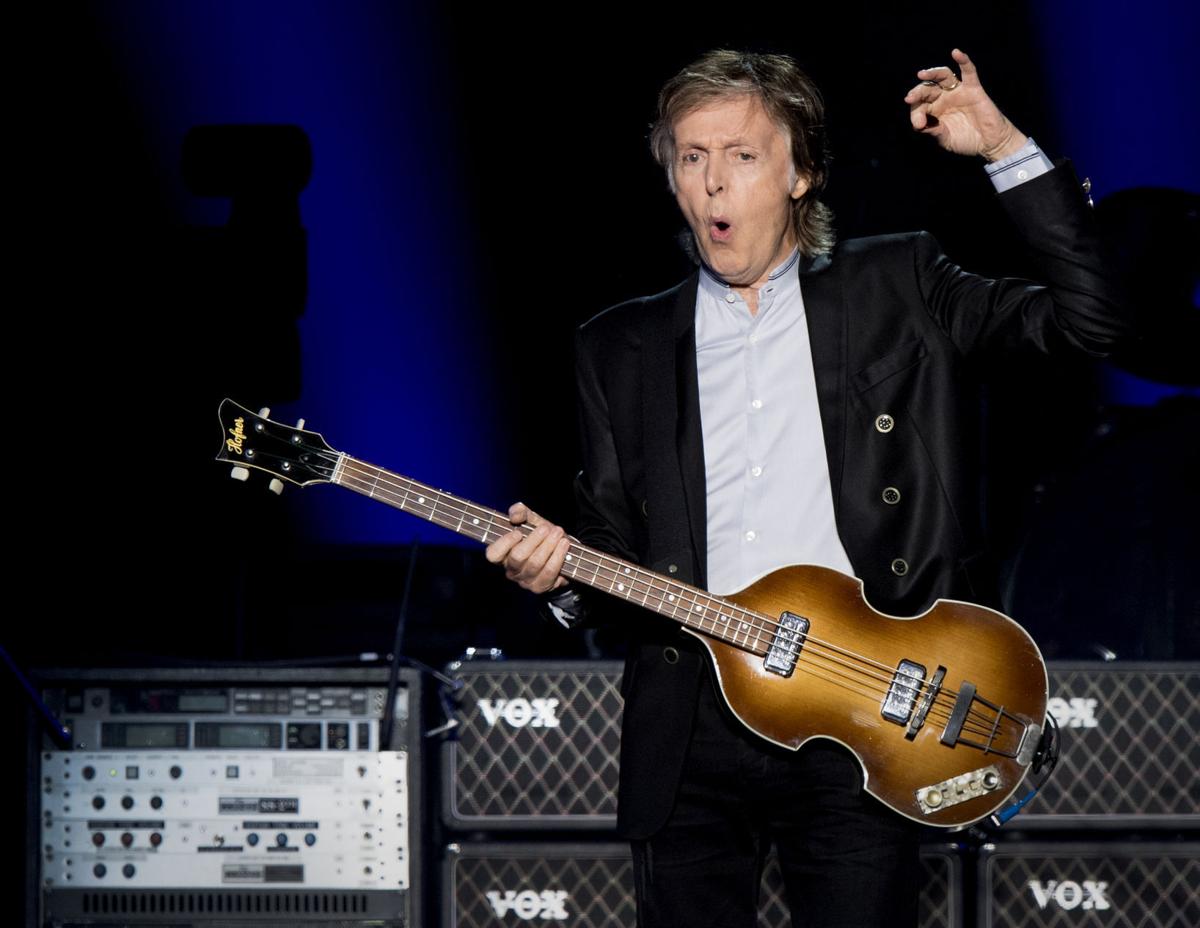 Paul McCartney reacts after finishing "A Hard Day's Night" by the Beatles to open the show on Sunday, July 23, 2017, during a concert at the CenturyLink Center.
FRANCIS GARDLER/JOURNAL STAR