journalstar.com
Bring on the Beatle: Lincoln, arena ready for Paul McCartney
By L. KENT WOLGAMOTT / Lincoln Journal Star
July 13, 2014
Build an arena. Get a Beatle.
That's the formula that led to Monday's show by Paul McCartney at the Pinnacle Bank Arena, a concert that has SMG-Lincoln's Tom Lorenz, the arena manager, more than a little excited.
"This is a living legend, this is where rock 'n' roll started," Lorenz said. "How cool is it to have one of The Beatles here? … One of the reasons we got it is we are a new market, a new arena. It's not like there aren't dozens of other venues for them to play. We're very lucky to get one of his shows right now. It's not likely he's going to be back next year."
Because of McCartney's stature, Monday's concert is the "biggest" of the 15 shows that will play Pinnacle Bank Arena in its first year. It's one of the biggest ever in Lincoln, up there with appearances by Elvis Presley in 1956 and 1977 and Farm Aid III, the 1987 daylong concert that brought nearly 70,000 people and artists like Neil Young and Lou Reed to Memorial Stadium.
McCartney will draw more than 10,000 people to the sold-out arena, a multigenerational lot primarily drawn by one thing.
"It's The Beatles," said Scott Anderson. "Even after one of the guys was dead, they were trying to re-form The Beatles. That shows just how much people want to be back in that era or they love the music so much they want to put it together again …. Years ago, George (Harrison) said, 'If you want The Beatles, go to Paul's concerts.' That contributes to the popularity of what Paul's doing."
Anderson, a University of Nebraska-Lincoln music professor who teaches the history of rock and roll and has done a course on The Beatles, will be out of town Monday. So he'll miss McCartney's show.
But watching Beatle Paul over the years via video, Anderson has noted something that is often overlooked about McCartney's performances.
"Even from the early days, there's always the sense that he's not very comfortable on stage," Anderson said. "He's almost awkward on stage. It's stilted. It's like he's trying too hard. Once the music starts, he's fine. I love McCartney. I even love his '70s stuff. The musical part, there was never a question. Out of the four Beatles, I think Paul is far and away the most talented. But as far as being a frontman, he's not good."
Why is McCartney the most talented of the Fab Four?
"I think it's the span of his songwriting," Anderson said. " He could take 'old Granny music' as John (Lennon) called it and integrate it into a pop song, or he could go the other way and go 'Helter Skelter' and go full rock 'n' roll. I think he covers everything so well. He plays everything, he plays it really well and sings well."
McCartney's music from his now 44-year solo career ties directly back into the songs he crafted in the 13 years of The Quarrymen and The Beatles, particularly his link back to '50s rock 'n' roll.
"You can't say that with the other (Beatles) songwriters; that leaves Ringo (Starr) out of the equation," Anderson said. "John went so far in terms of language, and George was just not into rock 'n' roll. Paul was the one who wanted to play rock 'n' roll and still write those songs. He never got away from that. I think of 'Tug of War.' He has Carl Perkins on there, Stevie Wonder."
McCartney also has long been acknowledged as a master of melody. That sets him apart from his Beatles songwriting partner Lennon and is what makes his music connect and stay lodged in the memory, Anderson said.
"It you're going to sit down and listen to a song, I'll take (Lennon's) 'Working Class Hero' as opposed to say (McCartney's) 'Uncle Albert' or 'Band on the Run.' With Paul's songs, you know the whole thing," Anderson said. "That's a real gift, and I don't think many people have it. He's up there with Rodgers and Hammerstein, Rodgers and Hart, those who could write a melody that's really memorable. He's always been a real tunesmith."
Those who have tickets for Monday's shows will get to hear plenty of those tunes. In the four shows McCartney has done since resuming his "Out There" tour in Albany, New York, on July 5, he has played 35 to 40 songs in a nearly three-hour show.
Pinnacle Bank Arena has completed nearly all of its preshow preparations and is ready for McCartney's trucks and buses to arrive to load in the show on Monday. While those who come to the show won't notice major differences from previous concerts, Lorenz said, the arena is trying to do things as well as possible for McCartney.
"We always try to put our best foot forward, but we're trying to do things a little extra nice," he said. "We want to show up well. It's nice to do something for an artist of his magnitude and for the production company that is coming in for the third time (Cher and Pink) and is really good to work with."
The most notable change that concertgoers will see Monday will be at the concession stands, where vegetarian and vegan options have been added to the menu.
"We already have some of that," Lorenz said. "We're adding some new menu items. The additional food offerings will match up with the menu choices Paul and his family will support and endorse."
Monday's show is McCartney's first Lincoln appearance. There's a very good chance it will be his only concert here.
"I hope the audience knows that not only are they hearing one of the most important rock 'n' roll artists ever, they may not get to see him again," Anderson said. "He's 72 years old. He may never come back to Lincoln again."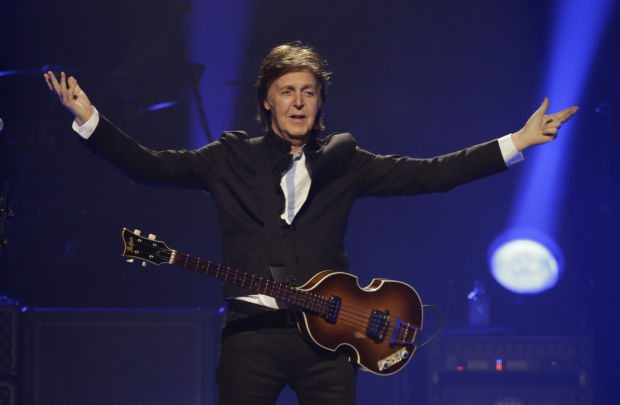 Paul McCartney performs in Orlando, Fla., during the first U.S concert of his "Out There" tour, which started in May 2013.
journalstar.com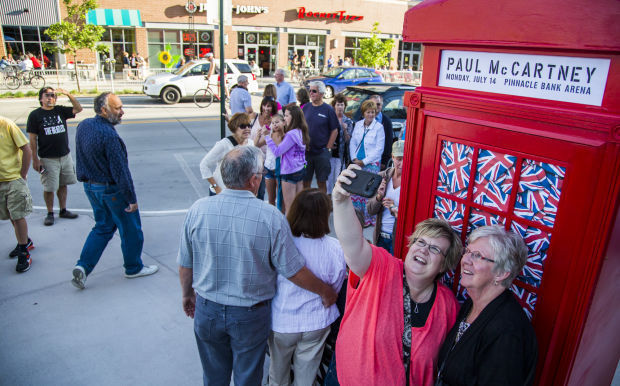 Hollie Wilson (bottom left) and Jo Haddan take a selfie in front of a phone booth before the Paul McCartney concert at Pinnacle Bank Arena on Monday.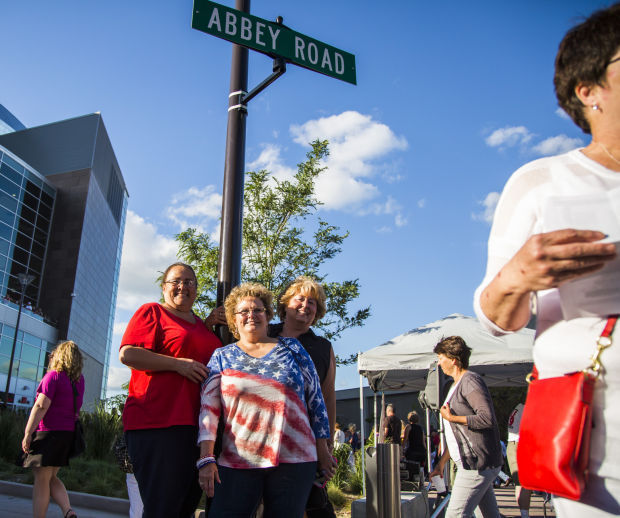 Rose Kuwamoto (left), Cathy Young and Linda Weichbrodt pose for a photo in front of an "Abbey Road" sign before the Paul McCartney concert at Pinnacle Bank Arena on Monday.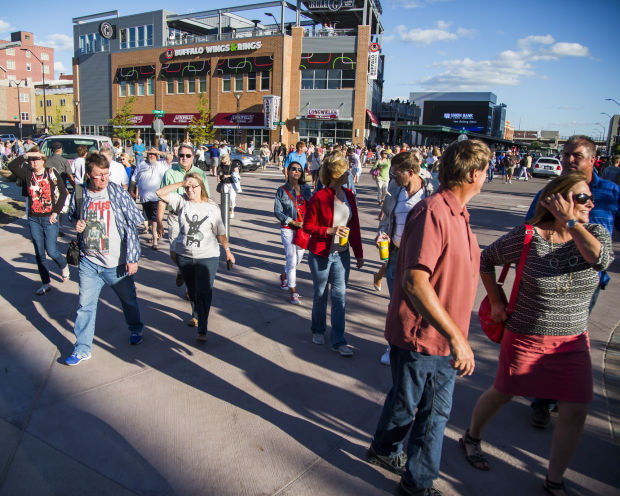 People make their way into Pinnacle Bank Arena for the Paul McCartney concert on Monday.
journalstar.com
Paul McCartney in Nebraska
STACIE SCOTT/Lincoln Journal Star
Paul McCartney performs at Pinnacle Bank Arena on Monday.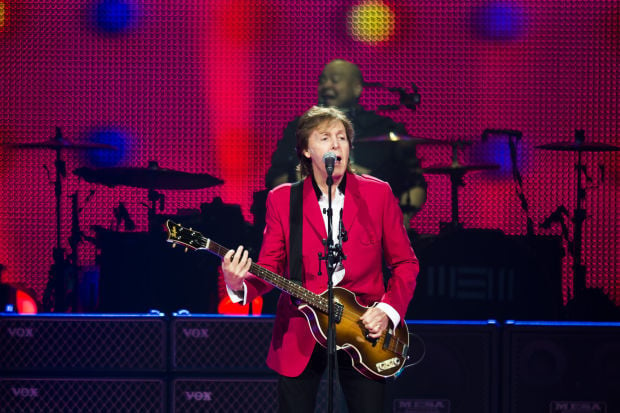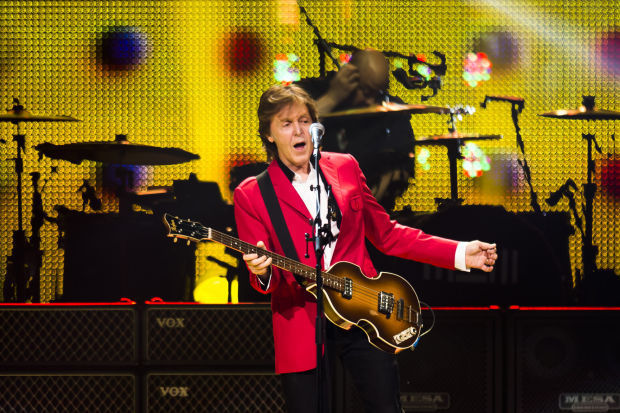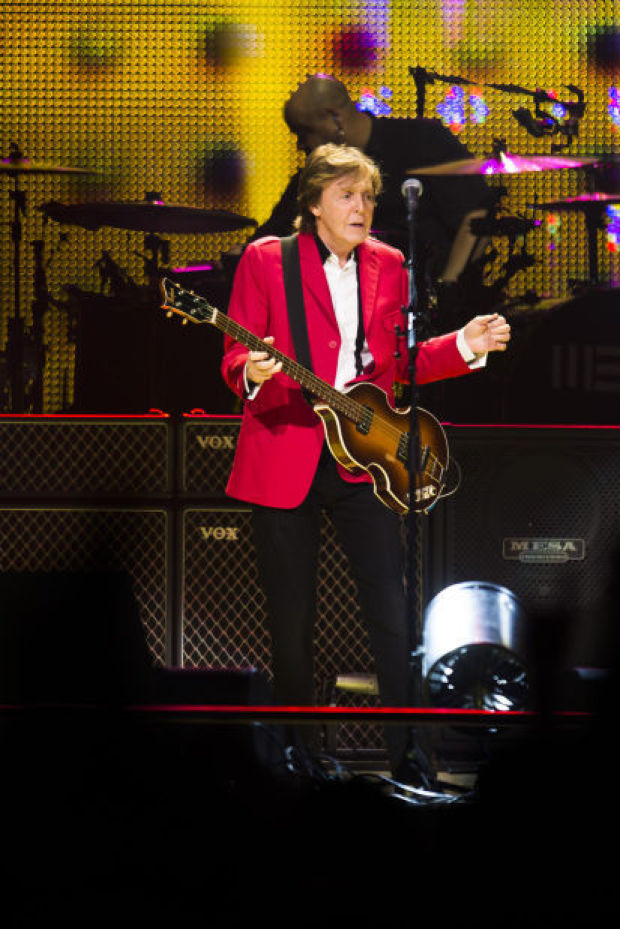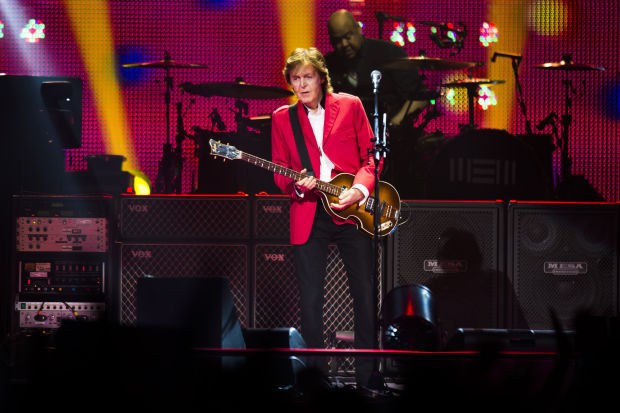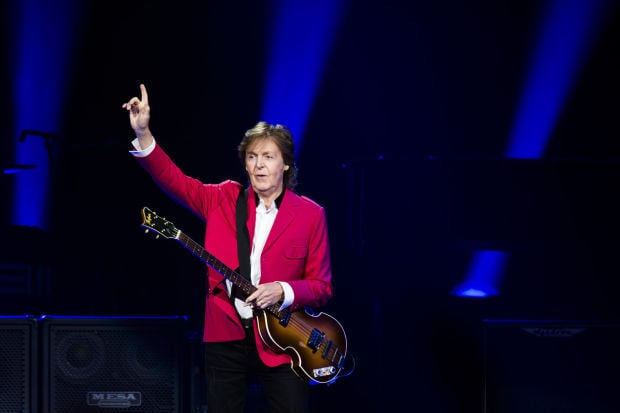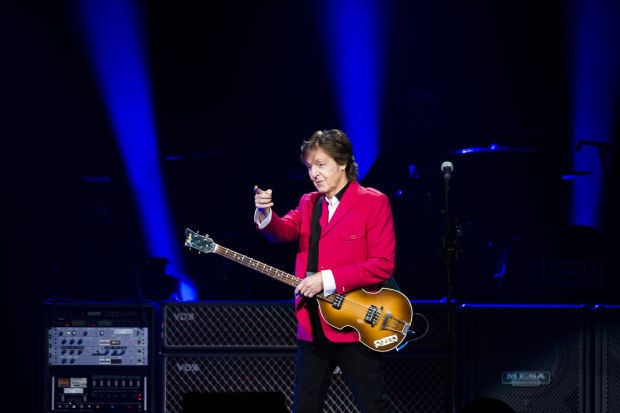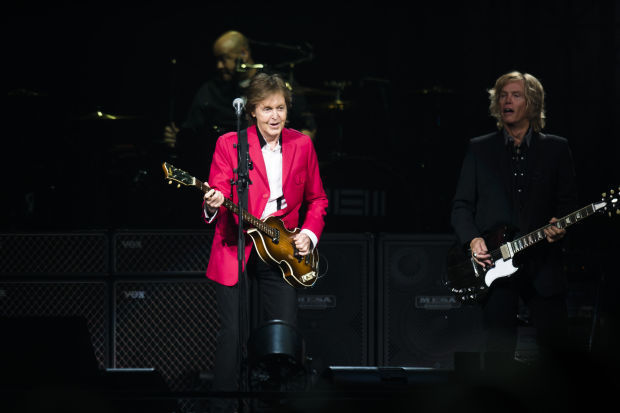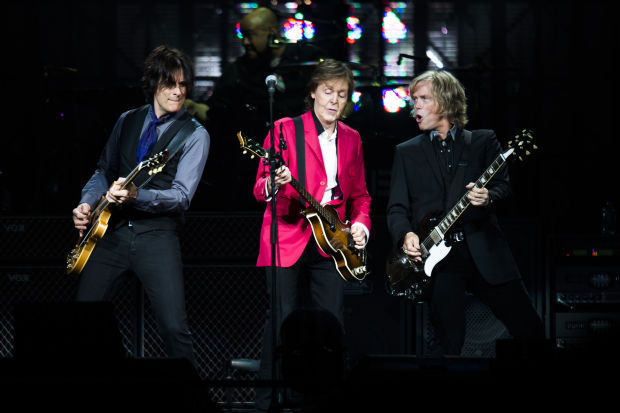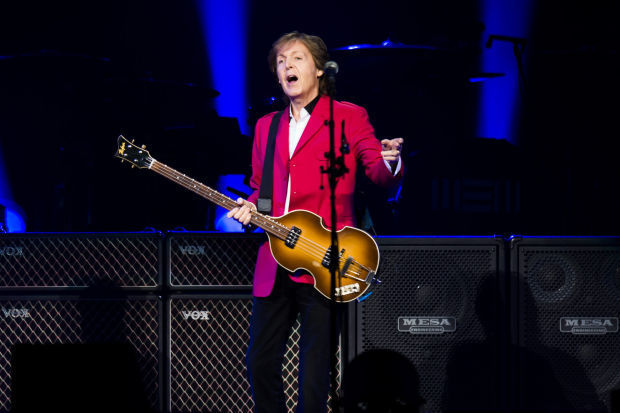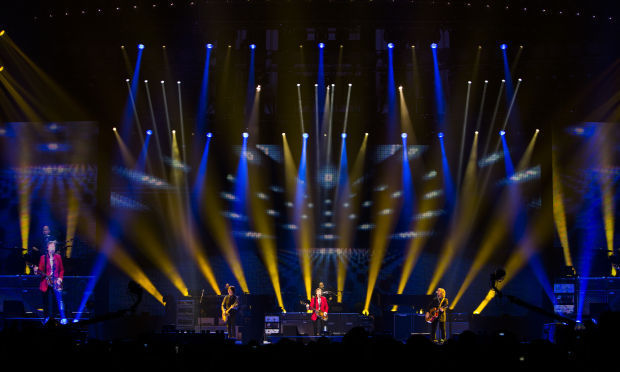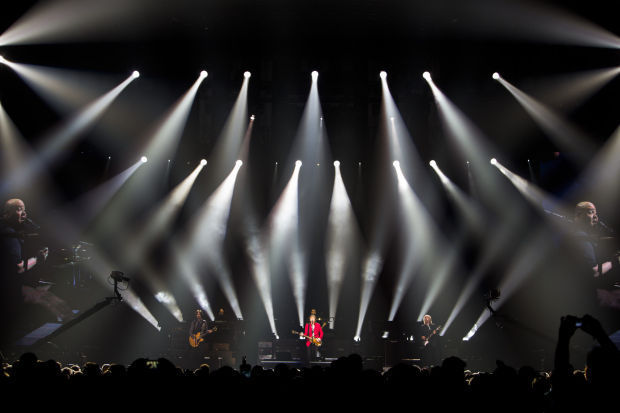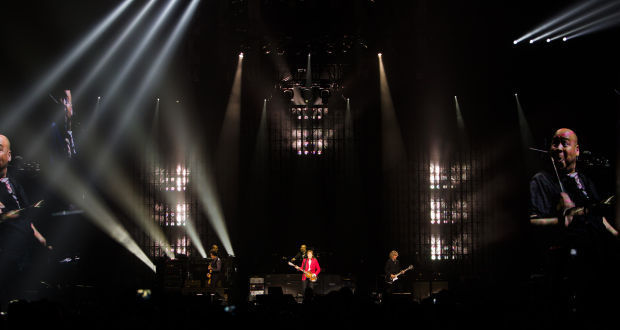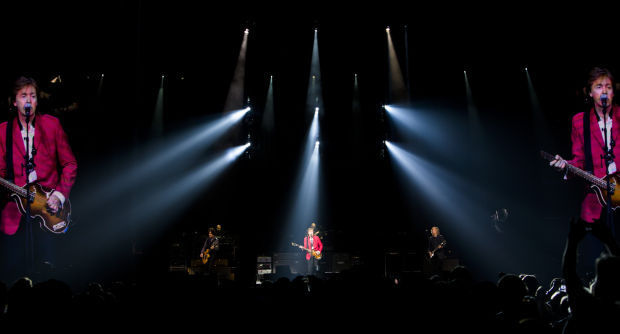 ban.jo
Paul McCartney in Pinnacle Bank Arena, Lincoln, NE
ginamarina1
Waiting! #paulmccartney
Cecilia Harry
And in the end, the you take is equal to the love you make. #sirpaul #paulmccartney
Gabriel Haecker
Massive stage! #PaulMcCartney
Brittany Bohaty
My non shitty seat
Jody Johns V9/2/14
Send All my lovin!!!
Kent Truog
That time I saw Paul McCartney...
Alexandra Cassidy
What a legend! Lots of extremely excited old people at this one!
Carla Maas
Paul McCartney
Come Together
My Valentine #PaulMcCartney @ Pinnacle Bank Arena
Gabriel Haecker
#paulmccartney
Jody Johns V9/2/14
Baby I'm amazed
Alex Schumacher
If you don't like Paul McCartney, then you're a fucking douche.
Brook Price
Paul McCartney set list
Jody Johns V9/2/14
Blackbird!