www.liverpoolecho.co.uk
Happy birthday Paul McCartney! Seven facts you might not know about the Beatles star
BY AMY BROWNE
18 JUNE 2015
Take a look back at Macca's life in pictures as he celebrates his birthday
Paul McCartney returns home to perform at the Liverpool Echo Arena.
Today Beatles star Sir Paul McCartney celebrates his 73rd birthday.
The rocker was born on June 18, 1942 at Walton Hospital, to parents Mary and James "Jim" McCartney.
To celebrate Macca's birthday, we look back at his life in pictures and reveal seven things you might not know about the star:
Premier of "A Hard Day's Night", July 1964
1. He was on a plane in New York when 9/11 happened
Paul was waiting to take off on the tarmac at the city's JFK airport when he spotted smoke coming from the Twin Towers. When speaking about the day, Macca has said he initially thought it was an optical illusion and "some sort of little fire", until a steward said something serious had happened and ushered him off the plane.
Paul McCartney - Love We Make (DVD/Blu-ray) : "This documentary follows Paul McCartney as he prepares for the Concert for New York, following the terrorist attacks in 2001.
2. Despite becoming a multi-millionaire singer, he failed an audition to be a choir boy
In the 1950s Paul auditioned for the choir at Liverpool's Anglican Cathedral, but was rejected.
Paul McCartney (top left) pictured in 1952 auditioning to become a choir boy
3. He also messed up his first gig with John Lennon
When Macca made his debut with The Quarrymen - who later evolved into the Beatles - in October 1957, he missed his cue, despite practising for days.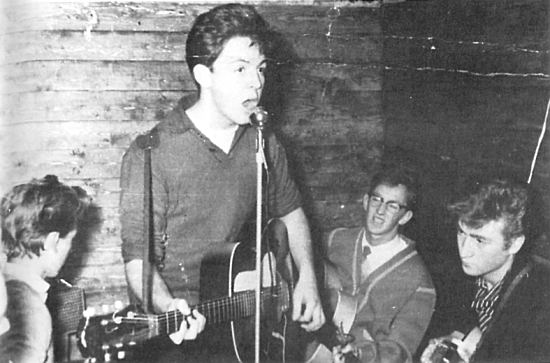 From left to right: George Harrison, Paul McCartney, Ken Brown, John Lennon. The Quarry Men had their first gig at the Casbah Coffee Club on August 29th 1959
4. The name for his band Wings came to him while praying
The image of 'wings' is said to have sprung into his mind as he was saying a prayer in hospital, when wife Linda was giving birth to daughter Stella.
The group didn't have a name for themselves until 13 September, 1971 while Linda was in the hospital giving birth to her and Paul's second child (Linda's third), Stella. Paul had began to pray for the safety of his wife and daughter to be, who's birth had some complications. While praying an image of wings came to his mind and thus the name of his new band.
5. At school he was a star pupil
Macca was one of just four pupils in his year to pass the 11-plus exam and gain entrance to the Liverpool Institute. During his time there, he once scored 90% in Latin.
Paul McCartney : Liverpool Institute High School,1960
6. He can count backwards really quickly
In fact, Paul can can back from 2,000 to one, faster than he can count forwards from one to 2,000.
7. One of his songs was written about a dog
Many thought Beatles tune Martha My Dear was a love song Paul wrote for his former fiancee Jane Asher. But in 1997 he revealed it was actually inspired by his Old English sheepdog Martha, saying "and our relationship was platonic, believe me."
Paul and Martha