www.itv.com
Paul McCartney tops music millionaires rich list
Sir Paul McCartney has not had a UK number one single in decades but that has not stopped him being the richest man in music.
ITV REPORT
23 April 2015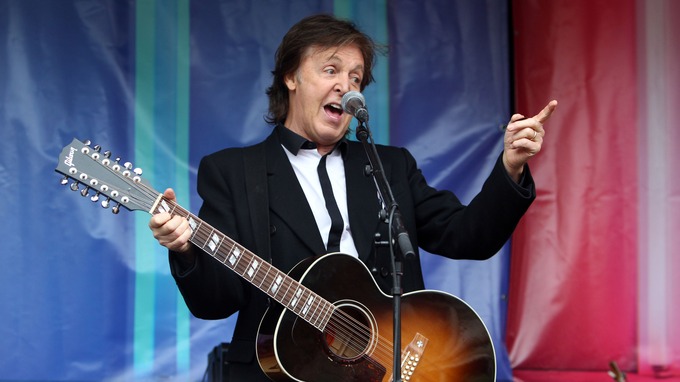 Sir Paul has an estimated personal fortune of £730 million. Credit: PA
The former Beatle is said to have amassed a personal fortune of £730 million - £20 million up from last year - well ahead of his nearest rival Andrew Lloyd Webber, who is estimated to be worth £650 million.
Irish rockers U2 share a £431 million fortune, with Sir Elton John and Sir Mick Jagger said to be worth £270 million and £225 million respectively.
A top 40 musical millionaires chart, put together for The Sunday Times Rich List, shows Sir Mick's bandmate and songwriting partner Keith Richards as being worth £210 million.
While Sir Paul's fellow Beatle Ringo Starr is estimated to have a fortune worth £180 million.
Other names on the chart include Irish musician Enya whose fortune is estimated at £90 million and newcomer Calvin Harris, with the DJ and producer said to be worth £70 million.
The full Rich List, a 128-page guide to the 1,000 richest people in the UK and 250 wealthiest in Ireland, is published on Sunday.
Here is a rundown of the Top 10:
1. Sir Paul McCartney £730 million
2. Lord Lloyd-Webber £650 million
3. U2 £431 million
4. Sir Elton John £270 million
5. Sir Mick Jagger £225 million
6. Keith Richards £210 million
7. Michael Flatley £195 million
8. Ringo Starr/Sting £180 million
10. Roger Waters £160 million
Last updated Thu 23 Apr 2015
www.m-magazine.co.uk
SIR PAUL MCCARTNEY TOPS MUSICIANS' RICH LIST
M magazine
posted April 23, 2015
Sir Paul McCartney has topped the latest Sunday Times Rich List of musicians with a personal fortune of £730m.
The Beatle's fortune is estimated to have risen by £20m on 2014's figure, in part due to a boost from his wife, Nancy Shevell's, £150m stake in her family's trucking business.
Andrew Lloyd Webber is second on the list with an estimated £650m fortune while Irish rockers round out the top three with £431m to their name.
The highest new entry on the list is producer and DJ Calvin Harris. The Scottish musician reached number 30 in the list with an estimated £70m fortune.
According to the list, the sum puts Calvin on a par with Mark Knopfler and Pete Townshend.
The full top ten is below:
Sir Paul McCartney and Nancy Shevell £730m
Lord Lloyd-Webber £650m
U2 £431m
Sir Elton John £270m
Sir Mick Jagger £225m
Keith Richards £210 m
Michael Flatley £195m
Ringo Starr £180m
Sting £180m
Roger Waters £160m