www.facebook.com/FansOnTheRun
Espírito Santo, Brazil
November 10, 2014
Paul arrives in Espírito Santo, Brazil
Photos (submitted) by Andrew Matheus
Photos (submitted) by Paulo Arraes
Photos: Anna Ulbrik
Photo: Daniel Montanher
Photo: Pedro Zellmer
At the hotel
Photo: Angelina Grattone
Right before gates opened
Photo: Daniel A. Montanher
Photo: Priscilla Ann Fauza
g1.globo.com
Paul McCartney abre show no ES com 'Eight days a week'
Ex-Beatle se apresenta pela 1ª vez no estado.
Astro traz turnê 'Out There' para o Brasil.
Do G1 ES
10/11/2014
Fazendo jus à pontualidade britânica, o cantor internacional Paul McCartney subiu ao palco para realizar o primeiro show no Espírito Santo, no estádio Kléber Andrade, em Cariacica, às 21h03 desta segunda-feira (10). A apresentação estava prevista para começar às 21h. O ex-beatle iniciou a apresentação interpretando a música "Eight days a week" . Esse é o primeiro show da turnê 'Out There' realizada no Brasil, este ano.
A segunda canção tocada pelo astro foi "Save Us". Logo depois, ele cumprimentou o público dizendo que tentaria falar português. "Oi, Vitória! Boa noite, capixabas. Esta noite vou tentar falar um pouco de português", disse, trocando o nome da cidade onde se apresenta, Cariacica, pelo nome da capital do estado, Vitória. Empolgado, público foi ao delírio com a terceira música: "All my loving".
O cantor deixou o hotel onde está hospedado em Vitória por voltas das 16h30. Já de saída, ele chegou a acenar para centenas de fãs que esperaram para ver o ídolo de perto. Horas antes do show, a fila composta pelos fãs na entrada do estádio já chegava até a BR-262, que fica cerca de um quilômetro de distância. Os portões foram abertos por volta das 18h17.
Logo após chegar ao Kléber Andrade, Paul fez a passagem de som de algumas das canções que apresentou para o público. Neste primeiro momento, a plateia era formada apenas por algumas pessoas credenciadas. Entre elas, seis telespectadores do ESTV que conseguiram vencer uma promoção realizada pelo programa. Após o ensaio, o astro trocou algumas palavras com os presentes e chegou a abraçar uma das fãs.
É a primeira vez que Paul McCartney faz apresentação no estado. Ele tocou em oito estados brasileiros diferentes nos últimos quatro anos, nas regiões Sul, Sudeste, Nordeste e Centro-Oeste. O Espírito Santo era o único no Sudeste que não tinha recebido o músico inglês.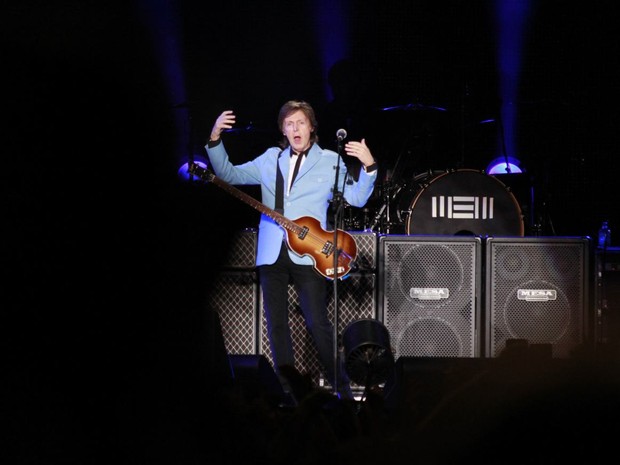 Paul agitou o público ao subir ao palco, em Cariacica (Foto: Divulgação/ Matheus Soares)
twitter.com/PaulMcCartneyBR
Paul McCartney está a caminho do Estádio Kleber Andrade neste momento para a passagem de som!
Valeu passar o dia inteiro na fila.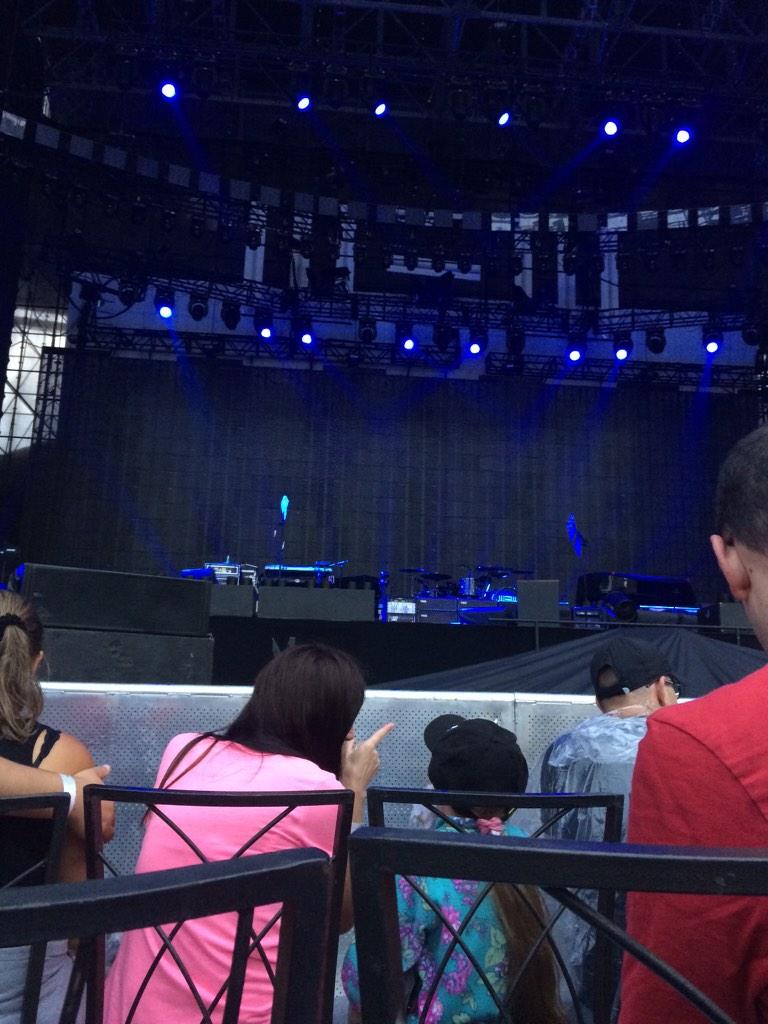 [VITÓRIA] Tudo pronto pra receber Sir @paulmccartney aqui no Estádio Estadual Kleber Andrade! Prepara o coração, Vitória!!!! #PaulinBrazil Crédito: Marcos Hermes/Ag Lens/Divulgação
Como de costume, o setlist já foi divulgado na sala de imprensa e não terá novidades.
Ganhadores de promoção conhecem Paul McCartney, no ES -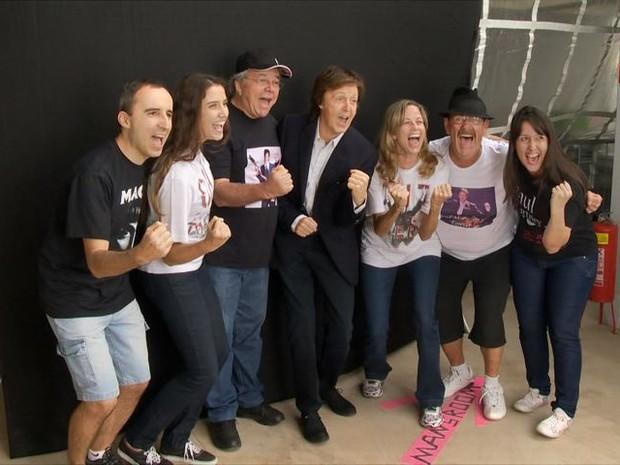 "Boa noite, capixabas!" - disse Paul após cantar Eight Days a Week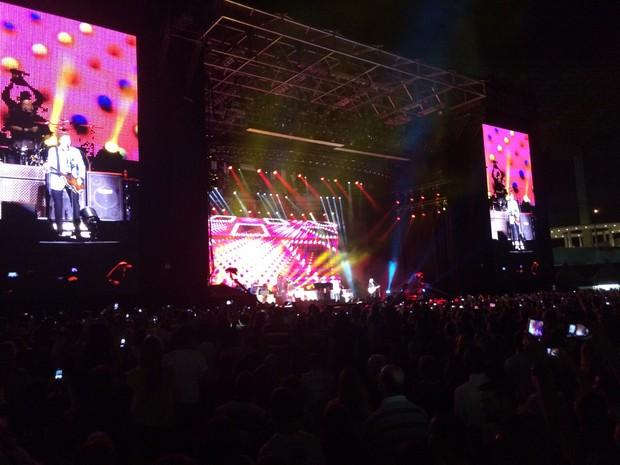 "Obrigado, capixabas! É bom finalmente estar aqui!"
Paul durante All My Loving [Foto: Marcos Hermes]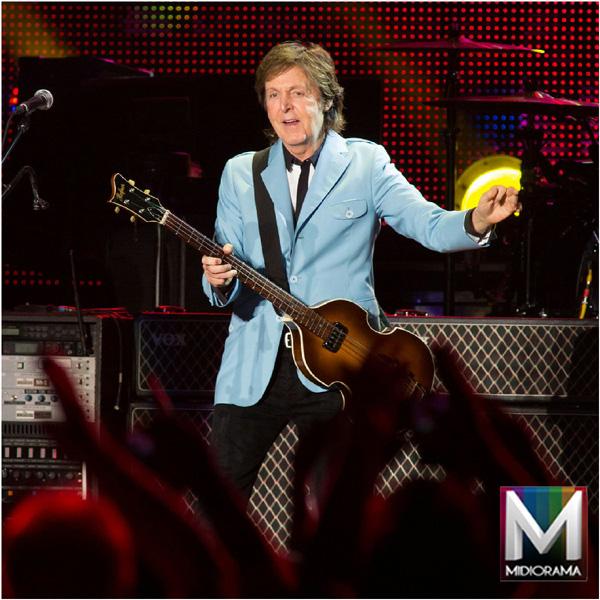 [VITORIA] Vai ficar na história! Noite emocionante no Espírito Santo! #PaulinBrazil
Crédito: Marcos Hermes
Paperback Writer!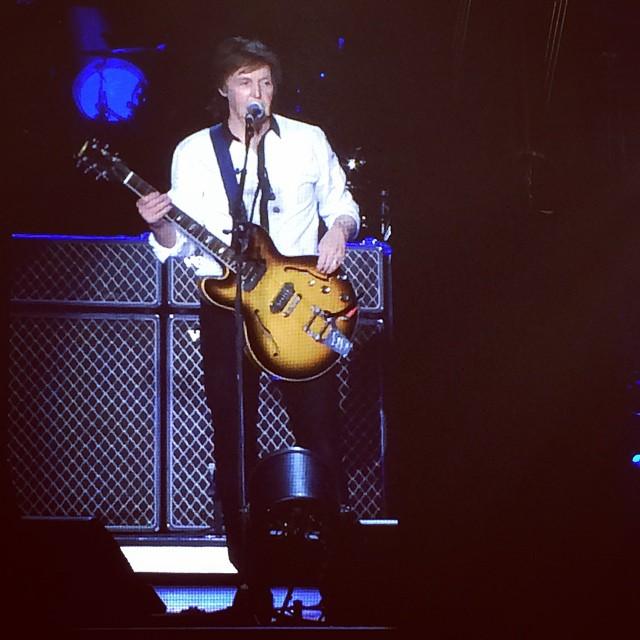 Durante Live and Let Die
Paul tocando Hey Jude e o público levantando os NA's:
The end of the show!
!!! RT @PaulMcCartney: Amigos Capixabas, esse show pocou!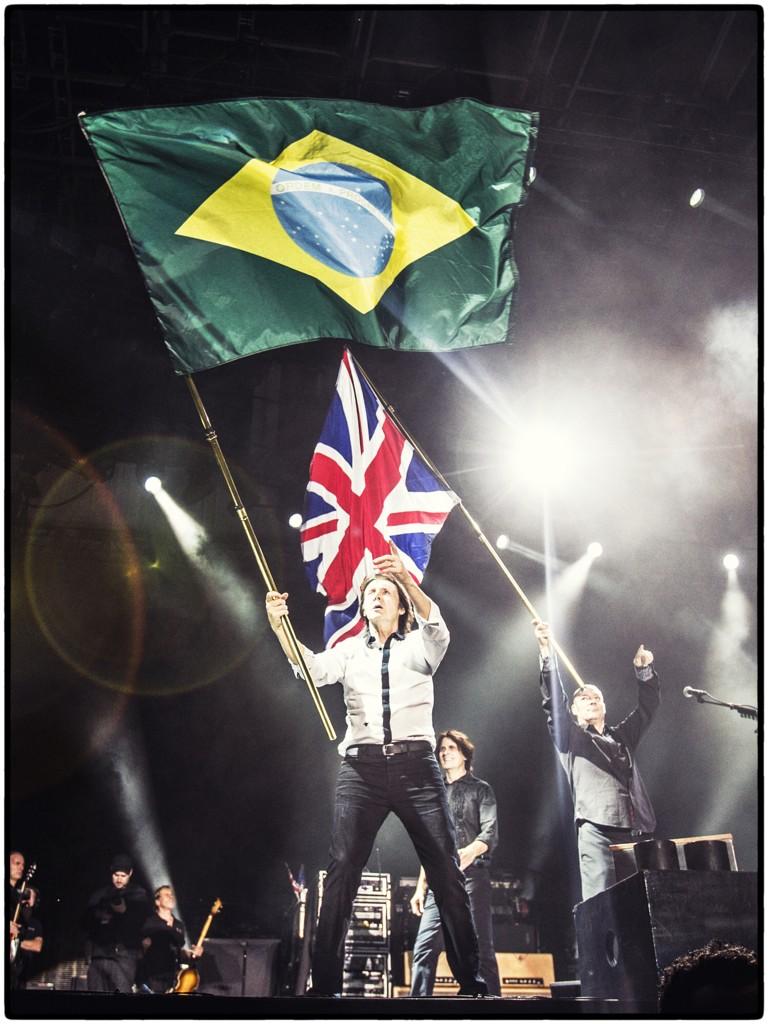 www.eshoje.jor.br
Ao som de "Eight Days a Week" Paul Paul McCartney inicia turnê no Kléber Andrade
Lucas Rezende
10 de Novembro de 2014
O que era apenas um boato virou uma realidade - e tanto - para a história cultural do Espírito Santo. O ex-beatle Paul McCartney iniciou, às 21h30, sua turnê Out There! no Estádio Kléber Andrade, em Cariacica.
Ao som de "Eight Days a Week", o astro levantou uma multidão com sua guitarra na noite desta segunda-feira (10). Já de inicio, lendo uma "colinha', Paul arriscou suas primeiras palavras em português. "Oi Vitória. Boa noite capixabas. Iha!", falou todo empolgado, emendando logo depois: "Finalmente! É bom estar aqui!".
O show em território capixaba abre a temporada de apresentações do astro no Brasil. A turnê Out There tem quatro shows confirmados no Brasil, na primeira quinzena de novembro. Os próximos serão em São Paulo (dois) e outro em Brasília.
SHOW DO PAUL
Fotos: Dayana Souza
revistaquem.globo.com
No ES, Paul McCartney faz o primeiro show da turnê pelo Brasil
Cantor se apresentou para os fãs capixabas em Cariacica, na noite de segunda-feira (10)
POR QUEM ONLINE; FOTOS: AGNEWS
11/11/2014
O astro Paul McCartney deu o pontapé inicial, na noite de segunda-feira (10), aos shows de sua turnê Out There! pelo Brasil com um show no Estádio Kleber Andrade, em Cariacica, no Espírito Santo.
O eterno Beatle animou o público capixaba, estimado em 35 mil pessoas, com sucessos de sua carreira.
Depois do Espírito Santo, Paul toca no Rio de Janeiro, na HSBC Arena, em São Paulo, no Allianz Parque, e em Brasília, no Estádio Nacional.
Paul McCartney (Fotos: Amandio Santos e Alexandre Magioni/Photo Rio News)