g1.globo.com
Paul McCartney anda de bicicleta no Parque da Cidade, em Brasília
Ex-Beatle acenou para fãs e pareceu se divertir, apesar do mau tempo.
Músico se apresenta neste domingo, às 20h, no Estádio Mané Garrincha.
Lucas Nanini
Do G1 DF
22/11/2014
Em Brasília desde a manhã deste sábado (22), o ex-beatle Paul McCartney aproveitou para andar de bicicleta pelo Parque da Cidade. Apesar do tempo nublado, o músico pareceu se divertir com o passeio, acenou para fãs e permaneceu no local até o início da tarde.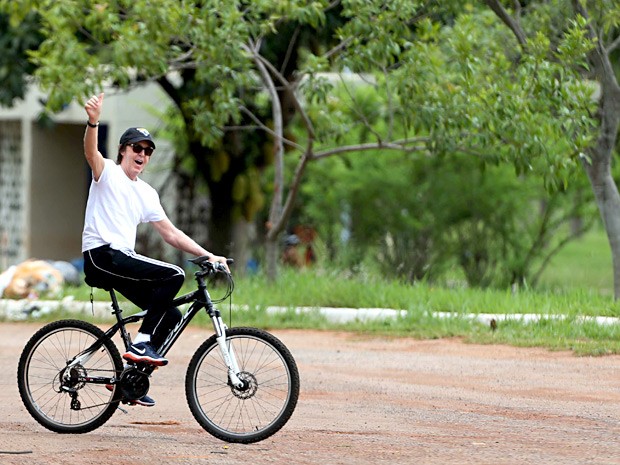 O ex-beatle Paul McCartney acena para fãs durante passeio de bicicleta no Parque da Cidade de Brasília (Foto: Carlos Silva/CB/D.A. Press)
Paul McCartney sobe ao palco do Estádio Nacional Mané Garrincha neste domingo (23), às 20h. A apresentação faz parte da turnê "Out There!". É o primeiro show do ex-beatle na capital brasileira.
O cantor apresenta clássicos dos Beatles e dos Wings, além de sucessos da carreira solo e canções do disco "New", de 2013. Até esta sexta, foram vendidos 80% dos 45 mil ingressos.
O músico desceu na Base Aérea de Brasília às 8h30 e foi direto para o hotel Meliá Brasil 21, no Setor Hoteleiro Sul. Paul está hospedado em uma suíte de 300 m², com ampla sala de jantar. A equipe do músico está acomodada em 110 apartamentos, em três andares do edifício.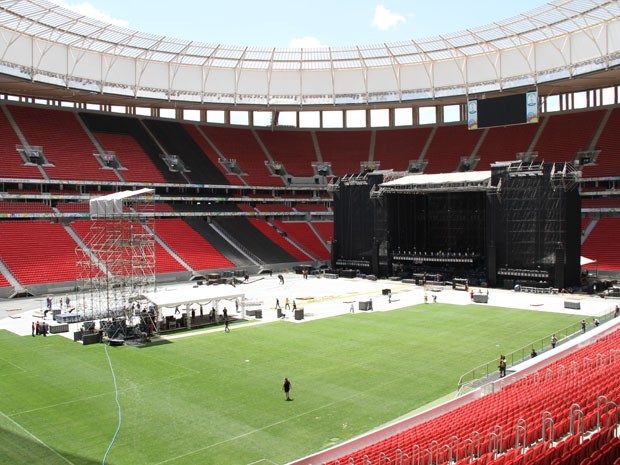 Montagem do palco para o show de Paul McCartney no Estádio Mané Garrincha (Foto: Vianey Bentes/TV Globo)
No chão do hotel foi instalada uma faixa de pedestres, em referência à capa do disco "Abbey Road", último álbum gravado pelos Beatles, em 1969.
O músico exigiu que o cardápio servido seguisse a dieta vegana, sem nenhum tipo de alimento de origem animal. Um chef de cozinha veio especialmente de Londres para atender ao cantor e compositor.
Paul McCartney faz show e leva público ao delírio, espírito santo (Foto: Edson Chagas/A Gazeta)
O ex-beatle Paul McCartney
(Foto: Edson Chagas/A Gazeta)
Outra exigência foi a retirada dos móveis de couro do local. Um dos espaços do hotel foi transformado em academia. Ele pediu uma esteira, uma bicicleta, colchonete e pesos.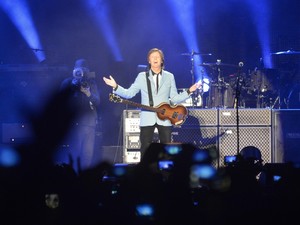 O ex-beatle Paul McCartney
(Foto: Edson Chagas/A Gazeta)
Estrutura
Para montar o palco, foi necessária uma superestrutura, com peso estimado em 150 toneladas: 42 carretas ocupam o subsolo da arena, cheias de equipamento. Acompanhado por telões laterais de altura igual a um prédio de oito andares, o palco tem comprimento de 70 metros. Os trabalhos para organizar a estrutura começaram no último dia 13.
Para este domingo, o Metrô do Distrito Federal vai funcionar em horário ampliado, com embarque a partir da estação Central das 7h às 23h30. Nas outras estações, o embarque pode ser feito até as 19h, como ocorre normalmente.
Paul McCartney em Brasília
Data: 23 de novembro, a partir das 20h
Local: Estádio Nacional de Brasília Mané Garrincha
Classificação etária: 16 anos
Ingressos (valores de meia-entrada)
Premium: R$ 350
Pista: R$ 150
Cadeira inferior: R$ 225
Cadeira superior: R$ 110
* Meia-entrada válida para estudantes que comprovarem direito ao benefício
g1.globo.com
Paul repete fórmula, faz homenagens e agrada público em show em Brasília
Ex-beatle tocou por duas horas e meia para um público de 46 mil pessoas.
Ele arriscou português, recebeu presentes e disse que pretende voltar ao DF.
Lucas Nanini
Do G1 DF
24/11/201
Pela primeira vez em um palco de Brasília, Paul McCartney repetiu a mesma fórmula que tem agradado fãs brasileiros nas últimas turnês. O bom humor inabalável, duas horas e meia de música e um repertório com alguns dos principais hits das principais fases de sua trajetória, desde a época dos Beatles, passando pelos Wings e pela carreira solo fizeram o público que foi ao Estádio Mané Garrincha sair do show satisfeito neste domingo (23).
A novidade foram as músicas do novo álbum, "New", lançado neste ano, presentes também nas apresentações em Cariacica, no Espírito Santo, e no Rio de Janeiro. Paul cantou "Save us", "Queenie Eye","Everybody out there" e a faixa-título.
Paul arriscou falar em português, usou frases como "Aqui tá bombando", brincou com a plateia, dançou, recebeu dois bichos de pelúcia, elogiou a cidade, ofereceu música para a "garotada" e até fez um coraçãozinho com a mão. "Bom estar em Brasília finalmente", disse.
Um público de 46 mil pessoas, segundo a organização, fez coro para os principais sucessos dos Beatles e da carreira solo. Paul subiu ao palco às 21h04 e saiu pela última vez exatamente duas horas e meia depois, às 23h34. Ao todo, foram 39 canções, sendo 26 dos mais famoso quarteto de Liverpool.
A chuva que caiu sobre Brasília nesta noite não diminuiu os ânimos, nem mesmo quando aumentou, logo após o surgimento de labaredas e explosões acompanhando o ritmo de "Live and let die".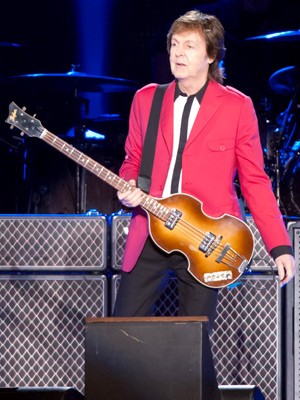 Paul toca baixo em show em Brasília
(Foto: Fábio Tito/G1)
Homenagens
Além da "garotada", que foi lembrada antes e depois de "All together now", Paul também prestou homenagens aos ex-beatles John Lennon e George Harrison, à mulher Nancy Shevell e à ex-mulher Linda.
A primeira citação aconteceu na sétima canção. "Esta música eu escrevi para a minha mulher, Nancy", disse antes de tocar "My Valentine", com os atores Johnny Depp e Natalie Portman mostrando a letra em linguagem de sinais no telão.
Não demorou muito e ex-beatle prestou homenagem à ex-mulher e mãe de seus filhos, Linda Eastman, tocando e cantando "Maybe i'm amazed". John foi citado antes de "Here today".
George foi o responsável pela única música do show que não tem a assinatura de Paul: "Something". Com imagens de Harrison e McCartney no telão, a música foi uma das mais cantadas pelo público.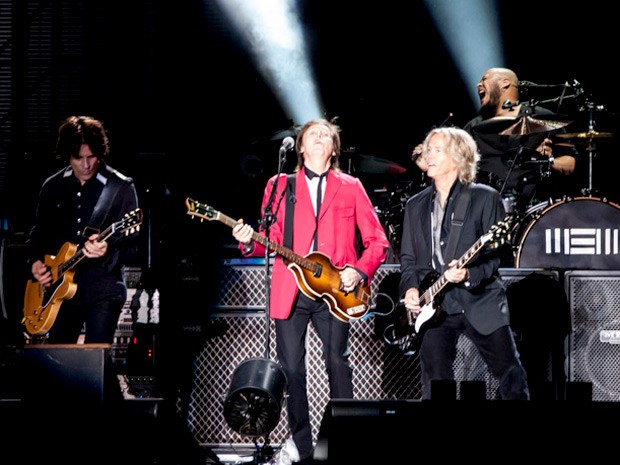 Paul McCartney e banda durante show no Mané Garrincha, em Brasília (Foto: Fábio Tito/G1)
Segue o show
Os principais sucessos cantados por ele no famoso quarteto de Liverpool também foram entoados com o apoio de todo o público. "The long and winding road", "Blackbird", "Lady Madonna", "Eleanor Rigby", "Obladi oblada", "Get Back" e "Let it be", entre outras.
A primeira parte terminou com o tradicional coro de "na na na na" de "Hey Jude", com Paul ao piano colorido. Um grupo de fãs levou diversas folhas de papel com a sílaba "na", que foi vista no telão durante a parte final da canção.
O primeiro bis começou "Day Tripper", a última música tocada pelos Beatles até o show no telhado do prédio da Apple, em Londres. Paul saiu do palco depois de interpretar "I saw her standing there".
No útimo retorno, o asto apareceu com o violão e iniciou "Yesterday". Em seguida, ele tocou a que é uma das músicas mais pesadas dos Beatles, "Helter skelter". Como faz sempre, Paul trocou o baixo Hofner pelo piano e encerrou o show com a sequência final de Abbey Road, "Golden slumbers", "Carry that weight" e "The end".
A noite estava mais do que ganha. Paul acenou para o público, reuniu os músicos na frente do palco mais uma vez, agradeceu ao público, à equipe técnica e aos integrantes de sua banda, andou de um lado para o outro e foi para o camarim após uma chuva de papel picado, em verde, amarelo e azul. Ele também disse que Brasília é uma cidade linda e que pretende voltar.
Repertório
Magical mystery tour
Save us
All my loving
Listen to what the man said
Let me roll it
Paperback writer
My valentine
1985
The long and winding road
Maybe, i'm amazed
I've just seen a face
We can work it out
Another day
And i love her
Blackbird
Here today
New
Queenie eye
Lady Madonna
All together now
Lovely Rita
Everybody out there
Eleanor Rigby
For the benefit of Mr. Kite
Something
Obladi oblada
Band on the run
Back in the USSR
Let it be
Live and let die
Hey Jude
Bis 1
Day Tripper
Get back
I saw her standing there
Bis 2
Yesterday
Helter skelter
Golden slumbers
Carry that weight
The end
FOTOS: Paul McCartney em Brasília
Ex-beatle arriscou português ao tocar por duas horas e meia para um público de 46 mil pessoas.
Paul McCartney e banda durante show em noite de chuva no Estádio Nacional Mané Garrincha, em Brasília
Fábio Tito/G1
www.correiobraziliense.com.br
23/11 - Veja fotos da passagem de Paul McCartney em Brasília neste domingo
Correio Braziliense