www.prlog.org
John Lennon biography – 'She Loves You' Released for all eBook formats
Jude Southerland Kessler is pleased to announce that her third book in the John Lennon Series, She Loves You, is now available for download to all eBook formats
PRLog - Oct. 6, 2014 - CHESTER SPRINGS, Pa. -- Beatles expert and author Jude Southerland Kessler, author of the nine volume John Lennon Series, has announced that fans of her books can now get her third book in the series, She Loves You, in any eBook format.
She Loves You takes the reader from John Lennon's trip to the Spanish Rivera with the Beatles' manager, Brian Epstein, in the spring of 1963 thru the Beatles taking America by storm as they star on three Ed Sullivan shows in Feb. 1964, the concert at the Washington, D.C. Coliseum, and Carnegie Hall.
She Loves You is available in the following ebook formats: Kindle, Nook, iBooks, Barnes & Noble, Kobo, Copia, Gardners, Baker & Taylor, eSentral, Scribd, Flipkart, Oyster, and Ciando.
Shoulda Been Thereand Shivering Inside (books 1 and 2 in the John Lennon Series)are still only available for Kindle users, but Ms. Kessler hopes to have them available to all eBook users in the very near future.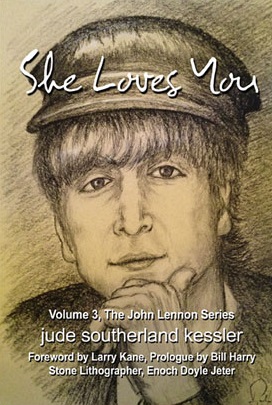 eBook: 'She Loves You' by Jude Southerland Kessler
Jude Southerland Kessler is the author of The John Lennon Series – a nine book series on the life of John Winston Lennon. She is also the host of The John Lennon Hour a weekly radio show that can be heard every Thursday night at 8 p.m. (CT) on BlogTalkRadio radio. For more information on Jude Southerland Kessler and her books, go to: www.JohnLennonSeries.com.
Don't miss Jude Southerland Kessler appearing October 10-12, 2014 at the Fest for Beatles Fans (www.thefest.com) in Los Angeles.