Paul McCartney e banda durante show realizado no Mineirão em Belo Horizonte
www1.folha.uol.com.br
g1.globo.com
Mais de 50 mil pessoas matam a saudade de Paul McCartney em BH
Esta é a segunda apresentação do ex-beatle na capital. Ele relembrou sucessos de seus 60 anos de carreira.
Por Thais Pimentel, G1 MG, Belo Horizonte
18/10/2017
Mais de 50 mil fãs acompanharam o show de Paul McCartney em Belo Horizonte nesta terça-feira (17). Um deles era o gaúcho Matias Ghelfi que foi ao Mineirão vestido de farda azul, como a que o ex-beatle usou na capa do disco "Sgt. Pepper's Lonely Hearts Club Band".
"Esse é o décimo show do Paul que eu venho ver", disse ele, que já havia assistido ao show de McCartney em Porto Alegre na última sexta-feira. "No próximo ano, quando ele voltar, porque ele está vindo todo ano, eu vou de novo", brincou Matias.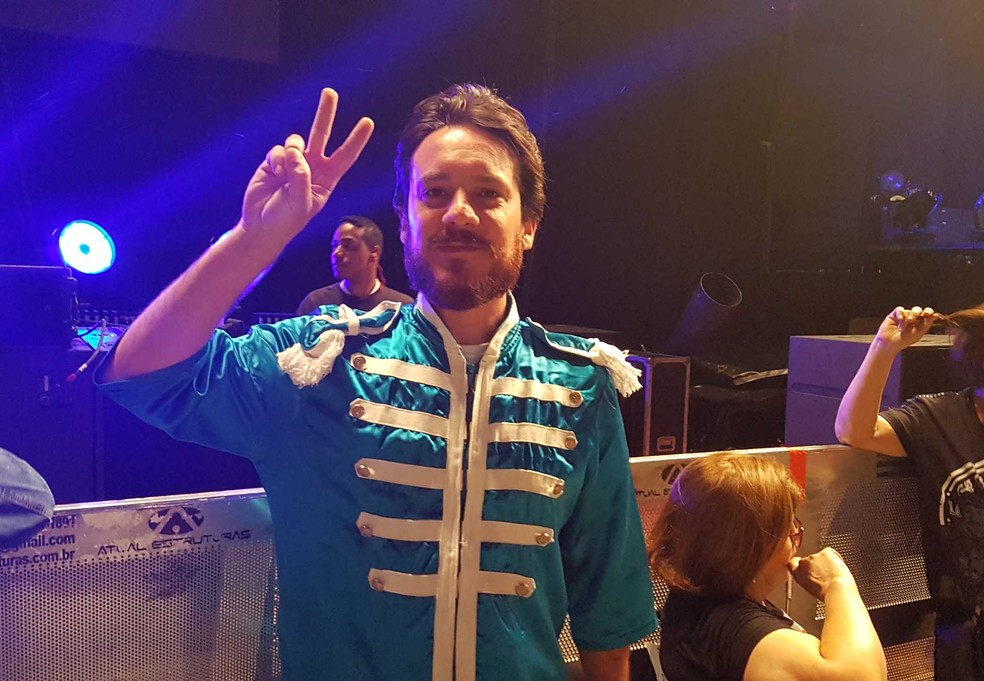 Matias Ghelfi saiu de Porto Alegre para assistir ao show de Paul McCartney em Belo Horizonte. (Foto: Thais Pimentel/G1)
Outro fã que veio de longe foi Vilter Magalhães. Ele e outros nove amigos saíram de Fortaleza só para ver Paul McCartney na capital mineira. "Quando a gente ficou sabendo que ele viria ao Brasil, corremos para comprar o ingresso. A gente tinha olhado primeiro em São Paulo, mas lá tinha esgotado. Então resolvemos viajar para Belo Horizonte", contou.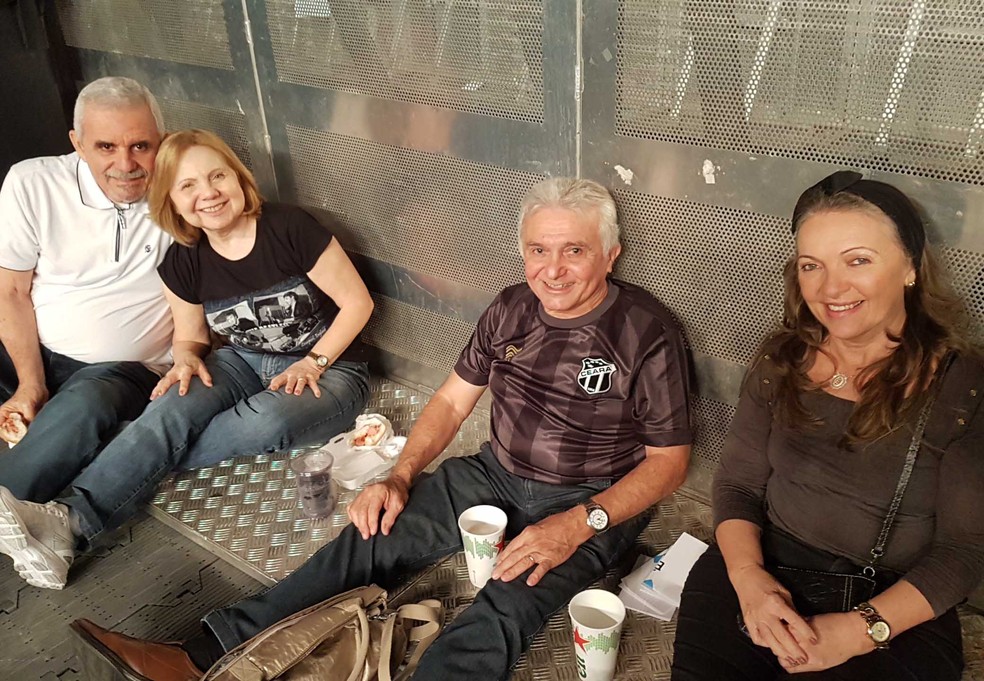 Vilter Magalhães (no centro) viajou com um grupo de amigos do Ceará para o show de Paul McCartney. (Foto: Thais Pimentel/G1)
Paul abriu o show com "Hard Day's Night" e depois emendou com "Save Us", "Can't Buy Me Love", "Letting Go" e "Drive My Car". As quase três horas de espetáculo, que faz parte da turnê "One On One", passeiam pelos 60 anos de carreira do músico. Sucessos dos Beatles, do Wings e até do Quarrymen (primeira banda formada por ele e John Lennon no fim da década de 50) foram lembrados, como "Love Me Do", "And I Love Her", "Blackbird", "Band On The Run" e "In Spite Of All The Danger".
"É bom estar de volta", disse Paul em português, quatro anos depois da sua primeira apresentação no Mineirão. Aliás, ele fez questão de pelo menos tentar se dirigir ao público sempre no nosso idioma. "Tudo bem com vocês?", "Olá, BH" e "Está chegando a hora de partir", foram algumas das frases que o ex-beatle "gastou" durante o show.
Quando a banda voltou para o bis, Paul e seus companheiros trouxeram as bandeiras do Brasil, da Grã-Bretanha e do orgulho LGBT. Eles encerraram o show com "Yesterday", "Sgt. Pepper's Lonely Hearts Club Band", "Helter Skelter", "Birthday" e "Golden Slumbers/Carry That Weight/ The End".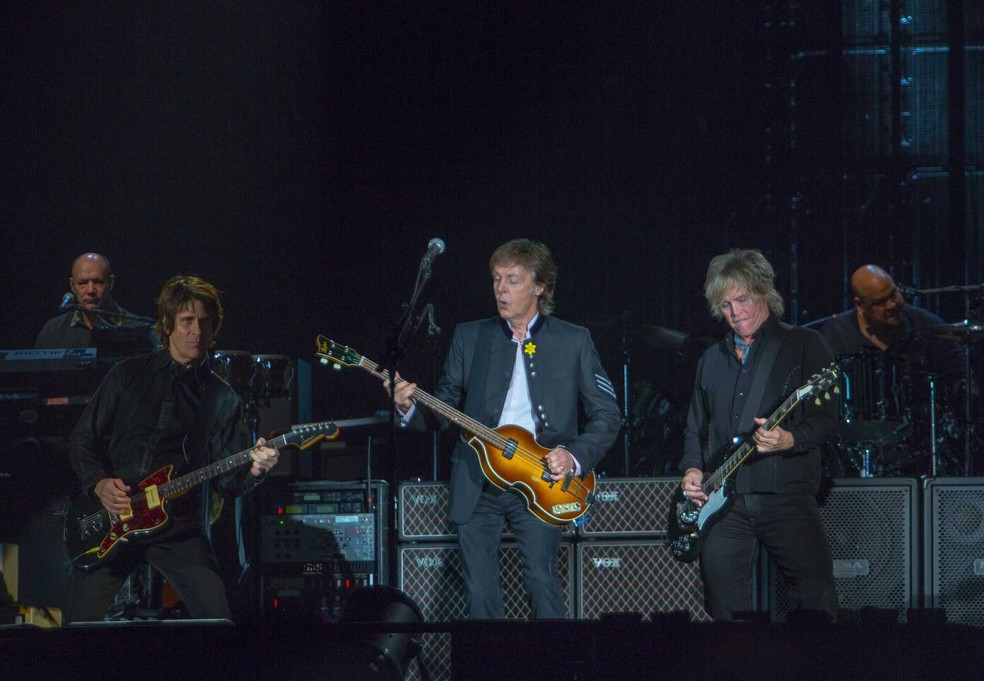 O ex-beatle apresentou o show que faz parte da turnê One On One. (Foto: MRossi/Divulgação)
Setlist
Hard Day's night
Save Us
Can't Buy Me Love
Letting Go
Drive My Car
Let Me Roll It
I've Got a Feeling
My Valentine
1985
Meybe I'm Amazed
I've Just Seen A Face
In Spite Of All The Danger
You Won't See Me
Love Me Do
And I Love Her
Blackbird
Here Today
Queenie Eye
New
Lady Madonna
Four Five Seconds
Eleanor Rigby
I Wanna Be Your Man
Mr. Kite
Something
A Day In The Life
Obla Di Obla Da
Back in The USRR
Let It Be
Live And Let Die
Hey Jude
Yesterday
Sgt. Pepper Reprise
Helter Skelter
Birthday
Golden Slumbers