www.therecord.com
Spirit of John Lennon lives on in Canadian clothing line
By Cassandra Szklarski
Aug 22 2016
TORONTO — Fashion designer Kelly Pettit started with a simple question in crafting a clothing line inspired by John Lennon: Can she imagine the legendary singer-songwriter wearing it?
She most definitely does, Pettit says, as she readies to première her vision at Toronto Men's Fashion Week on Saturday, noting her years-long development process was driven by a deep reverence for Lennon's artistry.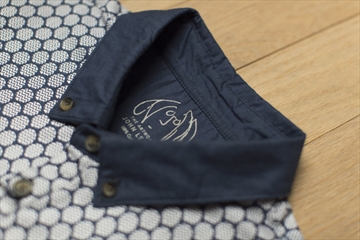 Lennon fashion
Caulfeild Apparel Group,The Canadian Press
A circle print polo shirt from the John Lennon-inspired fashion collection is shown in a handout photo. The spirit of John Lennon lives on in a new fashion collection hitting the runway at Toronto Men's Fashion Week on Saturday.
"I always say (there's) God, Santa Claus and then there's John Lennon," Pettit says from Las Vegas, where she was offering a preview to U.S. buyers at a trade show with her company Caulfeild Apparel Group.
Drawing cues from Lennon's solo years, Pettit calls the throwback collection "vintage with a little modern twist."
It includes T-shirts featuring Lennon's sketches, dress shirts imprinted with more art and handwritten lyrics (including those for "Imagine" and "Beautiful Boy"), and leather outerwear, casual blazers, sports shirts, casual pants, Henleys and polos.
It draws heavily on Lennon's minimalist jeans-and-T-shirt style, while steering clear of more dated garb that could be seen as passé instead of nostalgic.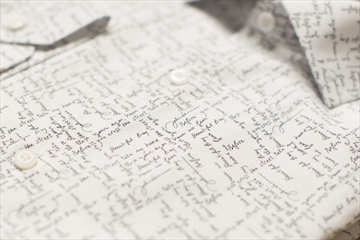 Lennon fashion
Caulfeild Apparel Group,The Canadian Press
A John Lennon "Beautiful Boy" lyric dress shirt is hitting the runway at Toronto Men's Fashion Week on Saturday.
"It would be great to introduce the high waist but I just don't think the mass market is ready for that right now," says Pettit, who is targeting everyone from the 25-year-old vintage fan to the 60-year-old Beatles devotee.
But imagining whether Lennon himself would wear the clothes is key to honouring the legend's enduring art, songs and personal style, and ultimately, ensuring the success of the line, she says, revealing that his widow Yoko Ono "wasn't approving" of the previous licence-holder's approach.
Pettit says Ono was impressed with Caulfeild's handling of the English Laundry brand in Canada and so talks began two years ago to take over an exclusive licence for North America and the United Kingdom.
Lennon's widow insisted on vetting everything from sketches to fabrics to samples to the press release, all in an effort "to keep the integrity," says Pettit.
"She's vetoed a couple of screen prints that we'd done from his artwork that we changed the colouration of — it was too much pink or too much yellow, she wasn't too happy with some of that," she says.
"We had a print on a woven shirt that was a leaf and ... she said, 'It looks like marijuana. It's not something we'd like to go forward with.' And I was like, 'No problem.'"
The collection joins a raft of campaigns built on the legacy of deceased celebrities, a big-business bonanza that has proven that a fortune can be made in the afterlife.
A Forbes list of the top-earning dead celebrities in 2015 was topped by Michael Jackson at $115 million, Elvis Presley at $55 million, Charles Schulz at $40 million, Bob Marley at $21 million and Elizabeth Taylor at $20 million. Lennon came in seventh at $12 million.
It's a marketing strategy that works especially well in our celebrity-obsessed culture, says Andrew Menceles, CEO of the Toronto-based licensing consultancy JAM Brands.
"If they're powerful enough they can pretty much write their own ticket if they're willing to invest the money in marketing and advertising," Menceles says of building a brand around a dead star.
And there's a good reason why a deceased celebrity might be more powerful than a live one.
"The image of that celebrity is very stable, it is what it is. Whatever that celebrity did, accomplished, whatever the image is, it more or less remains the same," says Menceles, also president of the International Licensing Industry Merchandisers' Association.
"Whereas if you tie into somebody who's living, it's kind of a moving target and things can change from one day to the next — somebody can become involved in a scandal, somebody can commit a crime. Tiger Woods was great one day and not the next day. (Maria) Sharapova was a great tennis star one day but nobody wanted to sponsor her the following day."
Pettit says Caulfeild did a clothing line for the late Stone Temple Pilots frontman Scott Weiland when he was still alive, but the relationship ended when his personal life took a turn.
"It was difficult," she admits of a scandal-plagued period that culminated in an accidental drug overdose in December 2015.
Pettit muses on the ethical dilemma of when to build a campaign around a recently-deceased star, admitting she debated whether to revive the line after his death.
"I still get emails from customers saying: 'I know your company used to have Scott Weiland (products), do you have them?'" she says.
She has no qualms about what Lennon would think about her latest collection.
"I'm so lucky that I get to do this," says Pettit. "I think he would love what we've (put) together."
The Canadian Press
www.caulfeild.com
THE WORLD PREMIERE OF THE JOHN LENNON SIGNATURE COLLECTION LAUNCHES AT TOM* TORONTO MEN'S FASHION SPRING/SUMMER 2017
Monday, July 25, 2016
TORONTO – July 25, 2016
Toronto Men's Fashion Week (TOM*), in partnership with Caulfeild Apparel Group, is excited to announce the John Lennon Signature Collection to be premiered on the TOM* runway this S/S 17 season. The fashion show will take place on Saturday, August 20 at 7pm at the Mattamy Athletic Centre, 50 Carlton St, Toronto.
John Lennon was a music legend, cultural icon, world peace advocate, artist, poet and rebel style hero. Inspired by Lennon's art, music and personal style, Caulfeild Apparel Group has created the John Lennon Signature Collection. The integrity of the John Lennon brand is held by Yoko Ono's participation.
"Imagine John Lennon walking the streets of London, what would you see? Imagine in his prime what John Lennon would wear today? That is where the design comes from," says Kelly Pettit, Designer and Divisional Vice President at Caulfeild Apparel Group. "This iconic figure and his legendary music, art and personal style remain at the forefront of the collection. I wanted the collection to be eclectic and vibrant with a modern feel. The Signature Collection is pieces inspired by the lifestyle and persona of John Lennon. A collection of wovens, trousers, leathers and graphic tees that will resonate with people that want the world to be as one."
"I am very impressed with how our team at Caulfeild has fused together John Lennon's art, music, and emotion into a modern collection of clothing for today's fashionable man says Michael Purkis, President of Caulfeild Apparel Group. "Rock and Roll and fashion will always be intertwined, and the John Lennon Signature Collection is the perfect fusion – just like the perfect song combines lyrics and music – this collection fuses fashion and Lennon!"
The Signature Collection utilizes the best fabrics in Europe, some from London's famed 'Liberty' to recreate garments that John wore then, and would wear today. The styling is reminiscent of the sixties, but adapted to today's modern silhouette. The neck yoke features a multi-coloured, embroidered, John Lennon selfportrait, and in many of the prints Lennon's actual lyrics are used in the intricate design. The clothes within this collection will resonate with people that want the world to be as one, and that want to give peace a chance.
"John Lennon was an artist committed to authenticity and instilled kindness and light through his art," says Jeff Rustia, Executive Director and Founder of TOM*. "We are honoured to premiere this collection at TOM* and believe it will evoke the emotions of the audience and represent the personas that were and still are, John Lennon."
For media inquiries about The John Lennon Signature Collection, please contact:
Anne Vranic, Strut Entertainment, 416-861-0387, anne@strutentertainment.com, or
Samantha Pickard, Strut Entertainment, 416-861-0387, samantha@strutentertainment.com
www.caulfeild.com
JOHN LENNON
The Lennon legacy lives on. With inspiration from some of the artists most meaningful lyrics, the collection brings his music to life with vintage inspired graphics and product collaborations.
Canadian Distribution