www.exprss.co.uk
Lady GaGa and Paul McCartney attend Tony Bennett's star-studded 90th birthday party
MUSIC legend Tony Bennett celebrates his 90th birthday with a star-studded party.
PUBLISHED: Fri, Aug 5, 2016
Tony enjoyed two New York themed birthday cakes
Former Beatle Sir Paul McCartney, 74, and singer Stevie Wonder, 66, were among guests at the Rainbow Room in New York.
Golden Globe winner Lady Gaga, 30, who has previously collaborated with Bennett on the album Cheek To Cheek, serenaded him.
She also sang with Stevie Wonder to an audience that included actor John Travolta, 62, and Hollywood action man Bruce Willis.
There were two birthday cakes – one shaped like the Empire State Building and the other like the Statue of Liberty.
Bennett said: "The whole experience is going to take me a long time to think about.
Tony Bennett and Lady GaGa have regularly perform together
"And I just love every moment of what's happening today."
"This is a day I'll never forget as long as I live. To be treated this way at 90 years old, I feel like I'm 19 years old.
"It's a wonderful treat. It's one of the very special things in my whole life."
John Travolta was among the celebs that attended the party
Bruce Willis and Stevie Wonder were also in attendance
The Stranger In Paradise singer said he was determined not to slow down and he revealed he would love to do a duet with Beyonce.
He said: "I understand she's going to be part of a gigantic special that's being done about my life.
"So I'm looking forward to that."
All-star lineup! All of music's biggest legends showed up to celebrate Bennett's birthday including (L-R) Gaga, Stevie Wonder and Paul McCartney
www.dailymail.co.uk
'I Saw Her Standing There': McCartney looked handsome in a royal blue suit as he attended the party with his wife Nancy Shevell who was lovely in a semi-sheer dress
www.dailymail.co.uk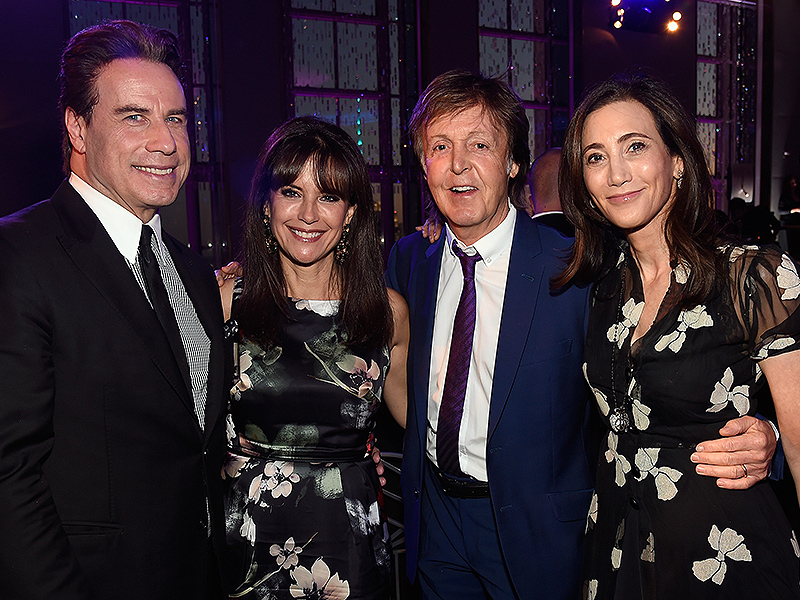 John Travolta, Kelly Preston, Paul McCartney, and Nancy Shevell
KEVIN MAZUR / GETTY