www.washingtontimes.com
Paul McCartney: Beatles songs still all about love
By Erica Bruce — Special to The Washington Times
Wednesday, August 10, 2016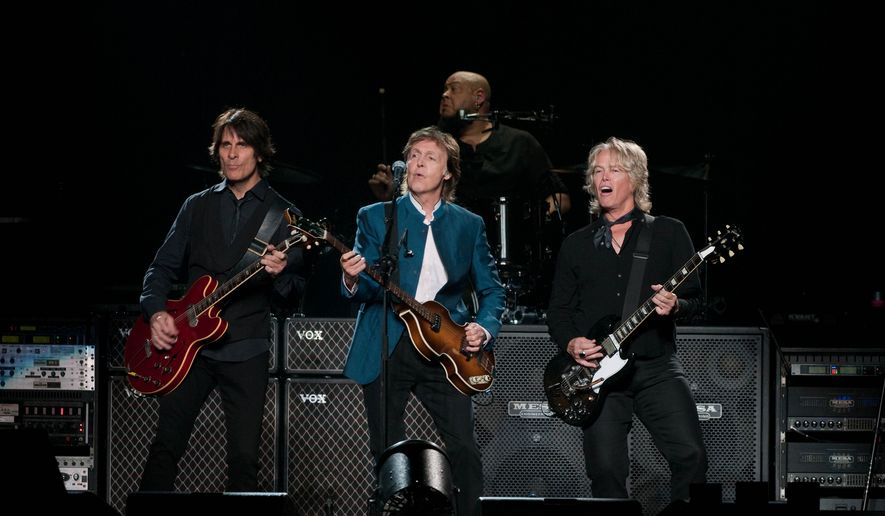 Paul McCartney performs with his band at Verizon Center. (Erica Bruce)
At 74, and being an ex-Beatle, Paul McCartney could probably phone in a live performance and people would still cheer. But, as truly dedicated musicians do, playing for a live audience is the same as breathing — something you need to do, and do well.
Stopping by the sold-out Verizon Center last night with his longtime touring band for the "One on One" tour, Mr. McCartney proved once again that 74 is nothing but a number. For more than two hours, he ran through 39 songs, with a setlist that honored those departed and those still here. "My Valentine" was dedicated to his wife Nancy, who was in the audience, with "Maybe I'm Amazed" performed in memory of his first wife Linda, who passed away in 1998 from cancer.
For late bandmate John Lennon, he played "Here Today," which was, he said, "a conversation we never had. If you want to say to someone you love, do it sooner than later. There may come a point when it's too late and you'll think, 'I wish I'd said that.' " And Mr. McCartney performed "Something" in honor of George Harrison, playing it on a ukulele that Harrison gifted to him years ago.
The first song the Beatles recorded when they were still The Quarrymen, "In Spite of All the Danger," was performed "just like we originally recorded it," with Mr. McCartney's current band standing in a half-circle about him.
Mr. McCartney said, "Well, we played the first song I ever did, and now we'll do the latest," launching into a rocking version of "FourFiveSeconds," his 2015 collaboration with Rihanna and Kayne West — magnificently realized by Mr. McCartney's tour band.
Of what inspires him to write songs, Mr. McCartney said, "It could be a melody or a word or a phrase," He claimed that "Being for the Benefit of Mr. Kite!" sprang from nothing greater than seeing a big circus poster on the wall at Lennon's home one day while they were writing songs together. Quite literally, the first chorus of the tune was lifted from that poster, he said.
In a show filled with songs familiar to the audience, the singalong portion of the evening was loudest during the closing "nah nah nah" section of "Hey Jude," with 18,000 at Verizon Center crooning in unison. Such enthusiasm carried over into the first song of the encore, with Mr. McCartney returning to play an acoustic version of the seminal "Yesterday."
After a rousing rendition of Wings' "Hi, Hi, Hi," a few audience members upfront with signs in hand were brought up onstage. One woman's sign read "Macca rocks and rules 100 shows," and instead of having the former Beatle add his signature to her sign, she asked him to sign her shoulder with a Sharpie instead. Another sign, "Please finish my 'Hey Jude' tattoo," brought a laugh to Mr. McCartney, who said, "You never know what you're gonna get over here."
Mr. McCartney once said that what he was most proud of about the Beatles legacy was that all of the songs were about the same thing: love. So it was apropos, therefore, that he wrapped up the evening with the last song that all four Beatles recorded collectively, "The End," whose only lyric is, "And in the end, the love you take is equal to the love you make."
All these years later, Mr. McCartney remains one of the only performers alive whose catalogue of work is still a beloved well of beauty for music fans. And, as the sold-out audience at the Verizon Center attests, Mr. McCartney creates a joy that is boundless both onstage and off.
Copyright © 2016 The Washington Times, LLC.