www.thonline.com
Bruce's history lesson: Meet the Beatles
BY BRUCE KAUFFMANN FOR TH MEDIA
Posted: Sunday, February 7, 2016
The long and winding road to fame, fortune and an indelible imprint on American music and culture began this week (Feb. 9) in 1964.
That's when Britain's Fab Four, John, Paul, George and Ringo -- known as The Beatles -- first appeared on a popular television variety program called "The Ed Sullivan Show," which was broadcast in New York City.
The Beatles on The Ed Sullivan Show, 9 February 1964
Before hordes of screaming teenagers in attendance and a television audience of some 74 million people -- at the time about 40 percent of America's population -- The Beatles performed such hits as "I Want to Hold Your Hand," "I Saw Her Standing There" and "She Loves You."
Despite the fact that most members of the studio audience couldn't hear the songs over the screams of the hysterical teenage girls in attendance, the show was a tremendous success, and "Beatlemania" was born.
Two days later the lads, as they were called, performed in front of a sold-out audience in Washington, D.C., before returning to New York for back-to-back concerts at Carnegie Hall, where police had to close the streets because thousands of fans had converged on the scene.
Beatles at Carnegie Hall 1964
Soon afterward the Beatles were hailed as the forerunners of what would be called The British Invasion, in which U.K. bands of all stripes, from The Dave Clark Five to The Kinks, would export their music to America's shores.
However, none would match The Beatles success, which included being the best-selling band in history (around 1.6 billion singles sold), five successful movies and honors that included the Member of the Order of the British Empire.
Not bad for a band from Liverpool that began as Johnny and the Moondogs playing Chuck Berry and Buddy Holly covers and being rejected by record companies all over England.
And, not bad for a band that didn't play much rock 'n' roll. Their music, especially later songs such as "Eleanor Rigby," "All You Need is Love," "In My Life" and "Penny Lane" were more in the tradition of British dance hall music or the recordings of Tin Pan Alley.
As often as not, Beatle's lyrics were set to horns and string instruments, rather than electric guitars.
An interesting postscript: Ed Sullivan first learned of The Beatles while in London's Heathrow Airport, where a gigantic crowd of screaming girls was awaiting the band's return from a concert in Stockholm.
Convinced The Beatles were the next Elvis, Sullivan contacted their manager, Brian Epstein, and asked him to name his price to book the Beatles.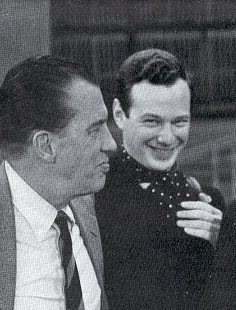 Epstein, seeing a golden opportunity to expose The Beatles to America, only asked for $10,000, but demanded the Beatles get top billing and a triple booking. Sullivan quickly agreed.
Epstein later said he should have asked for more than $10,000.
1964 Original Ed Sullivan Contract For the Beatles -Signed by Brian Epstein
Email Kauffmann at bruce@historylessons.net or follow him on Twitter @BruceKauffmann.
© 2016 THonline.com. All rights reserved.