Photographer Eddie Adams shoots John Lennon, Paul McCartney, and Ringo Starr at the Central Park photo op with the Beatles, Feb. 8, 1964, New York City. BILL EPPRIDGE
www.countytimes.com
An Exhibit of Universal Appeal: Recovered Films Tell Story of Beatles' 1964 Visit to U.S.
By Emily M. Olson
Published: Friday, January 29, 2016
Photographs of our country's historic moments and the people captured within them are imprinted on society's memory for years to come. In the case of the work of Life Magazine photojournalist Bill Eppridge, his six-day period with the Beatles, spent during their visit to the United States in 1964, is just one of many "moments" in his career now being shared with a new audience at Western Connecticut State University in Danbury.
This historic, photographic chronicle of the Beatles' 1964 visit to the United States, captured by Eppridge, is the latest exhibition at university's art gallery. The show opened Jan. 19 and continues through Saturday, March 13, at the university's Visual and Performing Arts Center.
Photo by Brien Aho Life Magazine photojournalist Bill Eppridge is seen in 2007.
"Bill Eppridge — The Beatles: Six Days That Changed the World, February 1964," features a collection of 55 black-and-white photographs taken by Eppridge during the British rock group's visit to New York and Washington from Feb. 7-12, 1964.
Eppridge, who lived in New Milford in his later years, died in October 2013 in Danbury after a 60-year career as a photojournalist. He is widely recognized for capturing iconic images of contemporary history including the Beatles' Feb. 9, 1964, appearance on "The Ed Sullivan Show" and the poignant image on June 6, 1968, of a busboy kneeling beside the mortally wounded Sen. Robert F. Kennedy in a Los Angeles hotel kitchen moments after his assassination. "You are not just a photojournalist," he said, in recalling the Kennedy image. "You're a historian."
Courtesy The Estate of Bill Eppridge The Beatles at the Sunday dress rehearsal for the Ed Sullivan show in February 1964.
For exhibit curator Melissa Ralston-Jones, bringing Eppridge's work to the university was a way to connect the gallery with students and the local community.
"Our mission here at the gallery is to bring in contemporary works and have students work alongside the artists and learn about their work," she said. "Bill may not be with us any longer, but having (his wife) Adrienne Aurichio knowing so much about it gave us an opportunity to talk about Bill and his life's work. It's just incredible. She's really lovely, and a wealth of knowledge and information."
The WCSU exhibition of selections from his 1964 Beatles tour photo shoot, consuming more than 90 rolls of film and 3,000 photographs, would have been impossible without the mysterious recovery of these images seven years after they went missing and the painstaking work of Eppridge's editor and wife, Aurichio, to review and organize this vast photo archive into a comprehensive record of the Beatles' tour as it unfolded.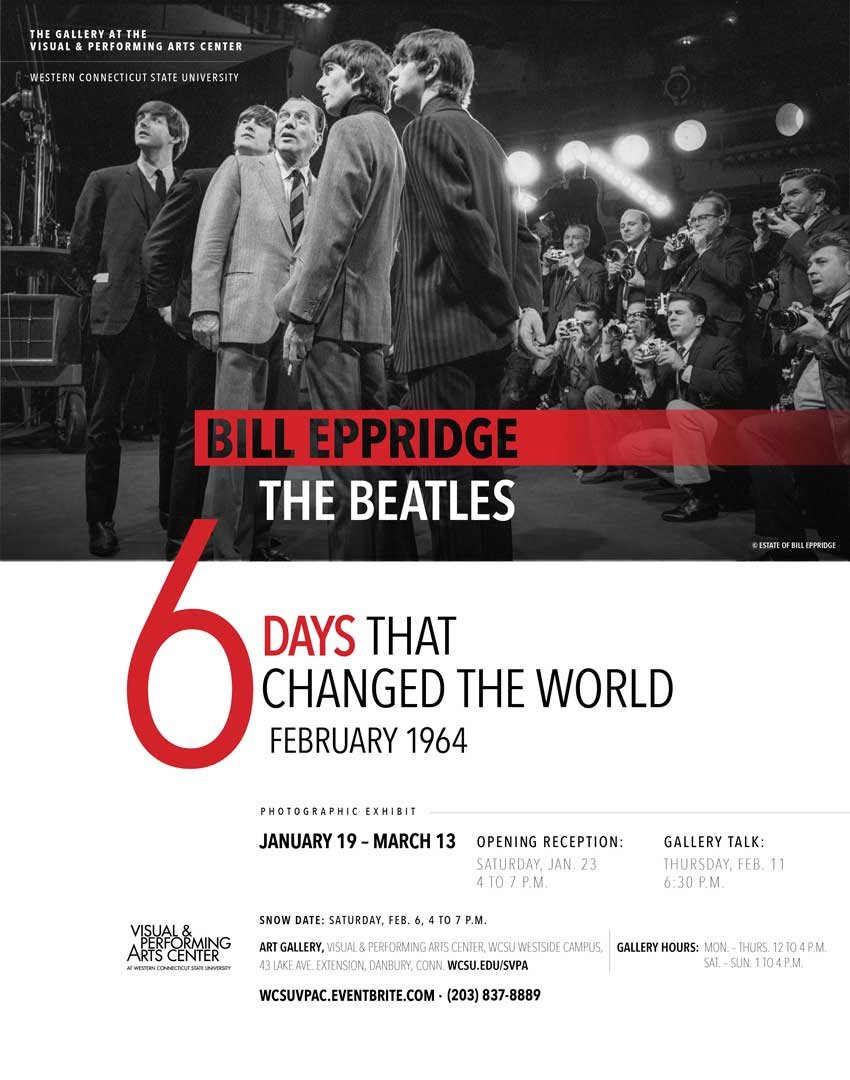 The exhibit carries universal appeal, Ralston-Jones added.
"We always try to bring in one exhibit a year that will have a mass appeal, and bring in a new audience," she said. "We thought this would be well received."
That's because "everyone knows the Beatles," she said.
"There are two girls in my neighborhood, who are 13, and they're huge Beatles fans," she said. "They have a Facebook page with 600 followers and they're all Beatles fans. I asked them to promote the show on their page and they were happy to do it; they were so excited about it. For myself, I was born in 1970 and the Beatles had already broken up, but you could still read about them all the time and hear them.
"My generation is so (accustomed) to reruns, and music from the past, that the Beatles are as relevant as they've ever been," Ralston-Jones added. "They're timeless. Their music is timeless. So the show does resonate with a lot of people."
The curator pointed out that the university gallery show is also a chance for people to learn more about Eppridge himself.
"While it's about the Beatles, it's really about Bill Eppridge," she said. "He did the famous Bobby Kennedy (assassination) photo, and many other memorable bodies of work, so people are likely to be interested in seeing more."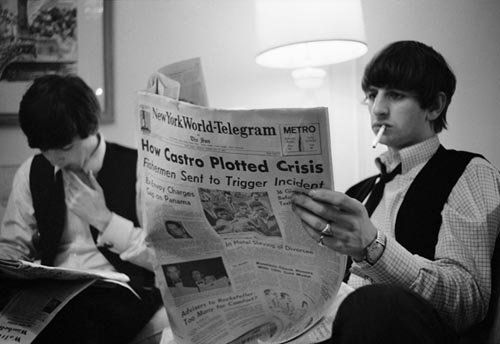 Timing was everything, apparently, for Eppridge when he was sent to cover the Beatles' arrival in New York City. In a 2014 essay for CBS News marking the 50th anniversary of the Beatles' "Ed Sullivan Show" appearance, his wife Aurichio said the then-26-year-old Eppridge found himself in the right place on the morning of Feb. 7, 1964, to draw the assignment from Life Magazine photography director Dick Pollard to cover the Beatles' arrival that day at John F. Kennedy Airport in New York.
He followed the Beatles as Life's photo correspondent throughout the first six days of their U.S. tour, shooting spontaneous images documenting performances, rehearsals and private moments during the tour that established the group as an international rock 'n' roll sensation.
At the time, Life Magazine published just four of the images from Eppridge's assignment, and the original film submitted to the Time-Life photo lab for processing could not be located when he attempted, several months later, to retrieve the images. By his account, at least seven years passed before the film turned up on his desk with no explanation.
"They were sent anonymously," Aurichio said. "They had been missing for a long time."
Aurichio's role in re-creating Eppridge's Life photo chronicle of the 1964 Beatles tour began in 1993 when she came across one of his prints from the shoot while researching photographs for a magazine project. Intrigued at the prospect of discovering more photos from the Beatles visit, she soon learned the full story of Eppridge's recovered film chronicle, which provided the images featured in the WCSU exhibition and in the book, "The Beatles: Six Days That Changed the World," released in 2014 by Rizzoli Publishing.
In his acknowledgments for the book, Eppridge noted that Aurichio played a critical part as co-editor in "piecing together my story. I relied on her vision and experience as an editor to research and unravel the photographs, and then pull them together in chronological order."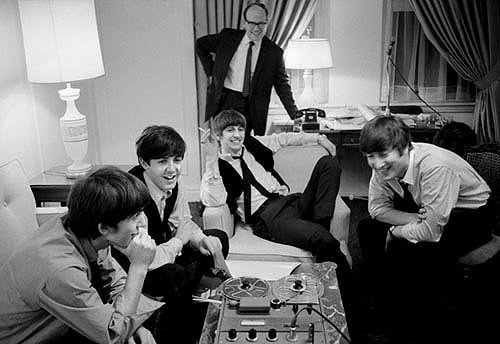 The Beatles at the Plaza Hotel in New York, Feb. 7, 1964. BILL EPPRIDGE
Aurichio observed that Eppridge's photographs of the Beatles' 1964 visit reflect the fact that "he made pictures as they happened, never staging anything. The pictures are so personal. You know that there were other photographers and media around, but Bill had a way of focusing in on his subjects — excluding the distractions. You feel like Bill was the only photographer there."
The Eppridge photographs were shown in galleries in Santa Fe and Bethel Woods, New York.
"We started working on the book in 2012 for the 50th anniversary, and even though Bill died before the books arrived, he saw the finished layout," his wife recalled.
She believes her late husband would have been pleased to have a local show such as this one at Western.
"Bill had his work shown many times, but he would have been proud to have it local," she said. "He liked people to see his work. He was a storytelling photojournalist, so it's the highest accolade you can get, to have your work seen."
The Beatles with Ed Sullivan, Feb. 8, 1964, New York City. This photograph was made by Bill Eppridge on late Saturday afternoon, shortly after George Harrison arrived at Studio 50. Harrison was not there earlier due to his sore throat from the night before. BILL EPPRIDGE
Although the Beatles photo story is historic, it may not have been something her husband would have considered serious work at the time.
"He was aware, of course, of the history being made," Aurichio said. "He'd been working for 60 years — he'd shot just about everything. But he was not a rock and roll photographer, he was a photojournalist, so doing something like the Beatles was not as serious in his mind ... as a war or a political campaign. But he was a student of history. That's how he shot everything he did."
Beatles press reception at the Plaza Hotel in New York, Feb. 10, 1964. The Beatles pose with the WMCA Good Guys, radio DJ's. BILL EPPRIDGE
For Aurichio, the Beatles images are an opportunity to see some great photographs, taken at a time when photographers had, perhaps, an easier time getting images of the stars.
"These days, stars control photography much more tightly," she said. "This is a chance to see something that just doesn't happen anymore. It was more like photographing Elvis Presley or Frank Sinatra — there were more crowds, more access to the stars, more opportunities. Bill had almost unlimited access to the Beatles for six days. These days, that's very unusual."
Nancy (left) and Kathy Cronkite, daughters of CBS News anchor Walter Cronkite, meet Paul McCartney and Ringo Starr backstage at a rehearsal for the Ed Sullivan show, Feb. 8, 1964. BILL EPPRIDGE
Born in Buenos Aires, Argentina, in 1938, Eppridge grew up in Wilmington, Delaware, and became interested in photography at an early age, beginning his career as a sports photographer for a local newspaper at the age of 15. In 1959 he earned his first award for photography in the National Press Photographers Association Pictures of the Year competition. The following year he graduated from the University of Missouri School of Journalism with honors as "College Photographer of the Year." Upon graduation he landed an internship at Life Magazine, which led to a yearlong around-the-world photo assignment for National Geographic and a coveted position as staff photographer for Life from 1964 to 1972. During his tenure at Life, he covered many of the most noteworthy public figures and historical events of the era, from the Civil Rights movement and the Vietnam War to the Woodstock music festival and drug addiction in New York.
After Life closed at the end of 1972, Eppridge served as a photojournalist for other national publications including Time and Sports Illustrated. The numerous professional recognitions for his work included the Joseph A. Sprague Memorial Award, the highest honor given by the National Press Photographers Association. His photographs have been shown in exhibitions across the United States, featured in a major show at the Smithsonian Institution in Washington and included in shows at the High Museum of Art in Atlanta and the San Francisco Museum of Modern Art.
The Beatles ride the train from New York to Washington, D.C. on Feb. 11, 1964. BILL EPPRIDGE
Ralston-Jones is confident that the exhibit at Western will draw a wider audience of visitors.
"In an art gallery, you never have trouble getting people to come to an opening," she said. "They know the artist, they're there to support that person, or they're from the art world; they want to be there."
But, she said, if you're not an art person, you can still come and learn about the Beatles and music and politics, and everything that happened after they came to the United States.
Ralson-Jones says if she had one wish, it would be that Eppridge could witness the opening.
"The only thing that would make (the exhibit) better is to have Bill here," she said. "It's the first time it's been shown close to home. This is in his back yard."
For more information about the exhibit, call the WCSU Department of Art at 203-837-8403, the Art Gallery at 203-837-8889, or the Office of University Relations at 203-837-8486.
The show is sponsored by the WCSU Department of Art. The Art Gallery is located at the arts center on the WCSU Westside campus, 43 Lake Ave. Extension in Danbury. The exhibition will be open for public viewing from noon to 4 p.m. Monday through Thursday and from 1 to 4 p.m. Saturday and Sunday. Admission is free.
The Beatles
Bill Eppridge