Lizzie Bravo with Paul in 1967 (beatlephotoblog.com)
wogew.blogspot.pe
Lizzie's book
Posted by Roger Stormo
Monday, September 21, 2015
Lizzie Bravo with her book.
Lizzie Bravo's book about the Beatles "Do Rio A Abbey Road" will be released at the end of November. So far, it's the Portuguese language edition which is being released, the English language book will be available early next year. It's 300 pages, with 210 unpublished photos of the Beatles, most of the photos are of her favourite, John, then Paul, George and Ringo. Hardcover, 23x23cm, matte coated paper, photos and and/or illustrations are on most of the pages.
Lizzie will handle the sale, packaging and shipment herself, and can be contacted by e-mail (write to lizzie.bravo@gmail.com and receive more information about payment and shipping).
This is Lizzie with har favourite Beatle, John Lennon.
This is an important document because it is a great collection of photos of the Beatles, in the majority unpublished, shot by herself, which in itself is a historical figure in Beatlemania. You'll remember Lizzie as one of the backing singers on the original version of "Across The Universe". When she was a teenager, Lizzie Bravo used to stand outside Abbey Road studios every day, hoping to catch a glimpse of the Beatles. She moved from Rio de Janeiro to London in the late 1960s , when she was actually on a summer holiday, sponsored by her parents, but decided to stay and eventually found a job as an au pair. Between shifts, she hung around the entrance to the famous building on the off chance that John, Paul, Ringo or George would drop by. On 4 February 1968 she was outside the studio as usual, when Paul came outside and asked if any of them could hold a high note,. Lizzie raised her arm, as she was a soprano at her school choir back in Rio de Janeiro. After that, Lizzie and fellow Fab Four fan Gayleen Pease were escorted to Abbey Road's Studio Two, where the Beatles were busy recording "Across The Universe". Paul and John started to give the girls instructions about the part they needed them to sing. She was sharing the same microphone as Paul and John. According to Lizzie, the session lasted for "about two hours". She then returned to her "vigil" outside the studio, while Gayleen Pease went home. Lizzie's adventures in London ended in October 1969.
She was homesick, but she had also noticed that the camaraderie she had seen during the Across the Universe sessions seemed to have faded.
"The Beatles weren't coming to the studio every day and most of the time they wouldn't even be there together. It was time to move on."
Always a champion of The Beatles in Brazil and on the internet, Lizzie remains a Beatles fan.
COMMENT:
Lizzie Bravo said...
Thank you Roger, I really appreciate your help in promoting my totally independent production! There is one thing about the text - and I know where you got it from and it was wrong there too - I DID NOT go to London to be an au-pair (it would have been a totally crazy move for a middle class Brazilian girl used to being served by maids…), MY FRIEND DENISE AND I WENT EXCLUSIVELY TO SEE THE BEATLES!!! A job as an au-pair was the only way I could find, at age 15, to remain in London legally. My parents, as you can imagine, were not happy that I chose not to go back home after the vacation they paid for me for my 15th birthday, so they said they would not be sending me money. As for my book, it's been one very long journey, one of the hardest things I've ever done, but the result is really, really beautiful. Not all the photos are by me: I have three Brazilian friends and three British friends sharing their stories and photos in my book - we were together in most of their adventures. The reason I chose not to have a publisher, was that I was sure of what I wanted to accomplish, and the only way to do that without interference was to do it this way. Just to give you an idea, a few years ago I sent a 78-page print out of what was ready of the book to my NY entertainment attorney friend and he took it to a major publishing company. The two questions that really threw me off: why aren't all the photos full page? (blurry photos are small, beside the diary entry for tha day, good photos are blown up) and would I mind having a ghost writer (she said this without reading one single line I had written). Sure, I want someone who wasn't there, never saw a Beatle in person and doesn't know me or my friends - or is familiar with anything Beatle, for that matter - to type my diaries, letters and notes and write a book for me. What a great idea, why didn't I think of it? Anyway, I should really get back to work… Thanks again. this week I am looking into turning the Portuguese version into an e-book as soon as possible, so you people can see the photos, autographs, etc. before the Englsh version is ready.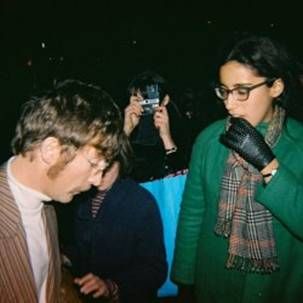 On February 4, 1968, Lizzie Bravo was quite possibly the most surprised human being on earth. It seemed like another routine "waiting to see the Beatles" day, when all of a sudden Paul McCartney emerged and walked toward the group of thrilled young ladies. Paul asked the assembled female fans if any of them could hold a high note.
Lizzie, and another groupie named Gayleen Pease, quickly volunteered. As the other girls watched in disbelief, Lizzie and Gayleen were taken inside Abbey Road studios. The girls' fantasy of fantasies was about to come true- they were not only going to see and meet the Beatles, they were going to sing on a Beatles song! (www.neatorama.com)