ymlp.com
Mark Rivera's 'COMMON BOND' Out February 18-
A Conversation With Mark Rivera by David Wild
ANNOUNCING THE DEBUT RELEASE OF MARK RIVERA
COMMON BOND (DYNOTONE, RED RIVER) FEBRUARY 18, 2014
"It really rocks in a good old way - like we
did back in the day. Your voice sounds great and the band kicks ass!"
- Billy Joel
"Mark Rivera is a force of nature. He can write and sing his ass off! On
Common Bond he finally takes center stage. The songs are flat-out
magic." -Ken Dashow (New York's Classic Rock Q104 DJ)
"A stunning piece of work…"
-David Wild (Writer, music critic and contributing editor at Rolling Stone)
He's performed before millions of fans with a 'who's who' of music's elite including Elton John, Bruce Springsteen, Don Henley, Tony Bennett, Paul Simon and Paul McCartney. And now Mark Rivera, longtime Billy Joel band mate and Ringo Starr's Music Director steps into the spotlight with his first solo album, Common Bond, an eclectic mix of his rock, pop and soul influences rolled up into a new package of 8 original songs and 2 covers, sure to appeal to the huge audiences he's been reaching for so many years.
Rivera's first national exposure came from his association with legendary producer Robert John "Mutt" Lange, who, while producing the classic Foreigner 4, introduced Mark to Mick Jones and Lou Gramm & brought him into the band, putting Rivera squarely in the 'Big Leagues" of rock music, recording and performing. He has worked with Hall & Oates, Peter Gabriel on the classic track Sledgehammer, Simon & Garfunkel, John Lennon and Joe Walsh.
Rivera and producer Jimmy Bralower (Eric Clapton, Steve Winwood) have assembled an amazing cast of friends and colleagues to join in on the record, including a rare appearance by Billy Joel playing a sizzling Hammond B3 organ on Mark's unique cover of the Jimi Hendrix classic Spanish Castle Magic. Ringo Starr, Robert Randolph, Nils Lofgren and Steve Lukather all contribute their great talents to what Dashow says is "one of the best albums I've heard in a long time."
A newly announced residency at Madison Square Garden with Billy Joel will be the perfect compliment to Rivera's own touring schedule in the new year.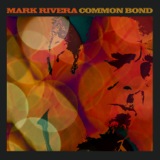 6. Tell Me All The Things You Do
A Conversation With Mark Rivera by David Wild
In architecture, "common bond" is a way to build a something to last. Common Bond – the first-ever solo album by Mark Rivera – is a fantastically soulful song cycle built to last. It's a stunning piece of work that brings this well-known multi-instrumentalist and singer center stage for the first time on record with a little help from musical friends like Ringo Starr, Billy Joel, Steve Lukather and Nils Lofgren, to name just a few.
The record shows that Mark Rivera has been a world-class musician for decades now -- a familiar presence supporting artists like Joel, Foreigner, Peter Gabriel and Ringo Starr, among many others. So why has it taken Rivera so long to step fully into the spotlight and make his first solo album? "I'll take that question as a compliment," Rivera says with a good-natured laugh. "The question a lot of people ask me is `Why now?' The real honest answer is this album was 25 years in the making. One of the songs in particular "Hard To Let Go" was a song I had written just after playing the horns on Peter Gabriel's "Sledgehammer" and I had the idea of trying to write something in his style. It only took me a few decades to get there."
Listen to Common Bond and you'll likely be impressed by Rivera's vocal ability – even though he's been supporting countless artists with backing vocals over the years too. As Rivera explains, "The funny thing is that everyone I play this record for -- and I very proudly call it a record -- says the same thing: `This is great. Who's singing?' I tell them that I am. And they say, "No, who's singing lead?" And again, I say "Me." That was part of the idea -- to step away from the saxophone a little and finally step up to the mic. I love to sing. I've been singing my whole life. In my first big band Tycoon, our producer Mutt Lange singled me out to sing certain songs. So I've sung my whole life, but I've never felt more confident about my singing.
And if Rivera sings a little like a soul man, he comes by that honestly – having started his life as a touring musician with no less than Sam & Dave. So how does a white Puerto Rican-Italian guy end up on the road with such soul legends who famously feuded with one another? As Rivera recalls, "My third day with Sam & Dave, we opened for Ray Charles in Central Park. Then we really hit the road hard. Was it a trial by fire? Yes, I was deep in the fire. Musically, though, it was great education. If I had to pick my favorite time in music, it would be Sixties R&B along with soulful rock bands like Traffic and Free. People always ask me my favorite sax players, and I say Jimi Hendrix and Jeff Beck because I don't care what you play, just as long as you play it with passion. Like Billy Joel said, it is all about soul. Because the person you are is reflected in the music you make."
Common Bond says a lot about Rivera in many ways, including the fact that so many of his favorite players and friends were more than happy to be a part of the album. "Everyone came through for me. First, I give all the kudos for the production on the album to my buddy Jimmy Bralower who I've known and played with for more than 30 years. Jimmy worked around the clock and contributed blood, sweat and tears. He was always sending me four mixes of everything in the middle of the night. I don't know when he sleeps. And he encouraged me to keep pushing and to get rid of any masks, and show my soul."
As Bralower explains, "Mark's a special guy and a truly supportive musician, and that's why so many other musicians love him and wanted to be there for him. On many levels, that's why he got back so much on this album. A lot of these guys…. you couldn't make them play on anyone's album, but Mark's built up so much good will with so many people, they wanted to be there for him. Our idea was to make the kind of record we wanted to make of the kind of music that we love for the people who get the same reference points. That's where the spirit of this album comes from."
Sessions occurred whenever they could with everyone's schedules. According to Rivera, "We worked in Studio B at Avatar Studios -- next to where we did "Sledgehammer" back when it was called the Power Station – and Jimmy made this album sound like a million bucks. I just made calls -- to great musicians and friends asking them to be a part of this."
Thankfully, Rivera's calls were answered by a remarkable and eclectic group of players who all brought something to the party. In addition to Rivera playing a variety of instruments, and Bralower backing him on drums and percussion, the album features -- in alphabetical order -- Kenny Aaronson, John Bertsche, John Conte, Steve Conte, Charley Drayton, Johnny Gale, Billy Joel, Jeff Kazee, Will Lee, Nils Lofgren, Steve Lukather, Karen Manno, Robert Randolph, Kasim Sulton, Ringo Starr and Andy York.
Asked if he now feels comfortable as a frontman, Rivera smiles and says, "That's still a work in progress, but I am getting more comfortable. See I was never jealous or begrudged anyone anything. I think that's the way I was raised. I'm thankful. Billy and Ringo gave me a career and helped me provide for my family for all these years."
Jimmy and I wanted this to be a real old fashioned album -- with an A Side and a B Side. If I could, I'd make it so you have to flip the CD over. People ask me what my goal for this record is, and what I want is for people to feel like I took them on a journey – my journey. I want people listen to Common Bond and feel about 40 minutes better at the end than they did when it started."
In the end, Common Bond is a kind of musical love letter to music itself, and its central place in Mark Rivera's life. "No matter what happens in my world outside of music, there's an emotional moat I will not allow anything to penetrate when I am making music," he explains. "I stay in the moment, and that's a lesson I've learned from people like Ringo. In the moment, nothing is allowed hurt you. Music is almost like meditation for me – I get so fixed and focused in it that I love it even more. Playing music just may be the secret to life."
For Rivera, the album's title came from two places. "My initial thought was, it's a statement about all the places I've been musically, spiritually, personally and emotionally… from Sam & Dave to Foreigner to Billy and Ringo. I felt like I was making a special sauce with a little of everything. I sliced the ingredients thin with a razor blade. I liked calling it Common Bond because it felt right for that. Then my son who was studying architecture explained to me it's when you make a house, the bricklayer lays the bricks a little off center so that it actually gives you more strength. And I thought, wow, that's even more perfect than what I was thinking!"
For More information or to hear the music, contact Elizabeth Freund: Elizabeth@beautifuldaymedia.com, 718-522-5858