www.independent.co.uk
Music Review: Sir Paul McCartney at BBC Maida Vale Studios
Macca makes a triumphant return to the West London venue where The Beatles performed half a century ago
By ADAM SHERWIN
WEDNESDAY 16 OCTOBER 2013
On June 17 1963, The Beatles were put through their paces at the BBC's Maida Vale studios, knocking out 18 songs inside a brisk seven hour radio session under the watchful eye of white-coated technicians.
Fifty years on Sir Paul McCartney carries the weight of popular music history, but little else had changed when the star made a nostalgic return to the West London BBC studios' subterranean maze.
After granting Chris Evans a Radio 2 Breakfast show interview, "Macca" performed an 11am set for 200 6 Music competition winners.
Permitted a brief break in the BBC canteen, the 71-year-old was back on stage at 1pm to perform another hour-long show for Radio 2's In Concert series, in front of a fresh audience, broadcast on Wednesday night and available on the digital red button.
The BBC received 66,000 ticket applications for the shows and an air of expectation, mixed with awe, fell across Studio 3 as the chosen few realised they were about to experience an intimate audience with pop's most consummate craftsman.
Beatlemania might have bitten the dust but Sir Paul was greeted with the once familiar sight of a fainting fan during his 6 Music performance – although on this occasion the heat rather than hysteria was the cause.
Still a spritely stage performer, who enjoys the bass-wielding, heads-down driving rock interludes with his unfussy four-piece band, McCartney dusted off Beatles classics from "We Can Work It Out" to "Back In The U.S.S.R." and "Eight Days A Week".
The vocal upper range may be thinner and the dad dancing incorrigible but come on – it's Macca, busting out some of the greatest songs of all time, in front of your very eyes.
McCartney is blitzing the BBC to support his first album of new material in seven years, called New. Early indications suggest the album, which released to a positive critical reception, will reach this week's top five.
Recorded with contemporary producers including Mark Ronson and Paul Epworth, the new songs slipped seamlessly alongside their venerated predecessors, largely because the title track, which closely recalls "Got To Get You Into My Life" and the Wings-indebted "Save Us", consciously echo Sir Paul's golden years.
Recalling the Beatles' prolific BBC sessions, during which they recorded 275 tracks over three years, Sir Paul said the musicians were told "be there, do that and we did. It was really exciting for us young boys going to the hallowed Beeb".
Instead of the clock-watching engineers of yore, Giles Martin, son of famed Beatles' producer Sir George, mixed the live sound on the other side of the glass studio booth.
Even a showman as experienced as Paul admitted he was intimidated by the presence of comic Rob Brydon, standing two metres in front of him in the centre of the front row. "Just relax and do what you know," Brydon told the Beatle.
Concluding with a rousing, sing-along "Hey Jude", bouncing up and down from his psychedelic rainbow-coloured piano, Sir Paul might have thought his BBC obligations for the day were over.
But then Jo Whiley jumped on stage to administer an instant post-gig interview, posing the same questions he had answered on 6 Music hours earlier. A somewhat weary Sir Paul dutifully complied.
Paul McCartney's Radio 2 In Concert - 8pm on Wednesday 16 October, then for 7 days via the BBC Radio 2 website with video highlights on the BBC Red Button
Sir Paul McCartney performing live at Maida Vale for BBC Radio 6
www.itv.com
Mid-performance autograph plea stuns McCartney
WED 16 OCT 2013
An avid autograph hunter picked an unusual time to ask for Sir Paul McCartney's signature - in the middle of a live performance being broadcast by the BBC.
The fan was in the audience of only around 200 people, made up of listeners and guests, who were watching the intimate show at the Maida Vale studios in west London.
Sir Paul seemed bemused by the request as he played a handful of new and old songs during a session for BBC Radio 6 Music, at the studios he last visited in the 1960s with The Beatles.
"What? Now?" he asked the cheeky fan. "I love it - there's one in every crowd. As if I don't have enough to do to remember the songs and the chords."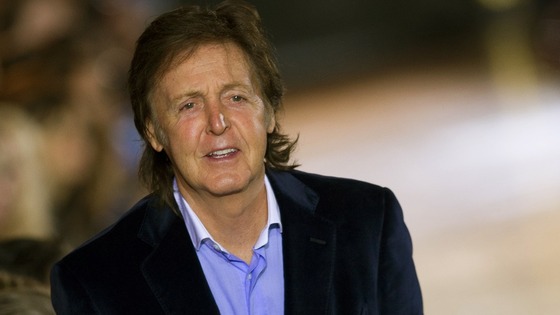 Sir Paul McCartney was in the middle of his set when the autograph hunter asked for his signature. Credit: Briquet-Orban/ABACA/Press Association Images