www.brownpapertickets.com
San Diego Beatlefair 2012 : Saturday October 27 2012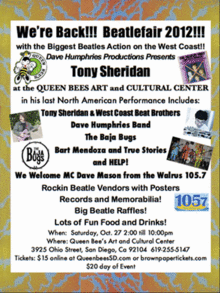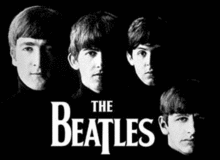 San Diego Beatlefair 2012
We're Back!
San Diego Beatlefair 2012
Featuring:
TONY SHERIDAN
DAVE HUMPHRIES BAND
BART MENDOZA
BAJA BUGS
HELP
AND MORE
BEATLEMANIA RETURNS TO SAN DIEGO!!!
Beatlemania returns to San Diego this October with BEATLEFAIR 2012 AT QUEEN
BEES - A CELEBRATION OF 50 YEARS OF BEATLES.
The Fair takes place at QUEEN BEES in NORTH PARK, on SATURDAY OCTOBER 27
from 2pm - 11pm. This will be the first fair in 8years.
Our Special guest this year is Beatles legend TONY SHERIDAN, bringing
countless stories of his days playing with The Beatles in their earliest
days in Hamburg, Germany. Tony will be performing on Stage.
Also on stage will be The Dave Humphries Band, The Baja Bugs, Bart Mendoza &
True Stories, and several other bands.
The Fair has invited Vendors selling Beatles memorabilia, posters, records,
etc.
Food , wine and beer available, and other goodies.
Cheers!