beatlesblogger.com
Absolutely Amazing Sgt. Pepper Photo Research
by beatlesblogger
Posted on September 11, 2017
We saw this page a little while back in the lead-up to the Sgt. Pepper's Lonely Hearts Club Band 50th Anniversary reissues, but it has since been added to substantially and grown even more comrehensive.
The "
Sgt Pepper Photos
" website is a project dedicated to locating the exact source images for all the photographs and items used on the cover of
The Beatles'
1967 album
Sgt Pepper's Lonely Hearts Club Band
.
It is very much worthy of mention. In fact, the more that word gets around, the more likely that additional original photographs and information will emerge and the site can be updated and added to.
Here are just a few examples of what the page is trying to do:
Above each image is some research about the celebrity or person and why they were chosen for the iconic cover.
We agree wholeheartedly with the person in the "Comments" section below the research who says:
"All of this amazing research deserves to be compiled into a physical book, a full-colour coffee table-sized volume, the annotated Sgt. Pepper cover. Have you considered doing this? This is the book that should have come out on the 50th anniversary of the album. Well done, sir!"
Chris, the owner of the site, has also added a lengthy article about the photographoc assistant one the day, Nigel Hartnup The Man Who 'Really' Took The Photo. Also fascinating and well worth reading.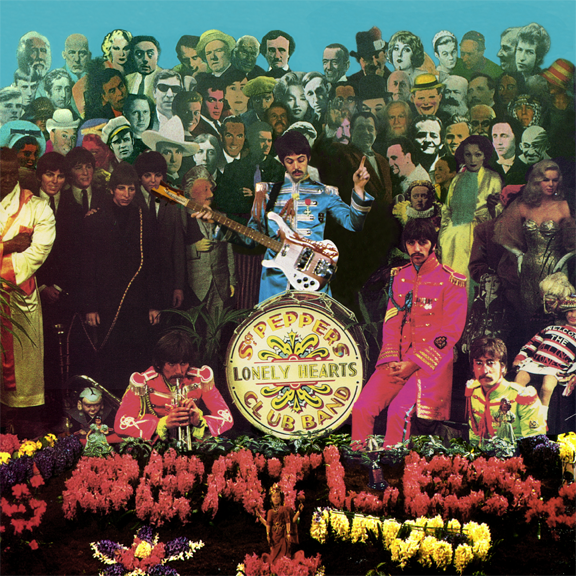 sgtpepperphotos.wordpress.com
Sgt Pepper Photos
Discovering the source photos for The Beatles' 1967 album Sgt Pepper's Lonely Hearts Club Band
cccchrischrischris
Posted on April 22, 2017
Welcome to Sgt Pepper Photos

Paul McCartney's dad's group 'Jim Mac's Band'. According to singer, songwriter and actress Kate Robbins (Paul McCartney's first cousin once removed) this photo is owned in most of the McCartney households. It's not difficult to spot the similarity to the Sgt Pepper cover. Jim McCartney is on the front row, third from the right. (Thanks to Kate Robbins)

Being a bit of a Beatles obsessive, I'm excited about the 50th anniversary rerelease of Sgt Pepper. The legendary album cover is regularly popping up on my news feeds and I became curious as to the origins of the photos used to create the iconic sleeve.
The collage was designed by Peter Blake and his wife Jann Haworth, and the cut-outs were assembled in Michael Cooper's London photographic studio. Michael and his team toiled hard to construct the 'cast of extras', using a mix of photos sourced from the BBC Hulton Picture Library, images from private collections, waxworks and personal artifacts, including a gnome owned by Ringo Starr.
My first search was for Olympic swimmer and Tarzan actor Johnny Weissmuller (the picture behind Ringo and Paul). When I eventually located the source image, with the unexpected chimp and horn, it was so bizarre and out of context it piqued my interest.
I've now set myself the challenge of hunting down all of the original pictures on the sleeve. Any other oddities I discover on the way will also be added here. If you can help or want to contact me go to Twitter and search for @ChrisShawEditor or #SgtPepperPhotos