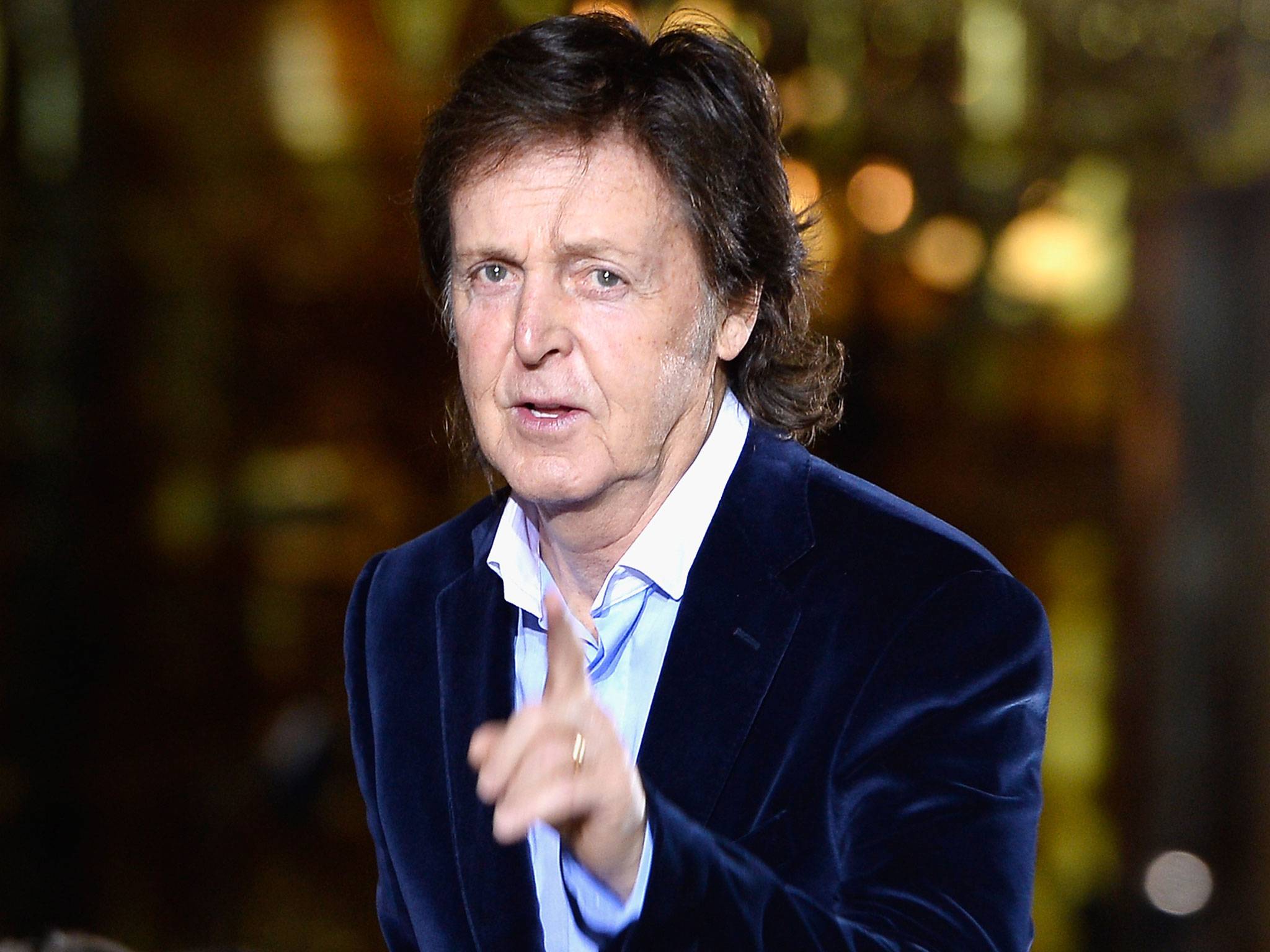 www.pastemagazine.com
15 Artists Who Sampled Paul McCartney Songs
By Juan Gutierrez
September 20, 2016
Paul McCartney is obviously one of the most gifted and prolific songwriters of the 20th century. He has charted more number No. 1 singles than his co-songwriter John Lennon and—apart from his solo work—has managed to stay relevant by actively collaborating with the likes of Michael Jackson, Stevie Wonder, and Kanye West. There is no doubt that McCartney's legacy is still percolating. So, it's no surprise that in hip-hop and R&B artists from Beastie Boys to Frank Ocean have been sampled McCartney's songs. Here are 15 of the best McCartney songs sampled by other artists.
1. "The Girl Is Mine"
"The Girl is Mine" was released as the first single for Michael Jackson's Thriller. Although Jackson wrote it, Paul McCartney

still adds his magic dust, so we're counting it. Poor Righteous Teachers sample the song on "Shakiyla," while also borrowing the narrative about being overly possessive with a girl. Additionally, rap legend Raekwon samples the song on his track "Got To Be There/ The Girl Is Mine."
2. "Live and Let Die"
The main theme of the iconic 1973 James Bond

Film of the same name, "Live and Let Die" is McCartney's most successful single as a solo artist, and he famously wrote it in 10 minutes. It was sampled by Guru in his song "Surviving The Game," a song about struggling with whether to kill someone or not. It was also sampled by Diamond D and Fat Joe on their track of the same name.
3. "Eleanor Rigby"
A classic off Revolver credited to Lennon-McCartney, "Eleanor Rigby" is one of the saddest songs about loneliness. It was sampled by The Game on the track "Dope Boys," a song about dealing crack cocaine, that features the work of blink-182 drummer Travis Barker. It was also sampled byTalib Kweli

in the song "Lonely People," Immortal Technique's "The Martyr," G-Eazy's "Dollarz and Dreamz" and B.o.B.'s "Lonely People."
4. "Lady Madonna"
"Lady Madonna" was inspired by Fats Domino and Humphrey Lyttelton and released as a Beatles single. It was McCartney's attempt to write a ragtime blues song, but Lennon famously said he wasn't proud of his lyrical contribution. A song about about the daily struggles of a working class woman, "Lady Madonna" also worked its way into Sublime's iconic hit "What I Got," a song itself about working class struggles in Southern California.
5. "Hey Jude"
Generally accepted as a song McCartney wrote for John Lennon's first song Julian to make him feel better about his parents' divorce, "Hey Jude" is undoubted one of the best Beatles songs (in fact, we named it No. 5 in our list of the best Beatles songs). Boogie Down Productions sampled it on the track "Criminal Minded," but with much less oblique intention. KRS-One takes the lyrical phrase and melody "Take a sad song and make it better" and twists it to say that he takes samples and makes them better than the original. It was also used in the song "Pay off My Debts" by Evidence (of Dilated Peoples), featuring Dirt Nasty.
6. "The End"
"The End" is a track from the Beatles

classic Abbey Road. Yet, the recording session for this song was the last time all four Beatles were present in the recording studio writing a song together (plus it showcases Ringo Starr's only drum solo). The song also contained one of John Lennon's favorite lines written by McCartney: "The love you give is equal to the love you take." And while the Beastie Boys

sampled so many Beatles songs on their double-LP masterpiece Paul's Boutique,"Sounds of Silence" pays homage to "The End."
7. "A Day in the Life"
This song is famous for McCartney and Lennon writing two song parts separately and putting them together as one song at the end Sgt. Peppers Lonely Hearts Club Band. "A Day in the Life" was also controversial for the line "I love to turn you on", which many believed was a reference to LSD and counter-culture icon/psychedelic enthusiast Timothy Leary's slogan "Turn on, tune in, and drop out."
Borrowing lines in different contexts, Public Enemy

samples "A Day in the Life" on their track"Who Stole The Soul" from Fear of Black Planet. The song is about the exploitation and disenfranchisement of African-Americans. Plus, DJ Shadow and Zach De La Rocha use the line "I read the news oh boy" in "March Of Death," a song about the irony of the government murdering people to stop crime and to spread freedom.
8. "Can't Buy Me Love"
"Can't Buy Me Love" was released as a single and was also on the soundtrack for A Hard Day's Night. Adding some stylistic flair in its similarly-named title, DJ Jazzy Jeff and Biz Markie sampled The Beatles' original in their track "$ Can't Buy Me Love."
9. "Mrs. Vanderbilt"
The superstar collaboration on 2015's "FourFiveSeconds" was not the first time Macca and Yeezy worked together. Kaney produced 88-Keys' The Death of Adam, which includes a sample of thisBand on the Run track on "Ho' Is Short For Honey." Additionally, Outkast's Big Boi

sampled "Mrs. Vanderbilt" on his track "Mrs Vandebilt Told Me." While 88-Keys (and guest star Kid Cudi) take a subtle route, just using the instrumentals, Big Boi's sample is more obvious with vocal sample.
10. "The Note You Never Wrote"
88-Keys shows his Macca love once again by sampling "The Note You Never Wrote" in "Dirty Peaches," also on The Death of Adam. The Wings original appeared on 1975's Wings at the Speed of Sound.
11. "When the Wind Is Blowing"
Kanye West

actually re-recorded McCartney's whistling for "All Day," so it's not exactly a sample. The melody of the song surfaced when McCartney performed on an old talk show, and while "When the Wind Is Blowing" was recorded during the Ram sessions, it never made the album. Macca eventually explained that he wrote the riff while looking at a Picasso painting. At least now the album title for Kanye West's _Life of Pablo" makes more sense.
12. "Momma Miss America"
"Momma Miss America" is yet another Paul song that the Beastie Boys

sampled on Paul's Boutique. It appears in "Johnny Ryall," as well as The Roots' "The Fire" and Common's"Thisisme." samples are subtle, mostly taking from the unique drum breakdown.
13. "Ebony and Ivory"
"Ebony and Ivory," the '80s classic featuring Paul and Stevie Wonder

about living in harmony despite our differences, also got the sample treatment by the OG of hip-hop. Boogie Down Productions used it in "100 Guns," as KRS-One raps about racism and police corruption.
14. "Here, There and Everywhere"
While not an obvious sample, Frank Ocean

borrows a riff from "Here, There and Everywhere" on his new, highly anticipated album Blond. If you listen closely to "White Ferrari," you can hear the same chord progression from The Beatles' original tune.
15. "Flying"
Instead of the typical Lennon-McCartney tag that most Beatles song have, this instrumental is credited to all Fab Four members. Once again on Blond, Frank Ocean

give a nod to The Beatles, this time on "Siegfried."