www.beatlesbible.com
Live: Centennial Hall, Adelaide
Saturday 13 June 1964
The Beatles played their second night of shows at the Centennial Hall, Adelaide. They performed two sets, as on the previous day, each to 3,000 people.
Around 4,000 fans were camped outside the South Australia Hotel when The Beatles awoke just after midday. In the afternoon they held a small reception for the organisers of their Australian fan club.
"Australia was a high moment, like the first time in America: us appearing on every channel and ten records in the charts. This was another one. It's funny, but there were more people came to see us there than anywhere. I think the whole of Australia was there.
We must have seen a million million people before they let us go. There was good security and everybody was happy and shouting, but we still saw everybody, everywhere we went – and nobody got hurt."
John Lennon
Anthology
Meanwhile, Ringo Starr, delayed from joining the tour by illness, arrived in San Francisco en route to Australia. He gave a press conference at the airport before boarding the Qantas flight to Sydney.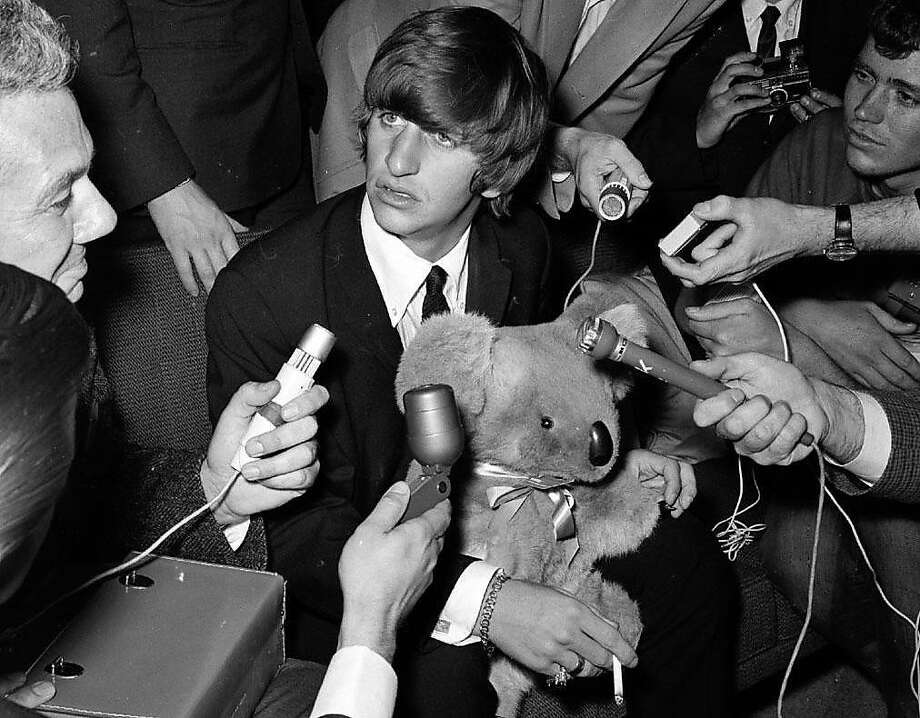 Ringo Starr's June 12, 1964, stop at San Francisco International Airport
The Beatles' concerts at the Centennial Hall were compèred by Alan Field. The support acts were Sounds Incorporated, Johnny Devlin, Johnny Chester and The Phantoms.
Each of The Beatles' Adelaide concerts had the same 10-song setlist: I Saw Her Standing There, I Want To Hold Your Hand, All My Loving, She Loves You, Till There Was You, Roll Over Beethoven, Can't Buy Me Love, This Boy, Twist And Shout and Long Tall Sally..
This was Jimmie Nicol's final appearance as Ringo Starr's stand-in. The following day The Beatles were reunited, and on 15 June Nicol flew back to England.
Jimmie Nicol (far right) with the Beatles in 1964
www.beatlesbible.com
Ringo Starr gives a press conference in Sydney, Australia
Sunday 14 June 1964
Ringo Starr at Kingsford Smith Airport, Sydney, on 14 June 1964 with a stuffed koala and Qantas bag
Ringo Starr arrived in Sydney on the morning of 14 June 1964, following a long flight from London Airport via San Francisco. He spent less than two hours in the city before catching a connecting flight to Melbourne, where he was reunited with the other Beatles.
June 15, 1964: The Beatles welcome at the Southern Cross Hotel was front page news in The Sun.
At the airport a press conference was held for the assembled reporters. Brian Epstein, The Beatles' manager, was also present.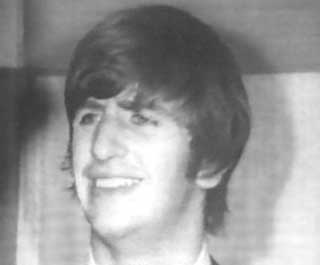 " Q: Ringo, welcome to Australia. How do you feel about being here?
Ringo: Oh, it's great. It's good fun, you know. I'm glad I'm off that plane.
Q: How long have you been on it?
Ringo: Thirty-four hours.
Q: Well, you must be... just about had it.
Ringo: No, I had a sleep, you know. I feel fine. Fit and everything.
Q: How's your throat now that they put you in hospital and made you miss the start of the Australian tour?
Ringo: The throat's fine now, you know. Everything's all right. It's fine. Just gotta take it easy a few days and then we'll be back to normal.
Q: You're still able to bash the drums?
Ringo: Oh yeah. Still bash 'em.
Q: And have you missed the other boys?
Ringo: Yeah, terrible! Haven't half-missed you, fellas, if you're watching... or if you do watch.
Q: You're looking forward to joining up with them this afternoon?
Ringo: Yeah, can't wait. 'Cause, you know, we've been together, you know, for 90 years. For so long, I don't know. It's funny being without them. 'Cause even if, you know, when we're not playing, if we go out, at least two of us go out together as a rule. So it's a bit funny being on your own.
Q: Can you give us a look at these rings which you got your name from?
Ringo: There you go.
Q: They say that fans have sent you a lot.
Ringo: Not too many actually. No. I haven't got 2,671 as some reporter wrote.
Q: What are you looking forward to most seeing in Australia?
Ringo: I don't know. Everything in general, you know. Glad to see a few Maoris and that. And a few kangaroos, I suppose.
Q: And Brian, coming over to you. Can you tell us when you first met The Beatles?
Brian Epstein: Oh, 1961. October, I think.
Q: And whereabouts did you see them?
Brian: In the Cavern Club in Liverpool.
Q: And what did you think when you first saw them?
Brian: Oh, I was sufficiently knocked out.
Ringo: Load of rubbish, that's what you told me.
Q: And what was the next step from there?
Brian: Well, then we got to know each other and eventually worked out a bit of idea of management. (To Ringo) See?
Ringo: I know. I was away at the time, you see, I joined later... after Brian.
Q: At any time did you have a feeling that you might reach this dizzy height of success that you...
Brian: No. Well, I don't know about the dizzy height, but I always thought they were going to be pretty big. Very big.
Q: What's the hardest problem you encounter trying to manage the Beatles?
Brian: Well, none really. But I think traveling around and going around the world and making arrangements for moving around is the most difficult thing, 'cause you don't know what's going to happen.
Q: Do you have any trouble keeping them in control? Do they try and escape from you?
Brian: Oh no. No no no no no.
Ringo: Never! never!
Q: And on the subject of money, how do you go about financing their weekly pocket money? What happens about that?
Brian: They get, you know, whatever they want from their earnings, and their earnings go into their own company.
Q: And Ringo, do you miss anything now being a Beatle, or do you think you've got everything now?
Ringo: Um, no. I don't miss anything, you know. Well, I can't remember. I just have a good time. It's good fun, you know.
Q: Yesterday in Adelaide, the three were talking about what they were gonna do when they weren't Beatles. And they said you were going to open a chain of women's hairdressing salons. Is that correct?
Ringo: Yes. Well, I thought of that a few months ago, you know, so I'm still thinking about it. But I could change. Oh, I could change, you know.
Q: Is there anything that you'd like to ask about Australia?
Ringo: Ask about? No, I don't think so. Seems quite nice to me.
Q: So, it was quite a good reception.
Ringo: It was a marvelous reception, I loved it. How many were there?
Q: I think it was about three or four thousand.
Ringo: There you go! Seven, he said! "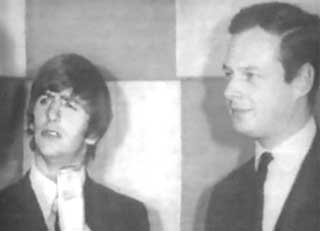 www.beatlesbible.com
Ringo rejoins The Beatles in Australia
Sunday 14 June 1964
After almost two weeks apart from the group due to his tonsillitis and pharyngitis, Ringo Starr finally rejoined The Beatles in Melbourne, Australia.
After holding a press conference at Sydney Airport with manager Brian Epstein, Starr flew to Essendon Airport in Melbourne. There were large crowds already waiting, as the other three Beatles were due to arrive five hours later.
" I hated to leave the other three. I followed them out to Australia and there were people at the airport, but I was on my own and just automatically I looked round for the others. I couldn't stand it. I met up with them in Melbourne. The flight was horrendous. It still is – they may have shaved a couple of hours off the flight, but it's still a hell of a long way. I remember the plane felt like a disaster area to me.
It was fabulous in Australia, and of course, it was was great to be back in the band – that was a really nice moment. And they'd bought be presents in Hong Kong. "
Ringo Starr
Anthology
Three thousand fans were at Melbourne's Southern Cross Hotel when Starr and Epstein arrived. Ringo was taken in on the shoulders of Police Inspector Mike Patterson, who unfortunately tripped and fell as he attempted to pass through the crowd.
Meanwhile, the other three Beatles left their Adelaide hotel at 12.15 and flew to Melbourne on a chartered Ansett ANA Fokker Friendship. They were greeted by a crowd of 5,000.
At the hotel, meanwhile, there were so many people hoping to catch a glimpse of them that army and navy troops were called in.
The Beatles were given a police escort of 12 motorcyclists during their route into Melbourne at 4pm. They were driven into a garage entrance at the Southern Cross and a police car pulled up at the front as a diversion. A scene of mayhem ensued, with 300 police officers and 100 military personnel attempting to keep the crowd at bay.
More than 150 girls fainted, and 50 people were hospitalised with injuries. To calm the crowd The Beatles were asked to wave from their first floor windows.
After all four Beatles had been reunited they held – along with stand-in drummer Jimmie Nicol – a press conference. In the evening they held a party, without Nicol, until 4am.
June 14, 1964: The Beatles with stand-in drummer Jimmie Nicol
www.beatlesbible.com
Live: Festival Hall, Melbourne
Monday 15 June 1964
At 8am on the morning of 15 June 1964, Jimmie Nicol left the Southern Cross Hotel on Bourke Street, Melbourne. Accompanied by Brian Epstein, he was driven to the airport where he was given a final agreed fee of £500, as well as a gold watch with the engraving: "To Jimmy, with appreciation and gratitude – Brian Epstein and The Beatles."
Nicol didn't say goodbye to The Beatles; they were sleeping off the previous night's party, and he felt he shouldn't disturb them. The group was celebrating their reunion with Ringo Starr, who had missed the early part of their world tour after being struck down by acute tonsillitis and pharyngitis.
In the afternoon EMI held a reception for The Beatles at the hotel. However, the event turned sour when John Lennon protested at label executives upon finding out they had released With The Beatles with different artwork.
Australian trade union rules meant that all album artwork had to be re-photographed and altered; it was felt that Robert Freeman's iconic image would lose details, so a replacement was designed. Lennon, however, was unwilling to tolerate such a reason.
That night, and for the two subsequent nights, The Beatles performed two shows at the Festival Hall in Melbourne. The six concerts were watched by a total of 45,000 people.
After this first night's shows, The Beatles attended a private party held in the city's affluent suburb Toorak.
From June 15th – 17th, 1964, The Beatles (with Ringo reinstated on drums) performed two shows each night at Melbourne's Festival Hall