rock107.com
Baby, you can own their cars: Cars once belonging to Paul McCartney and Ringo Starr going on auction block
Rock 107
Wednesday, November 15, 2017
Courtesy of Bonhams
A pair of vintage cars formerly owned, respectively, by former Beatles band mates Paul McCartney and Ringo Starr are slated to be auctioned by the famed Bonhams auction house on December 2 in London.
A 1964 Aston Martin DB5 that McCartney ordered not long after The Beatles made their historic Ed Sullivan Show appearance is expected to fetch between $1.6 million and $2 million at the sale, which will be held at Bonhams' New Bond St. location. Sir Paul had the vehicle specially equipped with a unique Philips record player, which has since been restored. He owned the car for about six years, and since selling it, it has been repainted from its original sierra blue to silver.
The car belonging to Starr is a 1966 Mini Cooper 'S' Radford Conversion that originally was purchased by Beatles manager Brian Epstein. Ringo took over ownership of the vehicle in June 1967, and sold it in December 1968. The car, which reportedly was modified with a hatchback so Starr could haul his drum kit in it, is estimated to sell for between $120,000 and $160,000.
Bonhams' Bond Street Sale also features two cars formerly owned by Elton John. One is a 1959 Bentley S1 Continental Sport Saloon that the pop-rock legend purchased in 1976 and sold in 2001. It's expected to bring in from $520,000 to $660,000. The other is a 1960 Bentley S2 Continental Flying Spur Sports Saloon that Elton bought during the '70s and also sold in 2001. It's estimated sale price is between $210,000 and $250,000.
Visit Bonhams.com for more details about the auction.
Copyright © 2017, ABC Radio. All rights reserved.
www.bonhams.com
Lote 132
The ex-Paul McCartney
1964 ASTON MARTIN DB5
£1,250,000 - 1,500,000
€1,400,000 - 1,700,000
THE BOND STREET SALE
2 Dic 2017, 14:30 GMT
First owned by Sir Paul McCartney
1964 Aston Martin DB5 4.2-Litre Sports Saloon
Registration no. 64 MAC
Chassis no. DB5/1653/R
*Matching numbers
*Known ownership history
*Formerly owned by Chris Evans
*Professionally restored to concours standard
*Restoration completed 2017
*Circa 2,600 miles since completion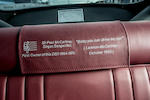 Chassis number '1653/R' was completed at Newport Pagnell on 3rd July 1964 and delivered on 22nd September '64 to Bryce, Hamer & Isherwood, Paul McCartney's accountants at the time. Ordered by McCartney prior to his departure for the Beatles' world tour in the summer of 1964, the DB5 was subsequently registered in the musician's name, and Paul greatly enjoyed driving the car over the following six years. Accompanying paperwork shows the price was £3,800 10s 0d plus Purchase Tax of £793 6s 8d.
The BMIHT certificate on file shows that the Aston was originally finished in Sierra Blue with black interior. It was fitted as standard with the ZF five-speed gearbox, while desirable factory options listed include Armstrong Selectaride rear shock absorbers, Motorola radio, powered aerial, two Marchal fog lamps, chrome road wheels, heated rear window, two Britax safety belts, three-ear hubcaps, and detachable headrests. Unusually, the car was also supplied with a Philips Auto-Mignon record player, the latter seemingly an essential for a professional musician. Reportedly, the original interior leather also featured musical note-styled patterns in the stitching. The BMIHT certificate confirms that the first recorded purchaser was Paul McCartney and that the car was registered 'BYY 379B' (subsequently 'CLX 654B').
Though Paul McCartney later owned an Aston Martin DB6, which has been the subject of extensive media coverage, this lesser known DB5 is believed to be the first Aston owned by the musician. He ordered it at a particularly important career juncture: just weeks after the Beatles' famous appearance on the Ed Sullivan Show and the completion of filming 'A Hard Day's Night', their first film. In a September 1967 profile of Paul McCartney, Time magazine wrote: 'Bachelor Paul, 25 (his favorite "bird" is 21-year old actress Jane Asher) is a movie addict, loves "the look of London" and tools around town in a spiffy blue Aston Martin DB5'.
This DB5 also made an impression on Roger McGuinn, guitarist with the Californian rock band, The Byrds. McGuinn once recalled a concert that his band performed during their 1965 UK tour. Apparently the Beatles were in attendance and, following the show, the two bands spent some time socialising. 'The next night,' recalled Guinn, 'I went to Paul McCartney's club in St James's and he took me out for a drive around London in his Aston Martin DB5. It was a really amazing time.'
Service records indicate that in 1970, when '1653/R' was fitted with a new clutch and received some other minor service work, the odometer reading was 40,513 miles. It is believed that the car first changed hands at around this time when it was sold to Truebell Stationers in Wandsworth, Southwest London. Subsequently, on 12th March 1983, the DB5 was acquired by John Richard Rogers of Ilford. Mr Rogers retained the Aston for 13 years before selling to John Hardy Shannon on 16th July 1996.
In 2002, '1653/R' was sold to a British collector who recognised the Aston's importance and decided that it was deserving of refurbishment. He commissioned Walter Baroni of Corsica, Milan, to carry out an extensive cosmetic restoration that included a bare-metal strip-down and repaint in the car's original colour of Sierra Blue, as well as the installation of a new interior. Upon returning to the UK, the Aston's brakes and the cylinder head were overhauled, courtesy of specialists Headshop Ltd in Wallington, Surrey.
Subsequently, '1635/R' was acquired by broadcaster and motoring enthusiast, Chris Evans, who purchased the car's most appropriate '64 MAC' registration for it. The Aston's next owner purchased the car at auction in 2012 and proceeded to commission a full restoration to concours standard. Accordingly, '1653/R' was despatched to Aston Martin specialists Alan Smith Motors of New Romney, Kent where it arrived still painted Sierra Blue and with a black leather interior.
From the beginning, it was decided that a full 'last nut and bolt' restoration was the only way to restore the Aston to its former glory, and everything would need to be stripped, assessed, and either replaced or overhauled. The first task was to strip everything that could be removed, starting with the interior, engine, gearbox, front and rear suspension, electrical wiring, bonnet, doors, boot, and glass. With the body removed and the sand blasting was completed, it became possible to assess the chassis structure.
The engine, gearbox, and final drive were removed and cleaned, and the engine dismantled. The bell housing and gearbox were then separated. All parts were stripped and checked and replaced where needed. After the hubs and suspension fittings had been removed, the rear axle was cleaned and set aside for reconditioning, as was the ZF five-speed gearbox.
The key objective for the rebuild of '1653/R' was to ensure that the restoration should be to a standard at least as good, if not exceeding, that achieved by the factory when the car was built. Also part of the brief was the requirement that any component not to original specification was to be replaced as a matter of course. It was decided that the Aston Martin would be repainted in the iconic Silver Birch of James Bond DB5 fame, while the interior was to be fully re-trimmed in Mulberry leather.
Alan Smith replaced the sills, outriggers, wheelarches, inner wings, radius arm mounts, doorframes, hinge pins, etc. The chassis was then powder coated. The body was dispatched to a partner company, ShapeCraft Motor Bodies, who replaced the aluminium roof and supplied a new front end and rear lower valance. Back at Alan Smith, the new front end was fitted; the rear end refitted together with new rear valance; and new door skins fabricated. New wing under-shields were installed and the body pre-fitted prior to final painting at Alan Smith Motors. The underside was then stone-chipped and protected.
Meanwhile, the engine was sent to Kent Auto Developments where it was stripped, assessed, and then re-assembled with new pistons and liners, reground crankshaft, and new bearings. Timing chains were replaced and the cylinder head refaced and fitted with new valves and valve springs. Engine capacity was enlarged from 3,995cc to 4,200cc giving a small but useful increase in maximum power and torque: from 282bhp and 280lbs/ft to 315bhp and 305 lbs/ft on a slightly increased compression of 9.1:1. The carburettors were stripped and rebuilt at the same time. Once reassembled, the engine was dynamometer tested to ensure all was within limits. The engine was then ready to be reinstalled, the gearbox and rear axle having already been rebuilt by BPA Engineering.
Brake and fuel lines were then installed, together with the front and rear suspension, hubs, steering linkages, and steering rack. The engine bay was fitted with relays, servos and fuse boxes, and the engine bay wiring loom and main loom installed. The installation of the steering column and linkage followed, and the car was also fitted with new power steering and a Kenlowe electric radiator fan.
At the same time, the interior re-trim commenced with the installation of the new headlining. While all this work was going on, the task of painting, assembling and trimming the dashboard commenced, with each instrument checked for operation. Once completed, the task of installing and connecting the complete new wiring loom could begin, in conjunction with fitting the control pedals, brake and clutch master cylinders, new brake lines, and throttle linkages.
It was then time to reinstall the engine and gearbox using new engine and gearbox mountings bolted securely in place. The transmission cover was now fitted, thus enabling the carpeting of the cabin to commence. Mulberry leather was used throughout for all sears, door trim, and boot with corresponding Mulberry piping, while Mulberry carpets, leather bound, were specified throughout. Expertly undertaken by Michael Wheatley at Elite Coach Trimming Ltd, the re-trim also included a complete refit of all seats with new webbing and padding, and re-chroming of the seat hinges and reclining mechanism. The rare Philips Auto-Mignon record player that was initially specified by Paul McCartney was re-commissioned and is now in working condition.
The final part of the assembly process involved fitting a new stainless steel exhaust system, installing the fuel tank and fuel lines, and fitting the lights and external trim together with other items such as the boot and bonnet liners. Finally the newly trimmed seats were installed. The suspension was then checked for toe-in, camber and castor angles, and any needed adjustments made. After thorough checks of the electrical, cooling, and fuel systems, and the oil levels in the engine and transmission, the engine was ready to be started. Finally, in 2017 after four years of painstaking restoration, the Aston was ready for road testing, and since then has covered circa 2,600 miles.
Presented in truly immaculate condition, '1653/R' comes with copy guarantee form, a V5C registration document; current MoT; invoices relating to its recent restoration; and the aforementioned BMIHT certificate. The full story of its life, celebrity owners, and restoration is also detailed in a beautifully presented full-colour 141-page book (produced by Bespoke Photobooks), a copy of which accompanies the car (inspection recommended).
www.bonhams.com
Lote 136
The ex-Brian Epstein, Ringo Starr and in current family ownership for over 40 years
1966 MINI COOPER 'S' RADFORD CONVERSION
£90,000 - 120,000
€100,000 - 130,000
THE BOND STREET SALE
2 Dic 2017, 14:30 GMT
The ex-Brian Epstein, Ringo Starr
1966 Austin Mini Cooper 'S' Sports Saloon
Coachwork by Harold Radford/Hooper & Co (see text)
Registration no. LLO 836D
Chassis no. C-A2S7/799541
Current family ownership for 40 years
Restored in 1991
Numerous unique features
Cartier 'Style et Luxe' winner 1998
Featured on 'Top Gear'
The Mini was the standout motoring icon of the 1960s, so it was only to be expected that that era's defining popular music act – The Beatles – would all own examples of Alec Issigonis' motoring masterpiece. But while it is relatively easy to carry your guitar around in a Mini, a set of drums is another matter entirely, and it is said that Ringo stipulated that his must be able to accommodate a drum kit, making it different from those purchased for the other members of the 'Fab Four'. The solution to the lack-of-space/accessibility problem was a hatchback conversion, which coachbuilder Harold Radford was offering as an option on its up-market Mini de Ville GT, introduced in October 1965.
Radford was not the only firm offering modified and upgraded Minis at this time. Another was Hooper & Co, widely acknowledged as Britain's finest coachbuilder until parent company BSA ended its body-building activities at the end of 1959 and reconstituted it as Hooper (Motor Services) Ltd, which acted as a sales and service company. Nevertheless, Hooper seems to have 'kept its hand in' by modifying cars for a select band of customers, including actor Peter Sellers who is known to have commissioned a special Mini from them. 'LLO 836D' carries Radford and Hooper badges, suggesting input from both companies.
Like all of The Beatles' Minis, 'LLO 836D' was purchased new by band manager Brian Epstein's company, to which it was first registered in May 1966. Its registration number is in the same sequence as that of Paul McCartney's Aston Martin DB6 ('LLO 840D'), which presumably was purchased at the same time. Registration passed to Richard Starkey (Ringo's actual name) on 15th June 1967, and he kept the car until it was sold in December 1968. Nothing is known of its subsequent history until 1977, when the ex-Starr Mini was purchased by the current owner's father.
While in the latter's ownership, 'LLO 836D' appeared on the BBC Television programme 'Blue Peter' in February 1984, being described as the 'Rolls-Royce of Minis', and in March of that same year went on display at the 'Beatle City' exhibition in Liverpool. In August 1987, the Mini went on display in Dallas, Texas when the 'Beatle City' exhibition transferred to the USA, and following its return home was restored by Naylor Brothers in 1990/1991. In 1998, Ringo's Mini won the coveted Cartier 'Style et Luxe' concours award at the Goodwood 'Festival of Speed', and three years later – in 2001 – was featured in BBC TV's flagship motoring show, 'Top Gear'. Motoring magazines have listed the car's many unique features as:
Bonnet vents
Extended wheelarches
Manx alloy wheels
De-seamed bodyshell
Waso fuel filler caps
Bespoke window frames and quarter lights
Webasto sunroof
Hooper and Radford badges
Triple ancillary gauges
Rev counter
Cigar lighter
MotoLita steering wheel on Mark II column
Internal bonnet release
Walnut dashboard and door cappings
Folding rear seat
Door handles
Electric windows
Etched Sundym glass (side windows)
Huntmaster reclining seats
Driving lamps (individually switchable)
Benolite grille
Morris 1100 indicators
Door warning lights
VW 'Beetle' rear lights
Cibié headlights in Innocenti rims
The car is expected to be freshly MoT'd prior to sale, and we are advised that some additional re-commissioning of the electrics will be required. Finished in two-tone Rolls-Royce Regal Red/silver-grey, this fabulous piece of Beatles-related motoring history is offered with sundry restoration invoices, a V5 Registration Certificate, and the original logbook signed by both Brian Epstein and Richard Starkey (Ringo Starr)