www.theadvocate.com
Desert Trip notebook: Close encounters with Paul McCartney, the Rolling Stones and Roger Waters' pig
BY KEITH SPERA
OCT 12, 2016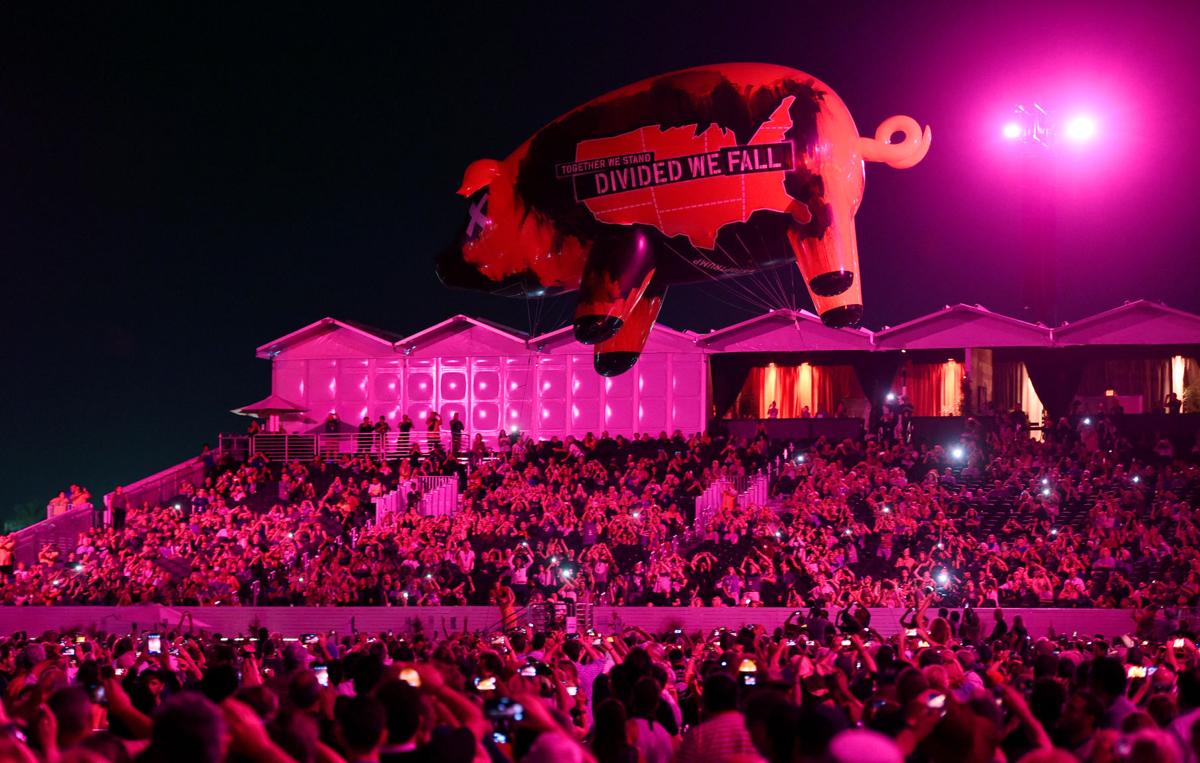 A giant inflatable pig soars over the crowd during Roger Waters' set on day 3 of the 2016 Desert Trip music festival at Empire Polo Field on Sunday, Oct. 9, 2016, in Indio, Calif. (Photo by Chris Pizzello/Invision/AP)
Indio, Cal. – Midway through the Rolling Stones' opening night set at the inaugural Desert Trip festival last weekend, guitarist Keith Richards cracked, "It's nice to be here. It's nice to be anywhere." That joke, he noted, is "an old one, but a good one."
So, too, the six bands at Desert Trip.
On Oct. 7, the Rolling Stones followed Bob Dylan on the massive stage erected at the Empire Polo Club in Indio. The next night, Neil Young preceded Paul McCartney. Pink Floyd principal Roger Waters and The Who closed out the third night.
At age 70, Young was the youngest of the marquee performers, all of whom came to prominence in the 1960s. But as Desert Trip's first weekend demonstrated – the schedule was to be repeated this weekend – they are still more than capable of raising a formidable racket.
Desert Trip was produced by Goldenvoice, the savvy concert promoter that stages the Coachella and Stagecoach festivals on the same dusty, palm tree-lined site. But Desert Trip is a far more lavish production.
The idea was to assemble an unprecedented roster of legends – paying them several million dollars apiece – to entice well-heeled Baby Boomers to a temporary, 70,000-capacity stadium built on a broad polo field in the desert two hours east of Los Angeles. Ticket upgrade options included meals catered by celebrity chefs.
I attended not as a journalist per se, but as the guest of a friend who works for Roger Waters. Home was a tour bus parked in Waters' backstage compound – each act enjoyed a private, acre-sized oasis of trailers and tented hospitality areas – shared with five members of the stage crew, truly the hardest-working people in show business.
Having that sort of access affords its own unique experiences, such as nearly running smack into Richards as he headed for the stage, documentary crew in tow.
Or being recruited to help to wrangle Waters' 40-foot inflatable pig as it floated precariously above the crowd (more on that later).
Or exchanging pleasantries with McCartney as he passed by following his hour-and-15-minute sound check.
A sound check's purpose is to make sure the gear is working and to allow audio technicians to adjust the acoustics for the venue. For McCartney, it is also a chance to do even more of what he still obviously loves doing: Play music.
Under a blazing sun, for an audience of only a few dozen members of the clean-up crew, he merrily led his band through "Blue Suede Shoes," "Day Tripper," "Why Don't We Do It In the Road," "Lady Madonna" and the Wings chestnut "Let 'Em In" – not all of which would be included in his official show later that night. He capped off "I've Just Seen a Face" with a satisfied, "Yeah, great!"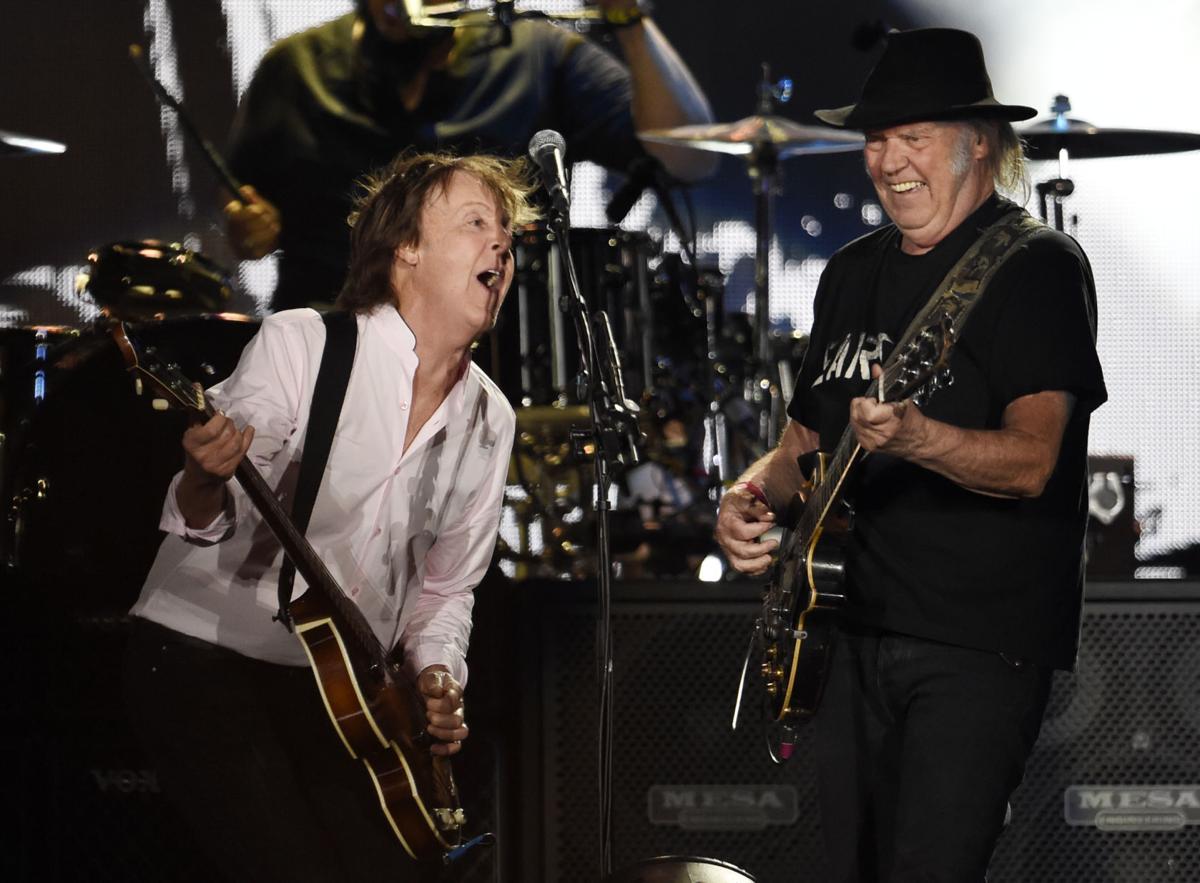 Paul McCartney, left, is joined by Neil Young during his performance on day 2 of the 2016 Desert Trip music festival at Empire Polo Field on Saturday, Oct. 8, 2016, in Indio, Calif. (Photo by Chris Pizzello/Invision/AP)
The previous night, Bob Dylan, sporting a thick, diamond-encrusted pinkie ring worthy of Fats Domino, skipped the Frank Sinatra covers of his recent concerts in favor of a greatest hits show. He enunciated more clearly than usual, sometimes seated at a piano, sometimes standing. He and guitarist Charlie Sexton's nifty musical exchange graced "Don't Think Twice, It's All Right." Pedal steel guitar curled around arrangements, giving them a country lilt.
Per usual, Dylan didn't interact with the vast audience. Also per usual, Mick Jagger did. After promising to skip all age-related jokes, Jagger welcomed fans to "the Palm Springs retirement home for genteel English musicians."
But there was nothing genteel about the crackling set that followed. Jagger's voice is still supple and strong; he ranged across the wide stage and wailed on harmonica. Ronnie Wood carried the bulk of the blues-based guitar load, with Richards as his more organic foil.
Together, they crushed the chorus of "Sympathy for the Devil," and stretched and teased "Midnight Rambler" and "Miss You." With McCartney watching from a VIP suite atop the grandstands, they covered the Beatles' "Come Together." Charlie Watts, as steady as ever, held the whole thing together from behind his bare-bones drum kit.
The supporting cast was equally strong. Longtime keyboardist Chuck Leavell supplied the cow bell intro to "Honky Tonk Woman." Karl Denson lit up "Brown Sugar" with an epic tenor saxophone solo. Vocalist Sasha Allen electrified "Gimme Shelter," going toe-to-toe with Jagger.
"We think it's pretty amazing that you're still coming out to see us," Jagger said.
We'll keep coming, if the Stones keep playing so well.
Flanked by full-sized tepees, Young opened his Saturday night show alone with an acoustic guitar and harmonica. He inserted the crowd-pleasing "Heart of Gold" among more recent, environmentally themed works. The young members of the band Promise of the Real kicked him into gear on "Powderfinger" and elsewhere.
As cantankerous as ever, Young responded to song requests with, "We'll get to 'Down by the River' when we want to!"
They eventually got there, and it was worth the wait.
After the tepees were struck, it was McCartney's turn. He ranged across the entirety of his catalog, starting with the Beatlemania souvenir "A Hard Day's Night" and the Wings favorite "Jet."
He's a realist. During Beatles songs, he said, he sees a "galaxy of (cell phone) stars." But when he plays new songs, the audience is "a black hole." Thus, he introduced his recent "Queenie Eye" with, "So here's another black hole."
In response to the Rolling Stones' cover of "Come Together," McCartney revived "I Wanna Be Your Man," a song he and John Lennon wrote for Stones in the mid-1960s.
Young joined him for "A Day In the Life," "Give Peace a Chance" and "Why Don't We Do It in the Road." McCartney concluded "Hey Jude" precisely at midnight, then went 20 minutes over curfew.
On Sunday night, The Who blazed through an epic "Love Reign O'er Me"; Roger Daltrey's voice and hyper-masculine presence are undiminished. Powered by powerhouse drummer Zak Starkey, they churned through much of the classic "Tommy" album. Daltrey twirled his microphone cord; Pete Townshend windmilled his guitar, then signed off with a bizarre ode to the late drummer Keith Moon ("a wanker") and bassist John Entwistle.
Not surprisingly, Waters presided over the festival's most politically charged and technically dazzling show. He and his creative team took full advantage of the stage's 240-foot-wide LED screen and the dozens of speaker towers positioned throughout the vast field.
In the show's opening moments – before I had to rendezvous at the hanger where the inflatable pig was hidden – a distant, pulsating planet slowly filled the screen. Surround-sound effects mimicked a train barreling across the field. Smokestacks towered above the stage and lasers cut through the haze as the band meticulously recreated Pink Floyd classics.
Many artists avoid making overt political statements so as not to alienate segments of their audience. Waters is not one of those artists. He flayed Donald Trump mercilessly.
A floating pig has been part of Pink Floyd's iconography since the 1977 album "Animals." A new, red pig balloon was custom-painted for Waters' Desert Trip shows.
Because the primary pig wrangler on Waters' crew had recently fractured an ankle, I was asked by my bus-mates to take his place.
The pig very nearly didn't fly. As the cue for its deployment approached, it was discovered to be sagging from a mysterious leak. Team Pig pumped in several extra tanks of helium. Now straining against its tethers 30 feet in the air, we wrestled it toward the festival grounds.
As Waters and the band played "Pigs (Three Different Ones)," we circumnavigated the seating area with the equivalent of a bad-tempered Macy's Thanksgiving Day Parade balloon. Chaos was always close at hand. The pig occasionally nose-dived into the crowd; its left ear was torn off when it snagged on a speaker tower.
But overall, the floating pig was a sensation. Thousands of fans photographed it with their cell phones. It was mentioned in nearly every review of Waters' show.
For those who were there, the big pig will endure as a lasting memory of the debut Desert Trip.
For me, especially.
FOLLOW KEITH SPERA ON TWITTER, @KEITHSPERA.
GALLERY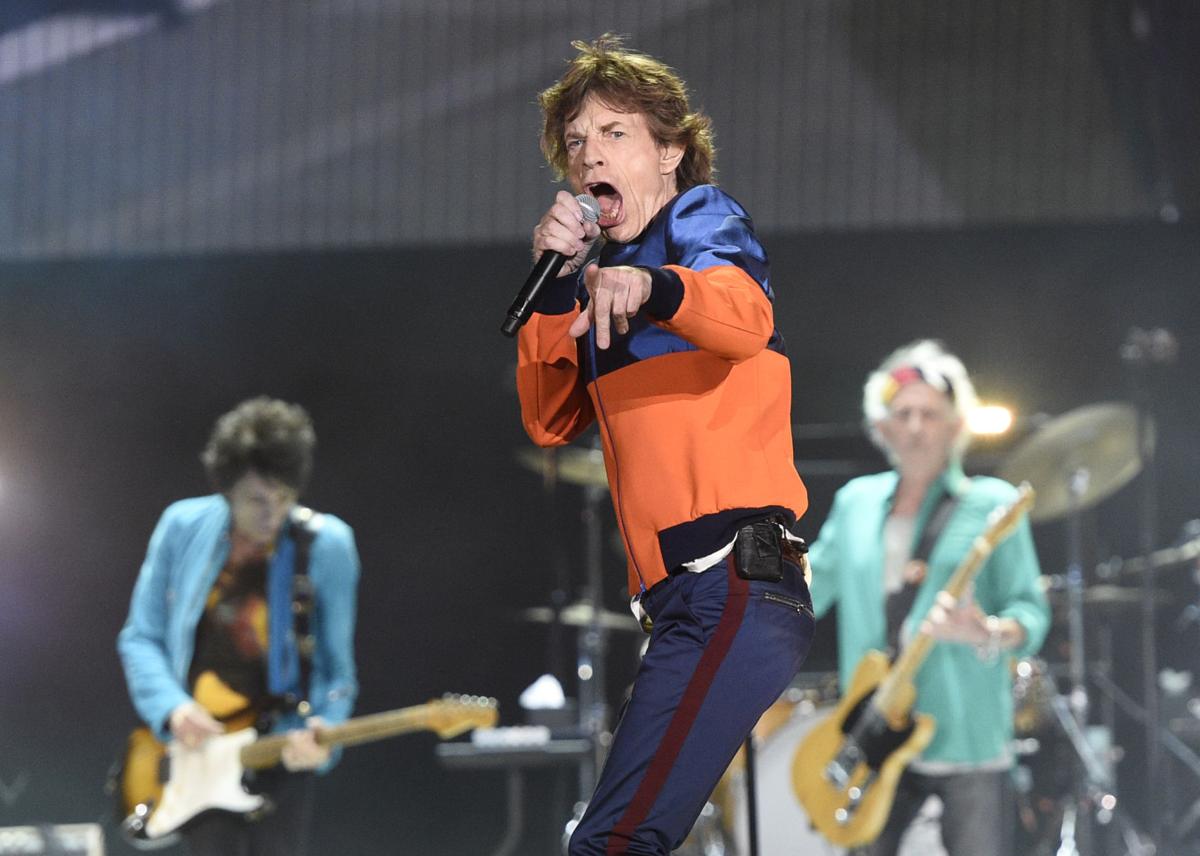 Mick Jagger of The Rolling Stones performs on day 1 of the 2016 Desert Trip music festival at Empire Polo Field on Friday, Oct. 7, 2016, in Indio, Calif. (Photo by Chris Pizzello/Invision/AP)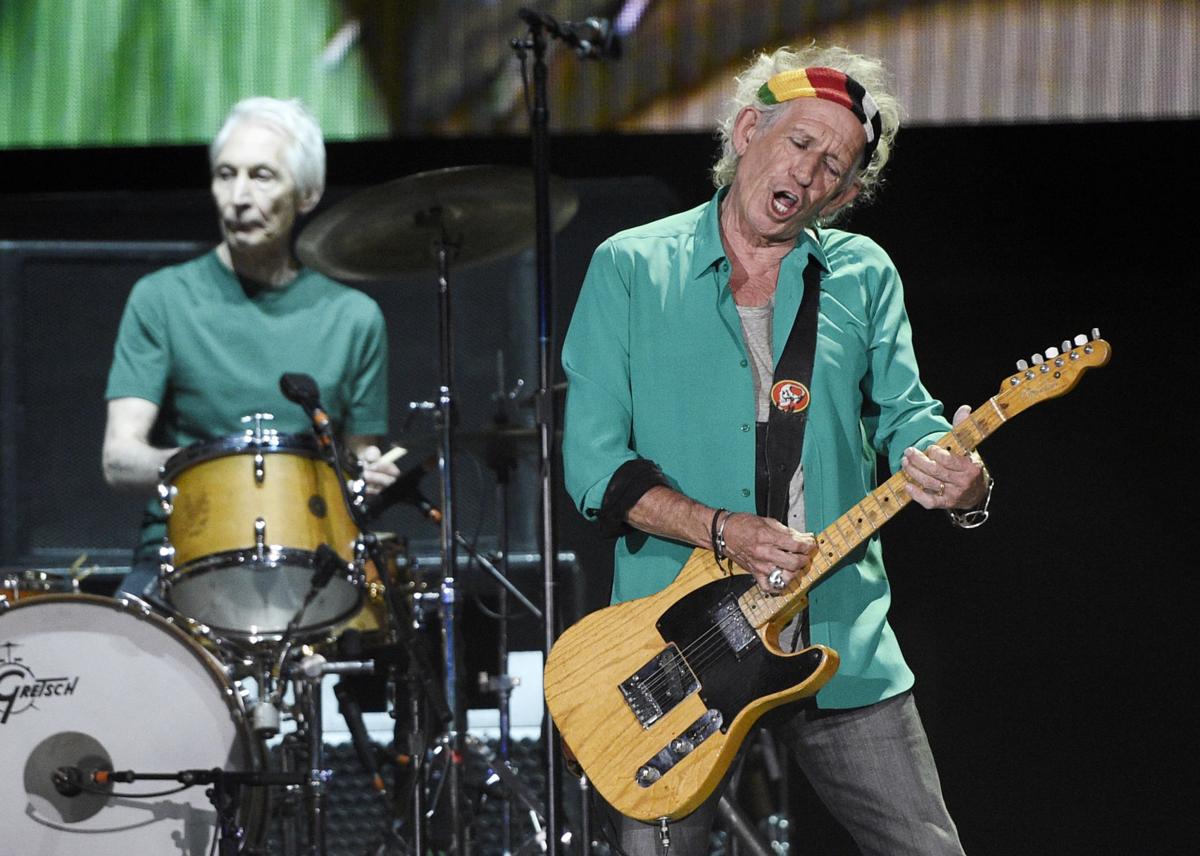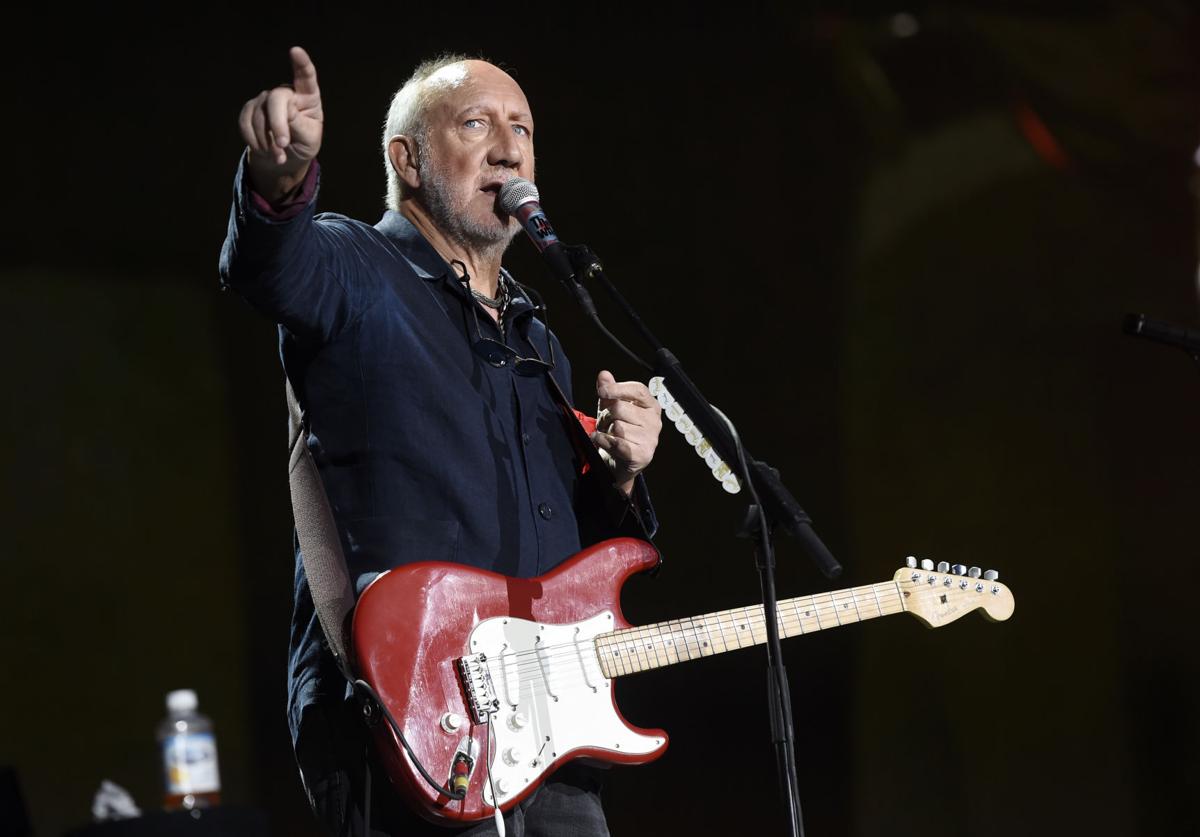 Pete Townshend of The Who addresses the crowd during their performance on day 3 of the 2016 Desert Trip music festival at Empire Polo Field on Sunday, Oct. 9, 2016, in Indio, Calif. (Photo by Chris Pizzello/Invision/AP)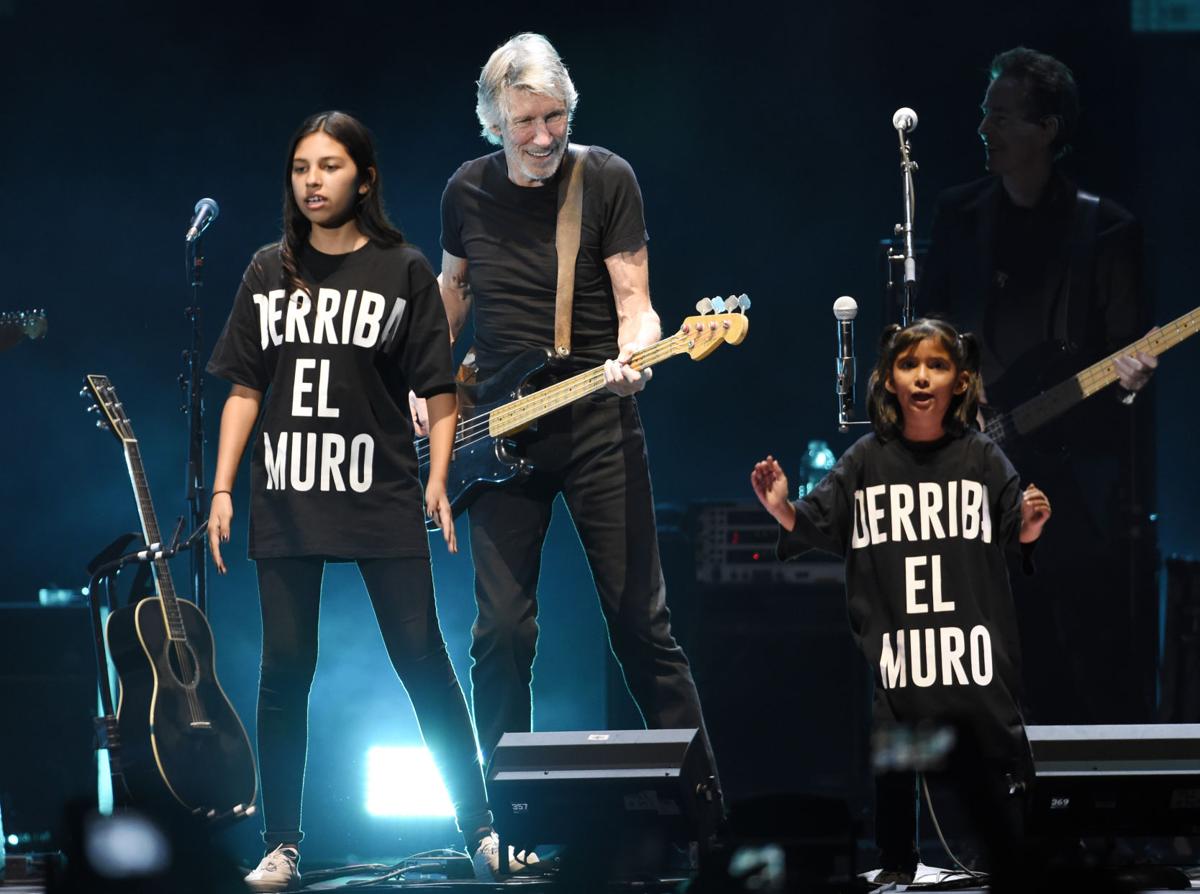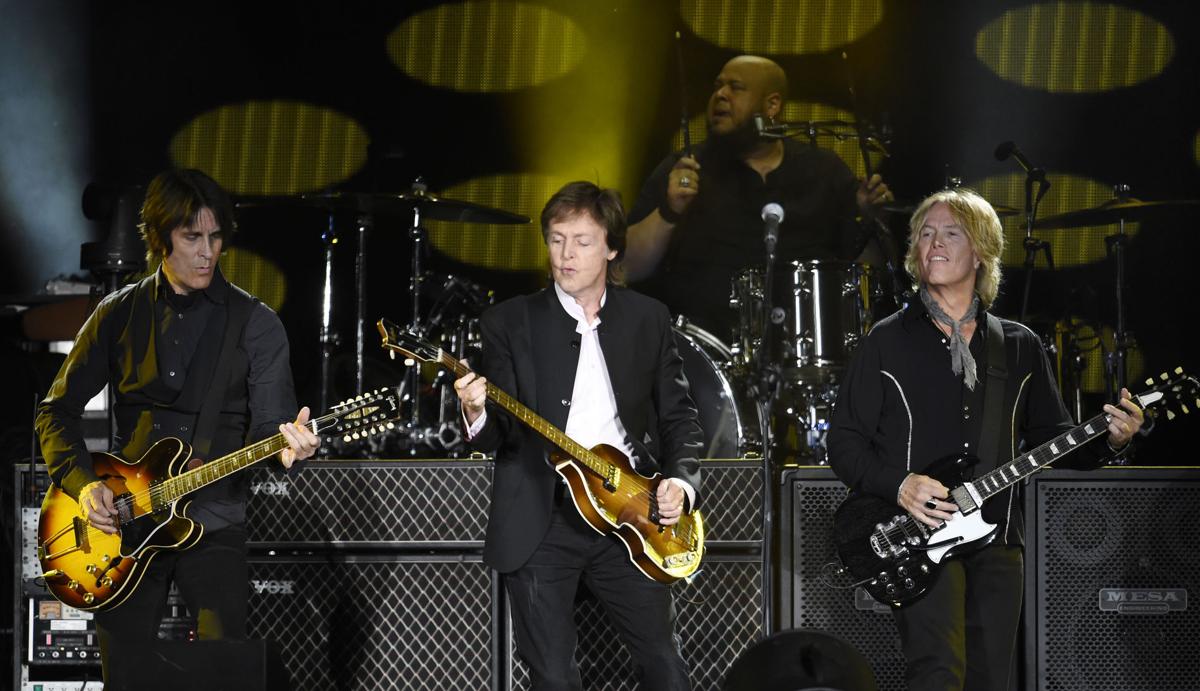 Paul McCartney, center, performs with band members, from left, Rusty Anderson, Abe Laboriel Jr. and Brian Ray on day 2 of the 2016 Desert Trip music festival at Empire Polo Field on Saturday, Oct. 8, 2016, in Indio, Calif. (Photo by Chris Pizzello/Invision/AP)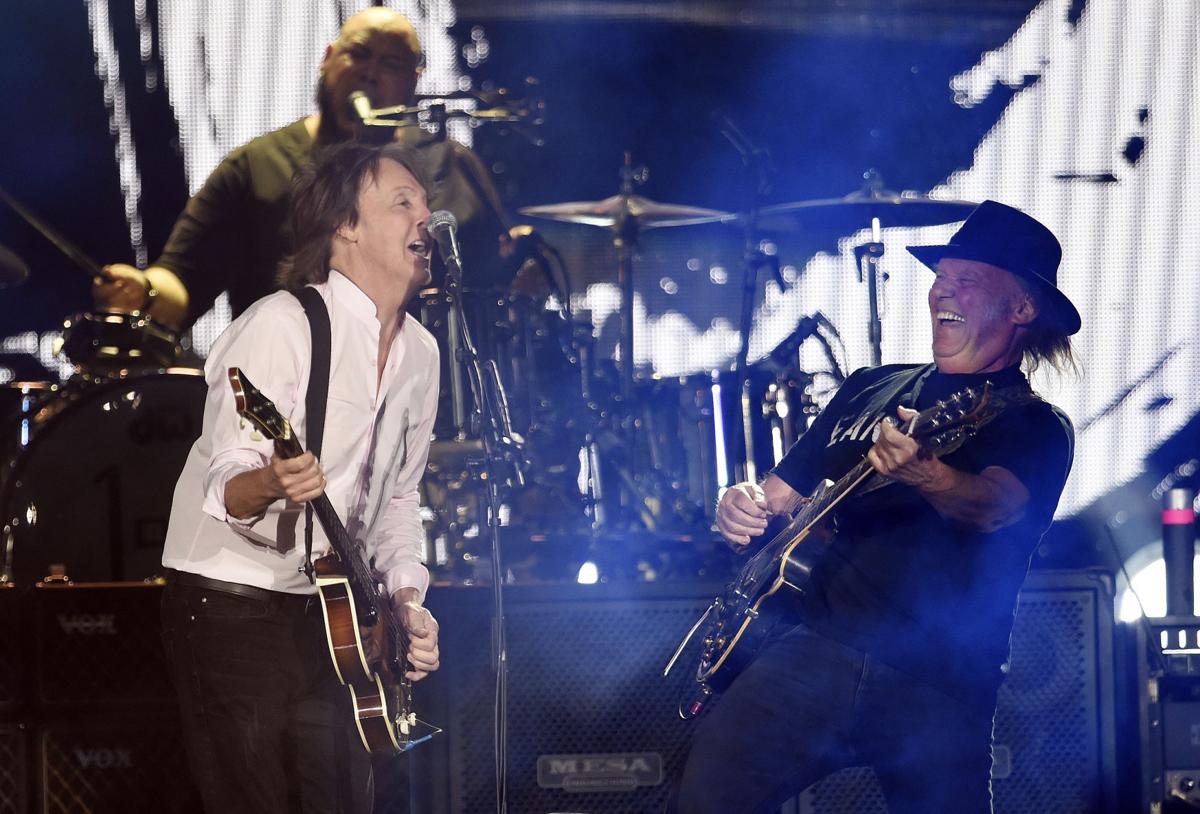 Paul McCartney, left, is joined by Neil Young during his performance on day 2 of the 2016 Desert Trip music festival at Empire Polo Field on Saturday, Oct. 8, 2016, in Indio, Calif. (Photo by Chris Pizzello/Invision/AP)